Dinner Guests - Frank Renton's ultimate brass band dinner guest list
5-Aug-2008
Frank Renton tells us who he would like to invite to come to dinner...dead or alive.
---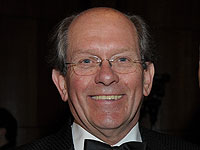 Given the opportunity, the wish list, the ability to mess about with the Space-Time Continuam like Doctor Who, and the skill to cook like Heston Blumenthal, who would you like to invite around to your place to enjoy a meal and chin wag with?
4BR started it all off a few days before Christmas with our 10 dinner guests, so we thought we had better ask a few more brass band personalities who would be on their all time dinner list too...

This time it's Frank Renton, conductor, arranger, composer, broadcaster, adjudicator, compere - you name it, he's the man who has done it...
We've been fairly generous with our criteria too: The 10 people can come from any time in history, but must have some link, in however tenuous a form, to the brass band movement.

The budget for the meal and drinks comes out of their own pockets though...
Given that this month's guest is the one and only Frank Renton, we have allowed him to up the social ante a touch and let him invite his guests to a luncheon party...
As Frank himself says: "When asked to compile a list of guests a lot of names came to me instantly, then I thought more about it and decided that it wasn't that easy. This is a once in a lifetime opportunity to get into the minds of the musicians whose life and work you have found inspirational, and perhaps get to know them better. It's a chance to pick the brains of great musicians from the past, and people who because of the age gap at the time; you never met socially when at the beginning of one's career.
"I think that I would hold the party on the terrace of our little house in the hills near Bologna, and seeing that everything else is possible, would order a balmy sunny summer's day with the lightest of breezes. It would in fact be a lunch party that in the best traditions of Italian hospitality would stretch long into the evening.

"The food would all be prepared and served by Signora Leonilda Fogacci and her son Stefano everything home made from produce grown and reared on their farm. They say that the cuisine in Emilia Romagna in the north of Italy is the finest in the world and there are no finer traditional cooks than Leonilda and her son. The wines would be from the Gaggioli vineyard in nearby Zola Predosa, and would flow like water.

"It's essential that a party like this should be an occasion to remember so all the musicians that I would ask to join me are people that I believe would enjoy such an event, be totally uninhibited communicators, and find everyone else's story as fascinating as their own."
---
1. Sir John Barbirolli

The first orchestral concerts that I attended were given by the Halle at St George's Hall in Bradford and those conducted by Sir John were always the highlights of the season. Then I studied at The Royal Manchester College of Music and 'JB' was Principal Guest Conductor of the College Orchestra, and what little I know about conducting I learned from him.

Later in life I got to know his widow Evelyn well through our work with the Musicians Benevolent Fund, and her many stories concerning 'Glorious John' proved to me that given the opportunity I would want to know this man better, thank you 4BR for that opportunity.

No doubt he would also want to supervise the cooking, especially of the pasta and the selection of the wine, and I think I would be delighted to allow him that privilege.

2. John Philip Sousa

Second would be a man for whom I have boundless admiration. His father was a musician in the Presidents Own Band of the United States Marine Corps, and an immigrant at that, but the young John Philip Sousa availed himself of every opportunity to learn and not only became Director of the Marine Corps Band at a ridiculously early age but went on to become perhaps the best known and most successful Wind Band Conductor ever. His marches aren't half bad either.

3. Lt. Col 'Jiggs' Jaeger

Third and my last conductor on the list would be Lt.Col 'Jiggs' Jaeger. A foundling who joined the Band of the Kings Own Yorkshire Light Infantry as a thirteen year old band boy, he elevated himself first through his ability as a cornet player then through his innate musicianship and ability to communicate, to the position of Principal Director of Music for the Army and Director of Kneller Hall.

He also conducted the Black Dyke Band with great distinction and absolutely no luck at all or he would be a household name for everyone in the band world, I know that his lack of success with Black Dyke hurt him greatly.

'Jiggs' as he was universally known 'kickstarted' my career as an Army bandmaster and through his care and kindness ensured that despite my inexperience and military naïveté I would be allowed a fair shot at getting it right. I have a lot to be grateful to 'Jiggs' for and a seat at this illustrious table might just go a little way to repaying some of that debt.

He would also be responsible for organising the cards and backgammon for those who needed a temporary respite from the table; He loved all games of chance and just might provide a much needed diversion for some of the guests.

4. Ernest Hall

Ernest Hall was the doyen of British trumpet players in the middle of the last century. In the 1950s it was his proud boast that he could go to any professional orchestra in Britain and sit on fourth trumpet in the sure knowledge that the first three had been taught by him, or by people who had been taught by him.

He was a giant of a man who loved life greatly, loved the people who he worked with and had a special place in his heart for the young musicians whose destiny he guided. I first got to know him in 1955 when I became a member of the National Youth Orchestra and he was the brass tutor. Like the rest of the brass players I was completely in awe of him. I would love to meet him again round a luncheon table and enjoy his company as an adult.

Many of the musicians who have influenced the brass band in the last fifty years came under the care and influence of Ernest Hall at some time in their career and it would be wonderful to know what he thought of today's players
At one of the NYO Courses 'Ernie' as he was universally known took a day off to spend it with a friend who was en route from America to Germany and stopping off to have lunch and an afternoon of playing trumpet duets together.


5. Louis Armstrong

It was the next day when 'Ernie' returned to his duties that we discovered that the friend in question was another great trumpet and cornet player although from a different tradition, one Louis Armstrong and he would be my next guest.

His story of 'a rag to riches' is an echo of the life of many professional musicians and there is no doubt that he made the most of his talents, and brought great pleasure to many people. He would just have to be a great luncheon guest with a great story to tell. In addition his music has added considerably to the brass band repertoire.

6. Philip Jones

Last but certainly not least of the voices from the past would have to be Philip Jones. He was a wonderful trumpet player and a charismatic leader who with The Philip Jones Brass Ensemble made the world of the brass ensemble his own fiefdom.

He also gave opportunities to many brass players who are now household names to star in those ensembles, often taking a back seat himself. Elgar Howarth, James Watson, Ifor James, Howard Snell John Iveson and John Fletcher to name but a few all worked with him, sometimes as writers or conductors as well as players.

He also gave a great deal to the brass band as an adjudicator, and what a critic he could be. No namby bamby weasel words for him, Philip told you what was wrong in no uncertain terms. Not all is well with brass bands at the moment, certainly in the field of competition and I think Philip would have many words of wisdom to impart on that score.

7. Maurice Murphy

So that's six great musicians from the past sat round the table and another four to go. My thought is that it would be impossible as the only living member of the table to handle all the conversation at once but whoever one picked to join the table must love a party as much as the other guests and be able to hold their own in this illustrious company.

So first of the contemporaries would by Maurice Murphy, loved and respected by everyone in the profession and his links with brass bands and Black Dyke in particular, in addition to his fantastic experience with both the BBC Northern and the LSO would make him a perfect foil for my other guests, and I have never known Maurice turn down a good party.

8. John Wallace

Next another trumpet player with roots in the brass band world but with experience in every aspect of music whether it be playing, and who can forget his time as Principal Trumpet with the Philharmonia orchestra, or teaching, and adjudicating and leading his own Brass Ensemble.

Now as principal of the Royal Scottish Academy of Music John Wallace has a tremendous grasp of what is going on in every area of music making in the country……and is another who loves a good party.

9. Terry Carter

For my ninth guest I have invited the Producer of Listen to the Band Terry Carter. Before taking to broadcasting as a career he was a professional french horn player, but apart from his new love, brass bands, his big love is jazz and I could not deny him the opportunity to talk with Louis Armstrong.

There is, however, and ulterior motive. I would ask Terry to arrive a day early with some recording equipment and 'bug' the table so that we could re-run what should be amazing conversations and perhaps revelations and make radio programmes out of the recordings for ever and a day.

10. Helen Renton

Last but not least my wife Helen, with the food prepared and served in our own house by someone else it would be a rare chance for her to sit and enjoy the surroundings, and as a professional violinist (who would secretly like to play the trombone) I could not preclude her from meeting all these fascinating musicians. She is also a lady who can hold her own with the best of them when it comes to lunch and conversation.
So there we have it, the links with the brass band world are sometimes tenuous at best but all are musicians who have given much in their lives and whether it is by example or repertoire have given a great deal to the world of brass bands.
All I have to do now is fix the date!
---
Previous dinner guest lists:

Previous guests have included the 4BR selection; Chris Wormald; David Read; Pete Meechan; Alan Jenkins; Derek Broadbent; Philip Harper and Peter Roberts.