Band under the spotlight - BTM Band
18-Jul-2008
In the sixth of our series, 4BR puts a band under the spotlight to find out more about them and whether or not we think they can be successful in 2008 and beyond. This time it's BTM who have come a very long way in their short history.
---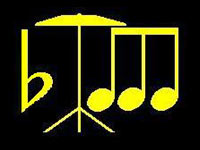 Band: BTM Band
Website: http://www.btmband.co.uk/

Region: Wales

Major Honours:
Champion Band of Wales: 1994
Welsh League Champion: 2007
Welsh Regional Champion: 1991, 1993
Welsh Miners Eisteddfod winner: 2003, 2007
Pontins Champion: 1991, 1992


---
Band History: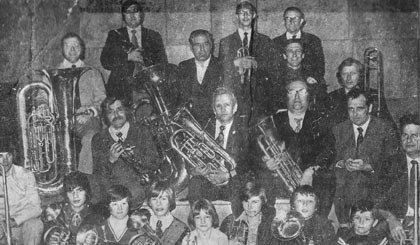 Where it all started: The first BTM Band photo call in 1974

Where the vast majority of top class championship bands can recall a long, and invariably inexact history, the BTM Band can trace its roots very specifically back to its beginnings.
The present band was formed in 1972, when Cynan Jones, a native of Blaenau Ffestiniog in North Wales came to work as a brass teacher in the Caerphilly area, and decided to try and form a band from players from the three small villages of Bedwas, Trethomas and Machen. Thus was born the BTM Band.
Some of the instruments used by the early band had been inherited from the old Windsor Colliery Band, but in 1975 at the Welsh Regional Championships they made their contesting debut, coming 5th in the Fourth Section.

The band rapidly progressed through the sections, winning the Welsh Third Section Area title in 1977, coming 4th at the Finals, and Second Section title in 1984, going on to come 3rd at London. They became a fully fledged Championship band in 1985. Other domestic titles include twice winning the Welsh Miners Eisteddfod in 2003 and 2007 and Welsh League in 2007 as well as being crowned BBC Radio Wales Band of the Year on two occasions.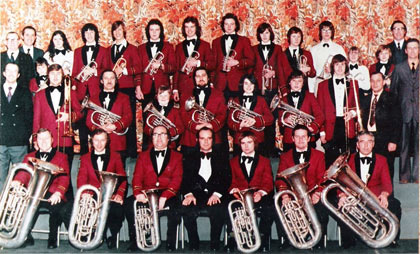 Budding champions in the making: BTM in 1976

In 1991 they became Welsh Regional champions, a title they won for a second time in 1993. They have represented Wales at the European Championships in Wales in 1992, coming 6th, and again in 1994, when they came 7th in Montreux.
Nationally, the band has also enjoyed success, winning the Pontins title in 1991 and 1992 as well as qualifying for the National Finals a total of 12 times. In 2008 it will finally make an appearance at the one major contest it has yet to compete at – the British Open, after qualifying from the Grand Shield in May.

The band has also made many radio broadcasts,and has also appeared many times on television being the subject of 3 "fly on the wall" documentaries.
As well as it's contesting work, the band also undertakes a wide range of concerts in various parts of the country supporting national and local charities such as Leukaemia Research Fund, the British Heart Foundation, The Charity for Sick Children, The Joshua Foundation and Rhymney Valley Children's Centre.
Over the years its policy of encouraging young players has given the band a proud record of representation in the National Youth Band of Wales, whilst two of it players have become Senior British Open Solo Champion – Mark Hutcherson and Chris Thomas (now with Cory) and former tenor horn player, Owen Farr was crowned Junior Solo Champion too.

The band have established an enviable reputation for competing in entertainment contests, as well as providing the music at Welsh rugby international matches to help stir the crowd in its support for the team.
---
Statistics:
Current 4BR Ranking: 16
2007 Contesting Record:
Yeovil – 3rd
Welsh Miners Eisteddfod - Winners
Welsh Regional Contest – 3rd
Ebbw Vale - Winners
Grand Shield – 6th
All England Masters – 10th
Burry Port – Winners
National Finals – 7th
Pontins – 10th
Treorchy - Winners
2008 Contesting Record:
Yeovil – 8th
Welsh Miners Eisteddfod – 5th
Welsh Regional Contest – 2nd
Grand Shield – 2nd
All England Masters – 19th

2008 Prize Money won: £700
---
4BR Seven Year Ranking Progress: (World of Brass/4BR ranking to July 2008)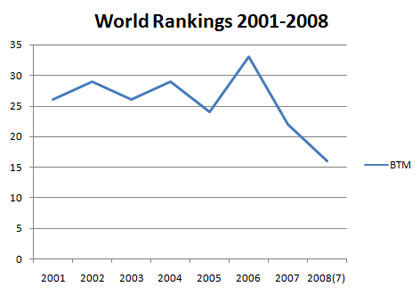 Despite occasional dips in form, BTM has enjoyed a very consistent 4BR Ranking over the years.
At the end of the first 4BR Ranking year in 2001 they were in 26th place, and over the next three years they dropped a couple of times to 29th but pushed to 24th at the end of the 2005 season.
2006 saw them drop away somewhat to 33rd, but a fine 2007 of contesting success saw them push up to 22nd. That success has continued and they are now enjoying their highest ever ranking of 16th.
---
Personnel: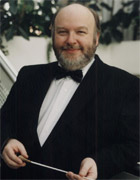 Professional Conductor: Nigel Boddice
Nigel Boddice, Hon A.R.A.M, enjoys a busy and enterprising conducting career. Highlights include concerts, recordings and a live CD project for Naxos with the BBC Scottish Symphony Orchestra and some highly enjoyable children's concerts with the Ulster Orchestra in Northern Ireland.
For the last seven years he has been regularly commuting to Norway, having accepted the role as Chief Conductor to the Royal Norwegian Navy Band and led the ensemble to a new and much admired international standing.
He studied at the Royal Academy of Music, London and later with both the distinguished Scot Sir Alexander Gibson and the Polish Maestro Jerzy Maksymuick.
Currently he is on the staff at the RSAMD. Nigel has been honoured in the past by the Worshipful Company of Musicians, London, being the inaugural recipient of the Mortimer Medal, and also by the Society of Scottish Composers for his prolific presentation of contemporary works.

Over the last five years he has worked with countless orchestras and bands of every combination, which has formed the basis of a strong repertoire in several mediums.

Current Players:
Principal Cornet: Ian Roberts
Solo Cornets: Trevor Isaac; Max Joseph
Soprano: Meirion Davies
Repiano: Zoe Alexander
2nd Cornets: Paul Kelly; Kirsty Davies
3rd Cornets: Karen Cartlidge; Ross Salvage
Flugel: Alexandria James
Solo Horn: Jeff Hutcherson
1st Horn: Jason Sheppard
2nd Horn: Aled Clement
Euphoniums: Mark Hutcherson; Andy Gourlay
Baritones: Tim Jones; Carwyn Evans
Trombones: Jonathan Pippen; Nick Jones; Chris Gill
Eb Basses: Kate James; Richard Davies
Bb Basses: Tim Evans; Lewis
Percussion: Jordan Williams; Matthew Hardy; Richard Cartlidge
---
2008 Aims and objectives: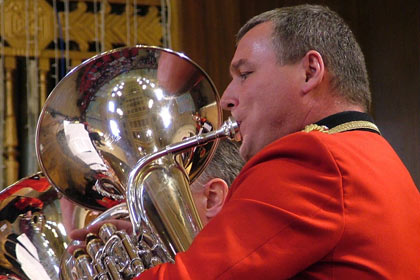 Founding father: Euphonium star Mark Hutcherson in action

Contests:
"The main objectives for the year in terms of qualifying for the British Open and National Finals have been achieved – and we are looking forward to making our debut at Symphony Hall.
Everything else is now a bonus, although we will be looking to make a real impression at the British Open and will be trying to improve on last year's 7th place at the National Finals. Our best performance in London so far has been 5th place in 1991 and we think we could better that again.
We will also be entering the remaining two Welsh League contests although we don't think we will be going to Pontins this year – its just too much. 2008 has been a great year so far though." – Mark Hutcherson, BTM Band

Non contesting front:
"After our Summer break it is back down to hard work and the preparation for the two major contest in September and October. However, we have plans we hope for a new CD release, have just completed a 'Listen to the Band' recording and have a number of local concert promotions in the pipeline.
We round off our year at St David's Hall helping raise funds for Leukaemia Research, and then it's a well earned rest!" – Mark Hutcherson, BTM Band
---
4BR Predictions: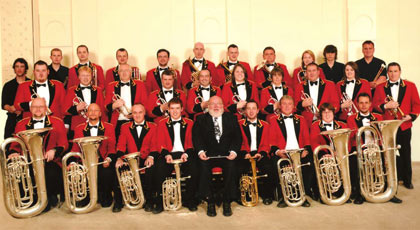 Looking forward: BTM 2008

In the past BTM has been a band that has tended to enjoy occasional flashes of musical inspiration rather than consistent contesting performances. That however seems to have changed in recent times.
Over the past two years or more the band has enjoyed an extended period of extended good form on just about all the major contest platforms, with consecutive appearances at the National Finals topped this year with their first appearance at the British Open.
The only blip so far was a pretty tired performance at Cambridge, but that was pretty understandable given the extent of their celebrations from Blackpool just a fortnight earlier.
The appointments of Graham O'Connor (who led them to National qualification) and Nigel Boddice, have gelled well, with their experience harnessing the bands strengths of exuberance and hard graft. The band has a loyal core of experienced campaigners in the playing ranks (with the Hutcherson brothers founder members) as well as a good mix of up and coming talent too.
As for the rest of the year?
The British Open will be one heck of a stern test of character, but with a good mix of experienced solo players and solid ensemble back up they will be confident of more than holding their own.
London perhaps suits them better and depending on what happens in Birmingham they could be looking at another top 10 place at least.
If they can build on that then the Welsh League title isn't out of the question either, whilst they can the look forward to a further rise up the 4BR Rankings for 2009 and beyond.