Dinner Guests - Peter Robert's ultimate brass band dinner guest list
4-Jul-2008
Peter Roberts tells us who he would like to invite to come to dinner...dead or alive.
---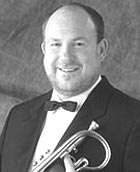 Given the opportunity, the wish list, the ability to mess about with the Space-Time Continuam like Doctor Who, and the skill to cook like Heston Blumenthal, who would you like to invite around to your place to enjoy a meal and chin wag with?
We've been fairly generous with our criteria too: The 10 people can come from any time in history, but must have some link, in however tenuous a form, to the brass band movement.

The budget for the meal and drinks comes out of their own pockets though...
4BR started it all off a few days before Christmas with our 10 dinner guests, so we thought we had better ask a few more brass band personalities who would be on their all time dinner list too...

This time it's Peter Roberts, the brass band worlds greatest ever soprano player, adjudicator, arranger and occasional cricketer it seems...

As Peter says: "An eclectic mix of past and present. I would hope that the conversation was not all about contests, but about music making in general, and after dinner Wycliffe and Chris would entertain the other guests, and Sheona could wash up!!!!!!!!!!!! ( Sorry Sheona I couldn't resist)"
1. Wolfgang Amadeus Mozart
It would be interesting to ask Mr.Mozart what he thought of our medium for making music, and would he be interested in composing an original work for Brass Band.

I could take him to one of the hard drinking workingmen's clubs where I am sure he would feel at home.
2. Chris Jaudes
I have had the pleasure of working with Chris over a few years at Brass Band Battle Creek. This man is a phenomenal trumpet/cornet player. Anyone who has the chance to hear this man play live should grasp the opportunity.

They will not be disappointed. One of the world's true gentlemen.
3. Sheona White
What a pleasure it would be to invite such a beautiful woman, and one who has such a gorgeous sound on the Tenor Horn. I have known Sheona for quite a while, and we have a mutual admiration and respect for each other. I could perhaps seat her next to Mr.Mozart.
4. Elgar Howarth
I was part of the Howarth revolution in the early 70's, and all the original group of players at Grimethorpe still, to this day, address him as Mr. Howarth. This is out of respect. We would reminisce about the old days, over a pint of Tetley bitter.
5. Wycliffe Gordon
An amazing trombone player from America. When I was learning to play, the phrase "making the instrument talk" was used. Wycliffe "makes the Trombone talk" such is this man's amazing ability. Wycliffe would (I'm sure) entertain us with his singing as well.
6. Geoff Boycott
I met him briefly once, and although not strictly a 'bander' Geoff is probably the finest batsman of his generation, and having played cricket at local level, I would like some tips from this outspoken Yorkshireman.
I would seat him between Chris Jaudes and Wycliffe Gordon, and he could explain the rules of cricket to two Americans.
7. John Henry Iles
What would John Henry make of today's contest organisation? Would he be pleased, or would he be saddened? With the advancement of communications and transport would he be able to organise a true world championship? All these questions would make for interesting conversation.
8. George Thompson
My mentor. A man who had foresight, vision and musicality. He was forty years ahead of his time. I wonder how he would fare in today's contest arena? (Probably better than most) Again we would reminisce about the old days.
9. Tommy Waterman
A great Soprano player. What a tragedy when Tommy died at such a young age. I heard Tommy play in the Albert hall, on Black Dyke's winning performance of Journey into Freedom. Truly outstanding.

We could share past and present glories, and during the conversation perhaps pass on a few tips to budding soprano players.
10. John Gladney
With the advancement of transport, could Mr. Gladney conduct all the bands at the British Open? What a record! This man must be a great conversationalist, as he must have known a lot of bandsmen. (Or were they the same one's that played for different bands?)

He would be seated between John Henry Iles and George Thompson.
---
Previous dinner guest lists:

Previous guests have included the 4BR selection; Chris Wormald; David Read; Pete Meechan; Alan Jenkins, Derek Broadbent and Philip Harper.