2008 English National Championships - The Adjudicators
24-Jun-2008
There will be three wise men in the box at Preston at the weekend all with infinite patience and wisdom...
---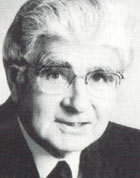 David Read:
David Read made his debut as adjudicator at the National Finals way back in 1985 when he shared the adjudication on "Cloudcatcher Fells" with Bram Gay and Sir David Willcocks.

Since then he has been the most regular of judges at the Finals in addition to adjudicating at the British Open (debut 1982), the Masters, the European and many other major brass band contest all over the world.
He is a most highly respected judge, who's written comments are constructive and detailed and who has an acute ear for musical shape as well as technical clarity.

More importantly he is seen as a "safe" adjudicator in the eyes of the bandsmen themselves, in that he invariably gets the vast majority of decisions concerning the prize-winners correct.

David Read was born in Wales and did his Military service with the Regimental Band of the Welsh Guards. His playing career came to fruition with the Askern Colliery Band, followed by a spell with Carlton Main Frickley Colliery.

He later joined the Munn and Feltons Band (later named GUS) later becoming Principal Cornet. During his time with the band, GUS became National Champions on four occasions and World Champions once.

He was also assistant principal cornet for the Virtuosi Band of Great Britain and Kings of Brass and was three times Champion Cornet Player of Great Britain and once outright Solo Champion. He was also a member of the famous GUS quartet that with John Berryman, John Cobley and Trevor Groom who on a number of occasions were British Quartet Champions.

He has been an educationalist as Senior Instrumental Teacher for Cambridge Area Education Authority, and in 1983 was honoured by the Worshipful Company of Musicians and in 1996 by receiving the English Masters Dedicated Service Award.
---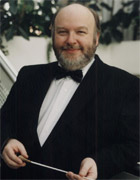 Nigel Boddice:
Nigel Boddice, Hon A.R.A.M, enjoys a busy, impressive and enterprising international conducting career. Among the highlights so far, are concerts, recordings and a live CD project for Naxos with the BBC Scottish Symphony Orchestra and some highly enjoyable children's concerts with the Ulster Orchestra in Northern Ireland.

For the last seven years he has been regularly commuting to Norway, having accepted the role as Chief Conductor to the Royal Norwegian Navy Band [ K.N.M.M.], and led the ensemble to a new and much admired international standing.
He studied at the Royal Academy of Music, London and later with both the distinguished Scot Sir Alexander Gibson and the Polish Maestro Jerzy Maksymuick.

Currently he is on the staff at the Royal Scottish Academy of Music and Drama. Nigel has been honoured in the past by the Worshipful Company of Musicians, London, being the inaugural recipient of the Mortimer Medal for his beloved work in musical education principally for West Lothian, and also by the Society of Scottish Composers for his prolific presentation of contemporary works.
Over the last five years he has worked with countless orchestras and bands of every combination, which has formed the basis of a strong repertoire in several mediums.

He has recorded much for Radio and TV and has also completed several CD`s for Naxos, Doyen and Polyphonic. Recently, through his Scandinavian connections, he has been especially lucky to have collaborated with Ole Edvard Antonsen, Christian Linberg, Michaela Petri and Solveig Kringlebotn.
Back home in the UK, Nigel has continued with his distinctly versatile approach to work by directing and presenting the Salon Orchestra throughout Scotland and making New Year's Day appearances with the Philharmonica of Scotland.

Throughout the years, choral music has been an additional interest and featured in many a concert with for example, the Edinburgh Royal Choral Union, the National Norwegian Girls Choir from Oslo and Norway's legendary Silverboys.
Future travel and concerts are planned and anticipated in Argentina, Germany and Denmark. Future Summer Schools include return visits to the National Youth Wind Ensemble of Scotland, Glasgow Schools Orchestra , Moray and the R.S.A.M.D. Junior Orchestra.

Finally a brand new venture has just newly developed in Molde, where Nigel will direct their three orchestras amid the panoramic mountain landscapes of Middle Norway.
---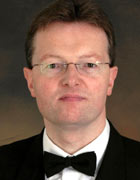 Chris Wormald:
Chris Wormald is an Assistant Headteacher at Smithills School having previously been the Head of Music since 1990, the year he also joined James Shepherd Versatile Brass. He was a member of the National Youth Brass Band of Great Britain, playing under Harry Mortimer, and became Head of Brass Instrumental Teaching for Bolton MBC from 1983 to 1990 in addition to teaching at the Royal Northern College of Music in Manchester.
In 1998 he was presented with the Mortimer Medal from the Worshipful Company of Musicians at Symphony Hall in Birmingham. As a professional horn player, Chris made his London debut in the World famous Philharmonia Orchestra at The Barbican in 2003.
Chris is a long time member of the Association of Brass Band Adjudicators (A.B.B.A.) and National Association of Brass Band Conductors. He has won numerous contests, competitions, festivals and awards as a conductor, horn player, teacher and arranger and has adjudicated all over the World since 1991 including the inaugural English National Brass Band Championship, Scottish Open, Grand Shield (Senior Trophy & Senior Cup), Yorkshire, Scottish, London and North West Area Contests, Carnegie Trust Championships, Muse Festival (Singapore), Northern Ireland Championships, Scottish Borders, Wilkinson Northern Open, Pontins, Rhyl Festival, Preston Guildhall, Leicestershire Association Contest, Buxton, Ebbw Vale, Easingwold, Skipton, Fleetwood, Hardraw Scar, Minsthorpe and British Open Solo & Quartet Championships. This September Chris will be adjudicating at the National Brass Band Championship Finals in Harrogate for the first time.
In 2001 Chris was named Classic FM Music Teacher of The Year and in 2002 was presented with both the Gerald Taylor Vocational Award and Brian Hicks Memorial Award for his continued outstanding success and dedication to brass bands in education. Chris continues to have his brass band arrangements published by Wright & Round, Studio Music (London) and Obrasso (Switzerland).