Band under the spotlight - Virtuosi GUS Band
20-Jun-2008
In the fifth of our series, 4BR puts a band under the spotlight to find out more about them and whether or not we think they can be successful in 2008. This time it's Virtuosi GUS a band with a proud past and it seems, an encouraging future.
---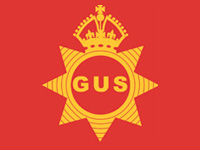 Band: Virtuosi GUS Band
Website: www.thegusband/co.uk

Region: Midlands
Major Honours:
World Champions: 1971
National Champions of Great Britain: 1935; 1955; 1957; 1960; 1964; 1966.
British Open Winners: 1954; 1988
Midland Regional Champions: 1946; 1947; 1957; 1960; 1963; 1964; 1996; 2001; 2004
Royal Trophy (Bugle Contest): 1935; 1954; 1955
National Quartet Champions: 1966; 1967; 1968
---
Band History: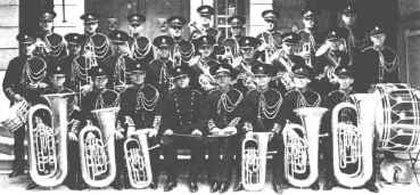 Early years: Munn & Felton circa 1935

The history of the band is well documented. Formed in 1933 as the Munn & Felton's Works band in Northamptonshire, success came quickly as they were crowned National Champions just two years later under William Halliwell.

The appointment of Stanley Boddington however was the catalyst for a period of unbridled success that lasted throughout his long association with them. Five National Championship wins, plus a British Open success earmarked the band as perhaps the most consistent top class outfit of its generation, whilst the band itself contained numerous players who became household names to the brass band community, both at home and abroad.

The far sighted influence of Boddington saw connections made with the likes of Gilbert Vinter in the 1960s, a time when the band was perhaps at its peak. The bands famous quartet of John Berryman, David Read, David Cobley and Trevor Groom were triple British Quartet Champions.

The crowning glory however came in 1971 when, now called the GUS (Footwear) Band they became World Champions at the Royal Albert Hall.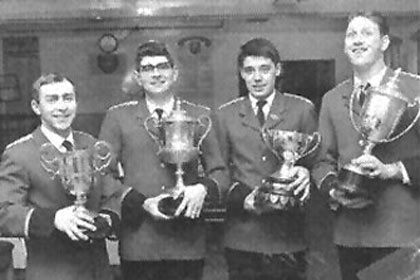 Famous Four: The GUS Quartet

The retirement of Stanley Boddington in 1975 signalled an end of an ear and although they enjoyed sporadic success thereafter it wasn't until 1988, when as Rigid Containers, it won its second British Open title under Bramwell Tovey.
That was something of a last hurrah and through further name changes it never quite reached those heights again, despite occasional good results at major contests. The 21st century saw further changes with the band reverting back to its most famous moniker.
In the last two years the association with Virtuosi has seen something of a renaissance and with the return of John Berryman to the helm and with an influx of quality players the band seem now set on the road to further success. 75 years after it all began, a famous banding name may well be climbing back to the top again.
---
Statistics:

Current 4BR Ranking: 26

2007 Contesting Record:
Midland Regional Contest - 5th
Grand Shield Contest - 5th
Butlins Mineworkers Championships: 2nd
French Open Brass Band Championships: 1st (March) & 3rd (Contest Programme)

2008 Contesting Record:
Butlins Mineworkers Championship – 5th
Midland Regional Contest: 2nd
Grand Shield: 4th
All England Masters: 8th
2008 Prize Money won: £100
---
4BR Seven Year Ranking Progress: (World of Brass/4BR ranking at the end of each contesting year)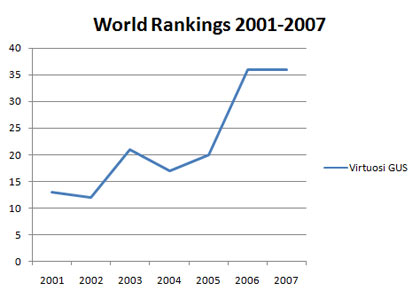 At the end of 2001 the band was ranked 13th in the world, and rose to 12th at the end of 2002.

Since then they dropped away somewhat, falling to 21st at the end of 2003, up to 17th at the end of 2004, back down to 20th in 2005 and then to 36th at the end of the 2006 and 2007 seasons. This year however has seen a fine rise to see them currently lie in 26th place.
---
Personnel: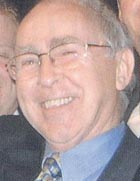 Musical Director: John Berryman

As a player John's first involvement with brass bands came in his native Cornwall at the age of eight, as a cornet player with Camborne Town Band.
His rapid progress saw his appointment as Principal Cornet of the National Youth Brass Band of Great Britain prior to becoming Principal Cornet of the famous Munn and Felton Band (later GUS Footwear) under the direction of the late and great Stanley Boddington.
He held this position for a period of ten years, and during this time he toured many countries, including Switzerland, Denmark and Holland.

In the contest field and with John at the helm, the band won the National Championships on three occasions. He was also the leader of the famous GUS Quartet, winning a hat trick of National Quartet titles in 1666-1968. A highlight of his solo career was appearing as Guest Soloist in the Gala Concert at the Royal Albert Hall.
John was employed as a full time tutor of brass instruments for Northamptonshire County Council for 29 years with responsibility for directing and training the very successful County Youth Brass Band.

As a conductor, John has enjoyed considerable success in partnership with a number of top class bands. In 1987 John was awarded the prestigious Iles Medal from the Worshipful Company of Musicians in recognition to his services to the brass band movement and in 2004 he was awarded the All England Masters Dedicated Service Award. He remains today one of the most popular band trainers and personalities in the banding world.

Current Players:
Principal Cornet: John Hudson
Solo Cornets: Adele Hudson; Gary Sherlock; Nigel Bramley; Chris Millington
Soprano: Gary Fountain
Repiano: James Fountain
2nd Cornets: Simon Hardy; Darren Ashman
3rd Cornets: Sally Bramley; Graham Smith
Flugel: Cliff Pask
Solo Horn: Simon Smith
1st Horn: Nathan Waterman
2nd Horn: Bruce Harris
Euphoniums: Robert Woods; Rory Cartmell
Baritones: Mark Giles; Andrew Wainwright
Trombones: Chris Jeans; John Hopkins; Nigel Love
Eb Basses: Linda Hobbs; David Elliott- Smith
Bb Basses: Mike Smith; John Monaghan
Percussion: Clive Wears; Chris Brice; Liam Hallorhan
---
2008 Aims and objectives: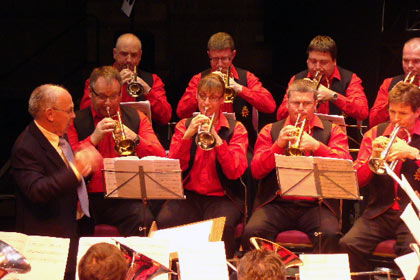 In full flow: John Berryman leads Virtuosi GUS at the Masters this year

Contests:
"On the contesting field, the band has already achieved the first of their contesting aims for 2008, which was to qualify for the National Finals.
We had hoped to return to the British Open, but just missed out at the Grand Shield, whilst we were a little unlucky at the Masters and played well enough at Butlins.
John Berryman's recent appointment as Musical Director brings back to the band a wealth of experience and the band firmly believe that he will lead the band in challenging the very best of bands in the UK once again. We have a great deal to look forward to throughout the year."
Non contesting front:
"This years diary for the band is full. With 2008 being the band's 75th anniversary year, a number of concerts are being held throughout the country to celebrate this milestone.

Concerts this year span country wide, from Northamptonshire to Cornwall, Gloucestershire, Buckinghamshire, Cambridgeshire and Yorkshire. A tour of Cornwall is scheduled later this year hosted by St. Stythians Band, during which the band will also be hosting a master class.

One very exciting project organised for the Summer is a recording contract after which the band will be releasing a new CD, with Volume 2 following soon after."
---
4BR Predictions:

A year that hasn't quite gone to plan for Virtuosi GUS, although there are very encouraging signs that the next 12 months or so could well see them start to return to the top level of the contesting tree.
The signs at Butlins perhaps camouflaged a few weaknesses still to be addressed with the ensemble, although they showed plenty of class in making sure of their qualification for the National Finals.
The Grand Shield saw them produce the best contest performance we have heard from them for a long while under the direction of John Berryman, and were perhaps a touch unfortunate that an early draw may just have counted against them on the day.
Things were going well at Cambridge too, until an unfortunate ending saw them come 8th – until that point they were heading for another top six place.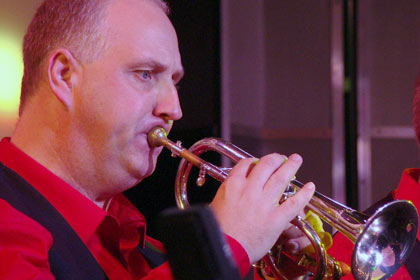 Class Fountain: Gary Fountain leads from the soprano chair

These are all encouraging signs and with a raft of high class lead players such as Gary Fountain on soprano, John Hudson on cornet, Chris Jeans on trombone, Rob Wood on euphonium and Simon Smith on horn, things have a steady and balanced feel about them.
Now comes the hard part though, and the need to make that all important next step up in class. The quality is there and the man at the helm is as good as any, but they will need to produce a good showing at London to dispel any lingering doubts about their genuine capacity to mix it with the big boys once again.

2008 has been a good year – not great mind you, but if things continue to improve then 2009 should be even better.