Time Team - June 2008
11-Jun-2008
4BR looks back through time to see how bands coped with keeping themselves busy during the non contesting Summer time.
---
The world really is getting a smaller and smaller place.

We may all say we are thinking about the size of our carbon footprints, but in all honesty we just don't give it a second thought as we fly by jumbo jet through the diminishing ozone layer to make sandy flip flop imprints on the beaches of the exotic locations we now take for granted as our holiday destinations.
Grand Tour

It was not always like this. 250 years ago people would impress their neighbours by embarking on the 'Grand Tour' of the great European renaissance cities, returning years later with artistic souvenirs of Florence, Rome and Paris. The only expensive carbon they knew anything about was usually of the diamond variety.
Today however you can take a morning package flight to see Michelangelo's David in Florence, and still be back home in time to watch Coronation Street. All this with a pile of souvenir duty free in tow and using enough carbon to keep a Welsh miner in work replacing it with coal for a fortnight.
Where once only the fortunate few went to explore and educate themselves, now the shell suited masses invade and party until the sun rises on the once proud vistas of Prague, Amsterdam, Rome and beyond – all for the price of a cheap airline ticket and the chance of a bit of early summer sunshine.
Shrinking globe

For brass bands, the shrinking of the globe has also brought about changes too.

In the early years of the 20th century two of our most famous bands undertook world tours. Grand wasn't the word to describe these events – epic was more fitting.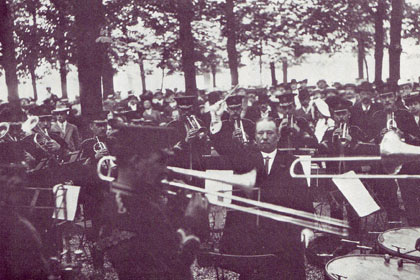 Besses and Alex Owen play their way around the world in 1906

World Tours

Besses o' th' Barn left these shores in July 1906, returning in December 1907 after visiting America, Canada, Honolulu, Fiji, New Zealand and Australia, whilst rivals Black Dyke headed for North America on a trip that eventually lost them over £3,000. Even Alan Whicker would have found these tours a bit of a struggle!
All this remember at a time when the Wright brothers had only just got their first aeroplane off the ground three years previously.
These were colossal undertakings that no other bands have come close to emulating since. Black Dyke left Britain on June 29th 1906 returning some five months later on 24th November after taking in 200 performances in the USA and Canada in locations as diverse as New York and Montreal to Albany and Toledo. They played to 40,000 people alone in Toronto, whilst the trip on a steamer across the Atlantic took eight days.

Dyke diary

The diary of their second flugel horn player Willie Jeffrey tells of an age when America was indeed a land of foreign wonderment – not all of which was exotic or appealing.
His entry for the 16th August 1906 in a small town in Kentucky reads: "Been two murders here today, it's a terrible place. Everyone is allowed to carry a revolver here. There have been a lot of our fellows at the goal today to see a fellow hung for wife murder."
On his return home he recorded that, "Sufficient to say is that I never realised the meaning of 'Home Sweet Home' so much as I do today…I have asked the fellows and they wouldn't like to do it again" – not surprising really as most men lost upwards of £50 each from 'investing' in the venture.
Tours to foreign lands tells us much about our understanding of our fellow man as many a modern touring brass band has found out to their cost, although European trips are usually occasions for bands to enjoy both their own and their hosts company.
Ground breakers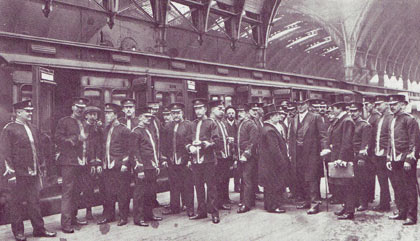 Ground breakers: Besses get ready to depart

The ground breakers were once again Besses o' th' Barn when in 1905 they first played for the Royal Family at Windsor Castle before embarking on a tour of France with the blessing of the then Prime Minister Arthur Balfour. Such was its success that their conductor Alexander Owen was presented with the Officier de L'Instruction Publique medal by a grateful French nation.
Others would soon follow with the likes of CWS Manchester, Fairey's, Munn & Felton, Fodens and Carlton Main all visiting new lands with an almost missionary zeal to find brass band converts – with considerable success too, especially in Switzerland, Holland and Belgium. Many of these, now with flourishing banding movements owe a great debt of gratitude to the pioneering spirit of these touring bands in the 1950's and early 1960's.
European Tours

Adjudicator David Read remembers when as a member of the Carlton Main Band what these early overseas visits did for European banding. "The impact these visits had was tremendous. The appetite for brass band music was immense and really had far reaching effects – the results of which we are seeing today. The appearance of top British bands at the Kerkrade Festival in particular really set the ball rolling in developing a brass band movement in Europe."
The French though remain very much nation apart when it comes to understanding our particular passion and some tours to our closest neighbour over the years have come to resemble an edition of 'Jeux sans Frontieres' complete with a laughing Stuart Hall and Eddie Waring.

Closer links

This has especially been the case after Britain forged closer links to Europe in the early 1970's, when small towns 'twinned' to provide cultural links, friendship and invariably, linguistic misunderstanding with communities much, they thought, like their own. They would come here and bring their football teams, strange cheeses and little understanding of driving on the left hand side of the road, whilst in return we would reciprocate with our local brass band, rugby teams and fish and chips.

In recent years the French Open Championships have taken place in the quite beautiful surroundings of Amboise in the Loire Valley. The contest has attracted bands from all over Europe, especially the British who have been very successful there.
Matter of negotiation

However, the French have a rather lassie faire attitude when it comes to time keeping. So much so that many touring British bands have found that when it comes to the start time for a concert their hosts attitude reminds you of the famous quote about the cricket player Dennis Compton. "When he called for a quick single," an exasperated fellow player once remarked, "it was more a matter of negotiation than a firm proposal of intent."
So it is with the French, with many a band finding that they may have been ready to play at the appointed time, only for their audience to appear at varying intervals over the next hour or so with a gallic shrug of the shoulders as they pay little heed to the plight of the band on stage. All this and come the end of the concert they almost demand by right more encores than the great Dame Nelly Melba could have managed.

Cheap air travel

In recent years with international air travel now as cheap as a first class rail ticket, brass bands have ventured to Australia, New Zealand, Singapore and even Japan. Where Hammonds Sauce, Black Dyke and Leyland became the latter day versions of Besses o' th' Barn in the late 1970's and 80's, in the past few years alone the likes of the Dearham and Jaguar (Coventry) bands have undertaken trips to the US Open Championships, whilst Yorkshire Co-operative has played at the New Zealand National Championships.
Last year the National Youth Bands of Wales toured America, whilst in a few weeks time, their Scottish counterparts will head to Japan. What would those mature, moustachioed men at Dyke and Besses in 1906 have thought of all that?
Return trips

In return our friends from overseas are making ever increasing visits to our shores. In 1924 it was the Newcastle Steel Works Band from Australia that came and then left with the British Open title in their jolly swag bags, whilst in 1953 the National Band of New Zealand repeated the feat.
Even though it hasn't happened again since, what was once seen as a generational visit of overseas bands willing to take on the best of the British has become an almost annual occurrence. In last few years the British Open has played host to Americans, New Zealanders and Australians, the Masters has become an true international event and Brass in Concert has seen bands from Austria and Norway take to the stage following the trailblazing Americans of Brass Band of Central Florida a few years back.
With all this international travel something has had to make way – and unfortunately it has resulted in the death knell for what was once regarded as a mainstay of banding in this country – the domestic summer 'tour' – especially for works bands.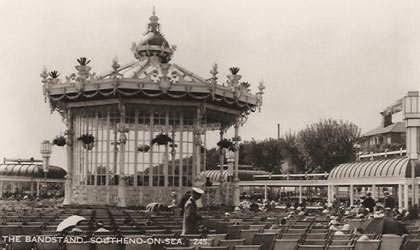 Traditional tour home: The bandstand at Southend on Sea

Home Tours

In 1886 Black Dyke undertook its first appearance at the Edinburgh International Exhibition performing 91 different pieces of music, whilst in the intervening years their engagement list increased almost exponentially (in 1897 they played engagements on 135 days of the year). Others too were in demand with the booming railway network joining up the great industrial centres to the resort towns on the coast.
At their peak in 1933, Fodens Motor Works Band undertook a 12-week domestic tour of seaside resorts followed by four weeks in the London Parks and a four-week tour of Scotland. In a typical week they would perform from Monday to Saturday playing two concerts a day totalling over 100 items of music. The poor old band librarians must have had to travel with a mule train packed with music.
Even as late as the 1960's bands had extended summer engagement bookings. In 1964 Fairey's published their list of engagements in British Bandsman that took in 21 consecutive weekend concerts from May to September in parks and venues as far afield as Dartford, Rhyl, St Anne's on Sea, Folkestone, Warrington and Wolverhampton.
Golden years

That was perhaps the last of the golden years, and the eventual opening of the Channel Tunnel and the relaxing of travel restrictions in mainland Europe meant that the appeal of playing to smaller and ever older audiences, on rickety bandstands amid rainy weather, meant the days of domestic tours were at an end.
Social changes also took their toll. 'Works' bands no longer comprised a full compliment of its own employees that could be sent on mass for weeks on end for the good of the company name, whilst younger players themselves had become much more culturally aware after starting to take their own annual holidays to the burgeoning hot spots of the Costa del Sol.

Bandstands

Local authorities also pulled the financial plug, allowing for the once proud bandstands to rust away in parks and on seafronts, decaying skeletons of wrought iron and glass.
Where once bands and players would have enjoyed a weekend playing in North Yorkshire, now they wanted to spread their wings and play a concert in Italy, Spain and France.
Cheap air travel may have given us all the opportunity to explore new and exciting lands, but it has also resulted in the terminal decline a form of historic brass band entertainment in our own backyard.

Perhaps we should remember that the next time someone you are asked about the size of your carbon footprint.

Iwan Fox

An amended version of this article appeared in British Bandsman in July 2007: Issue number 5464