Boobs & Brass - Northern Exposure
11-Jun-2008
The great girls of Boobs & Brass recently made the long trip north of the border to Alyth in Scotland - and had a fantastic time according to Maggie Betts.
---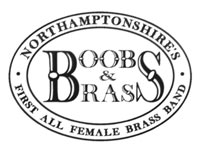 It is just one week since our return from Scotland and we are still receiving messages and comments about our concert in Alyth.
What a weekend!! Everything from the beginning went so smoothly, it was almost like a dream.
Beautiful sunshine

Our train to Edinburgh picked up the girls 'en route'and we managed to move everyone and everything onto platform 18 to take the train to Dundee. With limited space due to no luggage carriage, we were not sorry to reach Dundee a few pounds lighter thanks to Scotrail`s complimentary sauna – although we were not complaining about the beautiful sunshine.
At Dundee, George, Jim and Hilda (the organisers) greeted us looking pretty relieved that "Boobs & Brass" really did exist and had arrived!! The coach – complete with lady driver – took us on our final leg to Alyth.
Happy

At last we arrived at the Parish Church, offloaded all the instruments and gear – Perthshire Brass were already there with their `loaned` kit. We'd achieved the impossible – 48 people, plus all the instruments and gear were there – no casualties, nothing lost, nothing forgotten (only the trombone mutes!!) - amazing – I was very happy and relieved!!
No time for relaxing – back to the church for rehearsal. On the way we began to find shop windows dressed in a "Boobs & Brass" theme – wow! – especially for us – what an honour!
Disaster?

Joined by our guests from Perthshire Brass, it was to be a quick run through the programme - a couple of pieces were a bit dodgy – but we'd all have to have our fingers and toes crossed. Then our pipers were there to run through Highland Cathedral – all was fine until the band changed key. Oh no! disaster!

What do we do now?? Phew – someone sorted it – the pipes don't` play in that section - they come in at letter `F` "Just watch me, I'll bring you in" said Claire our 'timp' player. Yes! Cracked it. Now Kerri – the dancer's turn. A few words between Kerri and Mairi and all was clear – almost!! Poor Kerri – dropped in the deep end but we were convinced she could pull it off.
Running out

Time running out, we had to finish and head back to the Alyth Hotel for `high tea`, a quick wash and brush up and straight back to church for the performance.
Already, people were sitting in their seats reading their programmes with a queue waiting to find out what "Boobs & Brass" were all about.
Out came the pink jackets and we were ready for the off. All lined up we heard our que from our magnificent compere, Carolyn, "Ladies and Gentlemen, please welcome Boobs & Brass" – this was it – go! go! go!
Miracle

From the very first note, the band was on fire – they played out of their skins – was this really the first time 39 of us had played together?? It was going too well – surely something would go wrong. No, it just got better and how Kerri managed to change from her sailor outfit into a dress in such a short time was a miracle,
Jo stole the show – from being a drunken trombone player in the first half to the second half - this saw her playing her recorder like no one in Alyth had ever heard before.
Highland Cathedral

Already we had reached Highland Cathedral – the pipers – Kyle and Kerri (yes the dancer plays the pipes also) poised on the balcony either side of the organ – would they remember where letter `F` was? The whole audience were waiting to hear the "Boobs" rendition of one of Scotland's most loved tunes – should we really have included it in the programme? I should not have feared. What a sound – what a performance. Yes, the audience appreciated our version.
Before the last number, Jim the Chairman of Alyth Community Council thanked the band and presented us with beautifully inscribed silver Quaich and we presented him with a framed picture of the Band in Buxton bandstand. I understand this is going to be hung in Alyth Town Hall together with the signed programme.
Thanks

We'd decided that our encore should include our pipers and as a thank you to Perthshire Brass for all their very generous support and help we asked Mr George Annan Snr to conduct Amazing Grace. To rapturous applause, Mr Annan took the baton and the pipes began, the band joined in this haunting melody and the tears welled in my eyes. Was it relief that what had started as a bit of a joke had actually happened?? Was it sadness that this wonderful concert was nearing the end?? Was it the look on George's (the man who brought the Boobs to Alyth) face??

No! it was just a wonderful moment and just great to sit there amongst these wonderful musicians who had given their commitment to do this concert in unknown territory. I felt so proud, yet again, of what they had done. They had stolen the hearts of the people of Scotland. I looked around, and I am pleased to say, I was not the only person with tears rolling down my cheeks.
What a night!

Again, more rapturous applause and another standing ovation! What more could we give? Well, I had been well advised by George Annan Jnr that `500 miles` (The Proclaimers) would go down well, and it did – thanks George, a good choice.

What a night!!
Stands down, banners packed, instruments put to sleep for the night, truck loaded and off to the pub for well earned drinks and sandwiches. Hilda`s delicious fruit cake was soon devoured, the Quaich was christened and a great time was had by all – singing and dancing to Mairi`s accordion playing. T

he only disaster of the weekend came when Jane, performing the Highland Fling (watch it on You Tube) suddenly felt something `ping` in her hip and she couldn`t put her foot to the floor. Our very own paramedic, Sarah, took charge and looked after her. Thankfully, Jane's injury has improved and she is now able to walk again.
A few hours sleep

After a few hours sleep (very few for some) and a hearty (Scottish) breakfast we had to prepare ourselves for the march. With an extra pink jacket over my arm we went in search of our honorary `man boob` - George the euphonium player from Perthshire Brass who had done so much to help us.

We found him pushing his son in a pushchair and `kiltless`. Not wanting to impinge, he thought it best to leave it to the girls but no way! With a little persuasion, off he ran and soon returned with euphonium AND kilt. On went the pink jacket and he was positioned pride of place at the front of the Band to lead us through the town. Off we marched, a few of the girls were about to collapse by the time we reached the field. After the official opening, Chariots of Fire and 500 Miles we had to dash to catch the coach back to Dundee.

After our last few notes the rain started to fall, sadly we were also taking the sunshine with us. We bid farewell to George and Alyth and after another six hours we arrived back at Peterborough – loaded Jane into a wheelchair and whizzed her off to the car park!!
Special weekend

Everyone seemed to have enjoyed this very special weekend – I am sure that it is one that we will all remember for a long time – judging by the lovely messages and comments from the people of Alyth I think "Boobs & Brass" certainly made an impression. Thirty nine girls, from all walks of life committing their time to doing something they love – brass bands and making music.
Yes – we are so fortunate to have the services of other very busy people – Carolyn Oldershaw our very eloquent compere, Jonathan Mott our Musical Director who is in control (well we let him believe he is!!) of all these women. We always look forward to seeing which colour jacket and bow tie he opens the second half with!!

Helpers

And of course – we would never cope without the helpers – the husbands of some of the girls and friends who do all the `behind the scenes` work – putting up the stands, putting on the banners, helping with the drum kit, handing out music, packing away the gear, loading the bus – you name it they do it to take the pressure off the players and because – like us – they just love being part of "Boobs & Brass" Every single person gives their time free of charge to enable every penny raised to be passed over to Breast Cancer Campaign – researching the cure.
Man boob

When I look back at this very special weekend – the warm welcome, the shop windows, the help, support and encouragement we received, the advertisement support in the programme, the applause, the cheers and standing ovations, our honorary man boob in his kilt and pink jacket, the smile on George's face, Hilda's cake, the amazing £6000 plus raised– everything was fantastic.
Alyth did us proud – on behalf of everyone associated with "Boobs & Brass" -THANKYOU!! THANKYOU!! THANKYOU!!
Maggie Betts
Boobs and Brass