2008 All England Masters International - Retrospective
27-May-2008
It was more a question of style and substance rather than form and function that won Desford the Masters title on the weekend.
---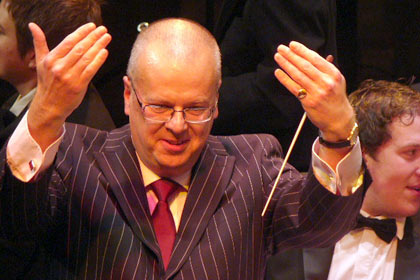 Elegant substance: Nigel Seaman as he leads Desford to Masters victory

Given that over the past 150 years, the majority of brass band contest test pieces have adhered to the formatted equation of form and function, it comes as a surprise that every now again that precept sometimes changes to that of style and substance – or in the case of the 2008 All England Masters International contest – possibly, style over substance.
This rare contesting phenomenon is possibly explained by the type of test pieces elite bands have become accustomed to playing at the highest level: prescribed, regimented and highly technical in form, whilst their function derives directly from their construction – many are mere exercises in jumping through pyrotechnical musical hoops.
Style and substance

When faced however with a work that is quite transparently indirect pastiche, parody and allusion (as well as illusion), and which clearly directs the conductors to search for the interpretation of such, then form and function become almost redundant, and style and substance become the key.

It perhaps helps explain why Desford Colliery and not Fodens Richardson won the day at the Corn Exchange on Sunday too.
'Malcolm Arnold Variations' gave the conductors of the 21 bands a test piece that was well within their technical capabilities, but also one that was stylistically beyond many of their own imaginations.
Privy to the possibility

Given that the composer himself had openly invited them to look for ideas of interpretative style by acquainting themselves with Arnold's film scores, symphonies, concertos and ballets, it should have come as little surprise that the highly experienced trio of adjudicators, David Read, Philip Sparke and Eric Crees, would do the same.

You can't say the bands, the conductors - and 4BR for that matter – were not privy to the possibility of this becoming a contest where interpretation held the upper hand over traditional workaday functionality. It was there in black and white in the preface to the Ellerby score.

Thus, style and substance – and style over substance in some cases, became a foundation stone of their judgement. Little examples were heard throughout the piece – from the inconsistent approach to the grace note pick ups in the lyrical Variation 8, to the need to give the witty musical reference to Arnold's 'Scottish Dances' before Variation 13 a sense of real mischievous absurdity.
So too the tuba quartet towards the end - which cried out for charm and warmth, and the specific characterisation of each of the 20 variations – especially in tempi and style. Too many were just blandly played like Arban technical exercises.
The judges knew what they wanted to hear, and rewarded those bands that delivered it to them.

Elegantly lyrical
And that perhaps gives you some idea to why Nigel Seaman's elegantly lyrical, and very 'Arnoldesque' interpretation of the score found favour ahead of Garry Cutt's more technically inspired, warm and characterised account with Fodens Richardson.
It also perhaps explains why Tredegar's persuasively styled, yet less technically secure account also found such favour in the box, immediately prior to Fodens performance too.
Both Desford and Tredegar certainly lacked the quality and depth of Fodens sound, and made perhaps slightly more noticeable errors, but crucially, both nailed the all important stylistic considerations to a tee – especially for the men in the box.

Elegance was the key to Desford's success in a performance that did contain noticeable small errors. Whilst there were moments of untidiness throughout, that underlying understanding by the MD of Arnold's lyrical musicality and refined sense of style won through though.
It was Arnold pastiche all right, with subtle colourings and tempi – and given what Martin Ellerby had asked for in his score notes, it was just what the three judges wanted to hear too.

Charm and wit

Ian Porthouse also sought the correct stylistic considerations with Tredegar. Whilst there were some obvious flaws in the execution it was also a performance that had the integral elements of Arnold's charm and wit – as well as a fair amount of elegance too.

Conversely, Fodens Richardson more traditional approach, based on a wonderfully warm ensemble sound, security of technique (Alan Wycherley was on quite stunning form on the highest of high wires) and detailed execution, didn't quite have the same stylistic approach – or appeal, to the judges.

The key perhaps came at Variation 8 that was technically nigh on perfect, but lacked real elegant lyricism. The quicker variations were breathtaking at times, but for the judges, the more straightforward reading by Garry Cutt perhaps didn't quite explore the potential pastiche of Arnold style as did the winners and runner up.
Full of flair

It also perhaps explains why a truly, very stylish account, full of flair, from the French contenders Brass Band Aeolus came third.
The French of course know everything about style. The difference it is said between a Frenchman and an Englishman is that the Frenchman can wear a potato sack and still make it look as if Christian Dior designed it, whilst an Englishman can wear a Christian Dior suit and make it look like it had Percy Thrower's King Edwards still in it.
Such was the case here, with the playing of the musical cornerstone of the piece at Variation 8 perhaps the best of the day, with their principal cornet, Clement Saunier, delivering a masterclass in elegant refinement to take the 4BR Best Instrumentalist Award.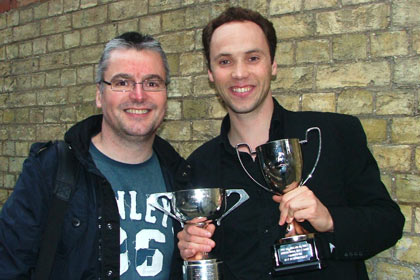 Guess who's had the most style in Cambridge: The 4BR Editor or Best Instrumentalist, Clement Saunier of Brass Band Aeolus?

Whilst it did occasionally contain a fair bit of French bluff too, there were many who 4BR spoke to before the announcement of the results that firmly believed they deserved to come high in the prize list.
Enjoyable

So too Redbridge in fourth, with an enjoyable interpretation from Jeremy Wise that perhaps had a hard edge to it at times, but still retained its 'Arnoldesque' appeal. In contrast, the Swiss of Treize Etoiles delivered perhaps the cleanest account of the entire contest, full of ensemble precision and accuracy that just outweighed its slightly more academic interpretive feel.
Redbridge at times just gave their portrait of Arnold a hard veneer finish, but the stylistic content of Jeremy Wise's interpretation was appealing nonetheless, whilst the Swiss just needed a touch more emotional rubato in the more lyrical sections to have lifted it any higher.
Didn't appeal

One band who may have left the Corn Exchange scratching its head a little though was Carlton Main, who experienced one of those days when their best efforts and musical intentions of the MD, Russell Gray didn't appeal at all in the box (all bands get them now and again).

Sometimes you get a performance like that - and whilst 18th did seem very harsh for such technical security and high class solo playing in particular, if the judges really don't take a shine to it, then its down amongst the dead men it comes. Unlucky though.
Disappointed

A couple of others bands that may have left Cambridge a bit disappointed that their efforts were not better rewarded were Fairey and Reg Vardy.

The former delivered a solid performance to come 9th, but given what the judges were on the look out for, the rather workmanlike approach to ensuring the nuts and bolts were in place perhaps explains why Phil Chalk and his band came where they did. They are on the up though for certain.

Reg Vardy promised much, but perhaps that was its problem too. After a finely controlled opening half of the piece under Richard Evans, it lost focus and style and became a bit tired and nondescript to finish in a lowly 16th place. Given what others tried and failed to do with the piece throughout the day that was also perhaps more than a touch unfortunate.

Self delivered misfortune

Two bands that had days of self delivered misfortune though were Virtuosi GUS and Hepworth (Cookson Homes) – although one was musically unlucky and the other was musically misplaced.
Virtuosi GUS was unlucky after a performance of solid control seemed to be heading for a possible top six place only to by blown out of contention by a disastrous final four bars, when admirable collective adherence to John Berryman's beat resulted in them all finishing in a terrible heap. 8th place may never have been so gratefully accepted.

As for Mark Bentham and Hepworth – for a second year in a row, a truly puzzling slow burning interpretation left them down at the wrong end of the results table.
It was certainly a brave reading of the score from the MD, but given that the composer had clearly stated that the quicker tempis in particular should be adhered too, it was totally misplaced too. No surprises that it came where it did then.
Faded

David Read did indicate that there was little to choose between the bands that came in the midfield places, so coming either 8th or 18th was once again a matter of style, then substance, then functionality.

Rothwell Temperance was not quite one of them though, and may be slightly disappointed that for a second year in a row an early draw perhaps just undermined their assault on the top end of the prize list.

Their highly competent, and musically stylish performance was the early marker that eventually just faded to 7th place as the contest progressed. A slight tendency to overblow in the final quarter of the piece may just cost valuable points, but once again it was performance of merit and showed what a good band David Roberts has under his command.

With Virtuosi GUS, Fariey coming 8th and 9th, it was Wingates that filled the final top ten slot with a performance that had extended elements of quality but also far too many insecurities to have come any higher than it eventually did.

Midfield finishers

Then came a host of midfield performances that could on another day just about ended up in any other order given the stylistic considerations that the judges were looking out for.

Aveley & Newham eventually finished in 11th after a performance that seemed very neutral and bland in interpretation for us, but crucially had appeal to the judges. Not a lot wrong, but then again it surely needed more than just notes played in the right place. It had the potential for being so much more interesting.
Meanwhile in 12th place, YBS and Morgan Griffiths certainly opted for a different approach in terms of tempi that may well have cost them in the final analysis, as the standard of their overall ensemble playing was up there with some of the best bands on the day.
Lack of wit

Soli Brass on the other hand opted for an approach that made Malcolm Arnold sound as if he had taken a dose of steroids instead of his usual mix of anti depressants, with a performance that had plenty of dark power but little lighter wit or charm to come 13th. They also fielded a band with 29 brass players in the ranks too – and were informed as such by the organisers. It didn't affect the overall result, but it was stretching the spirit of the rules a bit to say the least.
Expression

PolySteel, with Philip Harper resplendent in a shirt that would have given a chameleon a headache, could also count themselves a tad unlucky after a finely characterised account full of warmth and expression just couldn't overcome a quite high error count to come 14th. It was a nearly a contender – but not quite.
1st Old Boys Association Silver meanwhile will be delighted coming home in 15th place after a performance that did enough, but no more, to deliver the functionality of the music, whilst Scottish Co-op were a shadow of their former selves in coming 17th with a performance blighted by a lack of ensemble security.

Tired

British Open qualifiers BTM (PHS) suffered in comparison to their fine effort a fortnight ago in Blackpool, by ending up 19th under Nigel Boddice with a performance that was no better or worse than a whole host around them – but perhaps just needed a touch more spicy wit and quick witted charm. They sounded a tired band.
That just left Jaguar (Coventry) in 20th ahead of the hapless Hepworth, after a premiere performance that perhaps gave the initial indication that just playing the notes pretty well wasn't going to be enough on this particular day to impress the men in the box.

Trap

So it was style and substance – or style over substance in a few cases that won the day over the usual brass band equation of form and functionality.

4BR fell into the trap like many others, of opting for a performance or two that displayed traditional virtues in abundance, when we should have perhaps interpreted Martin Ellerby's perceptively written directions a bit more literally.

We were all warned.
We were not alone though we think, as we opted for Fodens, Carlton Main, Tredegar, Rothwell, Treize Etoiles, Fairey and Reg Vardy, with Desford, YBS and Aeolus as our top ten. After that it was a mixed bag – of good, bad and slightly bizarre.

The judges though took a different tack and as a result it was Desford who won the day. It will teach us all to pay more attention to what the composer's noted intentions are before we even think about worrying about how to go about playing the actual notes on the stave.
Iwan Fox