2008 Whit Friday - Retrospective
23-May-2008
4BR's Malcolm Wood was there all day soaking up the Whit Friday atmosphere - as well as the odd bit of rain and spilt beer...
---
With much of the country enjoying warm sunshine on the run up to Whit Friday, it shouldn't have come as too much of a surprise to discover that the day itself was cooler and damper than it had been just days previously.

Although it remained dry for the Processions of Witness across Saddleworth and Mossley in the morning, the evening was rather cool, cloudy with even a hint of rain towards the end of the night.

Visitors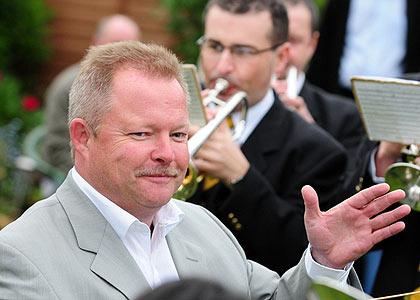 Winning smile: Garry Cutt wonders where his celebratory pint has gone from his hand...
Picture: Ian Clowes

Once again, the event welcomed visiting bands from far and wide with overseas friends (everyone is a friend at Whit Friday) including Brass Band Vetroz, Brass Band Lucerne and Musik Frohsinn Oberburg from Switzerland, whilst Guernsey Concert Brass, who have been to the event on more than one occasion, making a welcome return visit too.

130 bands made it out on the night in the Saddleworth and Oldham District, whilst a fair number of them paid a quick trip to Tameside too, where 102 bands were declared to have competed.

Elite

A fair number of elite Championship bands took to the circuit this year once more, putting their reputations on the line against lower section rivals and the traditional Whit Friday scratch bands that get together just for the night, intent of having a great time and raising some cash for their chosen charity.

Fairey, Hepworth, Leyland, Marsden, Rothwell, Wingates and YBS all came out with the intent of making some serious money for themselves, not too mention trying to wrestle the title of Saddleworth Champion away from Brighouse and the Tameside one away from Fodens Richardson.

Results on Whit Friday can be a bit of a lottery, but it's fair to say that those bands that had prepared well and were able to display a touch of flair to go with the usual winning ingredients of fine soloists and hefty bass end, rose to the top of the pile.

Brighouse hat trick

For the past two years, Brighouse and Rastrick had taken the overall title in the Saddleworth District, and they made it a hat-trick this year. Playing 'Ravenswood' at eight venues they took the spoils at Dobcross, Greenacres, Greenfield and Grotton, Lees and Springhead and Scouthead and Austerlands

Not content with taking the £2,500 first prize sponsored by The Co-operative, the men in purple and gold took second place at Denshaw too, with just Uppermill being the only contest they missed out on. Together with the various prizes picked up around the circuit for Best Soprano, Best Basses and Euphonium, their overall prize fund for the evening was approximately £7,150.

The chase for the remaining two prizes in the Saddleworth Championship became a fight between three more West Yorkshire outfits; Rothwell, YBS and Hepworth.
Wizard

In the end it went to Rothwell Temperance, who played 'The Wizard' brilliantly at times, and had two first prizes to show for their efforts at Delph and Uppermill, supported by runners up spots at Dobcross, Greenfield and Lydgate. One third place at Grotton represented a fine return for the band and they collected £3,925 for their efforts.

YBS still managed to take third place in the order of merit in Saddleworth, despite suffering a belated start due to players being stuck on the motorway.
They still managed to get in the required six contests to be in contention for the title though – a fine effort from the band and their bus driver! As it turned out, they picked up two firsts at Denshaw and Lydgate, with three thirds (Lees and Springhead, Scouthead and Austerlands and Uppermill), helping them into third place overall and pocketing £2,875 in winnings.

Meanwhile, Hepworth competed at eight contests, but despite taking a third at Delph, they didn't quite have the consistency of the other top four to get into the mix and narrowly missed out.
Local champions

In addition to the main prizes, awards were given to the Local Champions for the night, based within an eight mile radius of Uppermill. The winners of this category for the first time was Marsden led by Glyn Williams, with Diggle in second and United Norwest Co-op Milnrow in third.

In the battle for Youth honours Rochdale Borough Youth and Eric Landon retained the prize it won last year with some excellent performances of 'ORB'. Challenging them for the title was Oldham Music Centre Youth and Dobcross Youth.
As is becoming the norm, the contests through Saddleworth and Oldham drew healthy numbers on the night. Delph equalled its record of 78 competing bands set last year, whilst at Scouthead, 70 bands were in attendance.
In addition, Denshaw, Dobcross, Greenfield, Grotton, Lees and Springhead and Uppermill all had over 50 bands on the night.

With such numbers now attending the various venues, any band that can notch up more than six visits on the circuit has done very well – and owes their bus driver a pint or three.

Tameside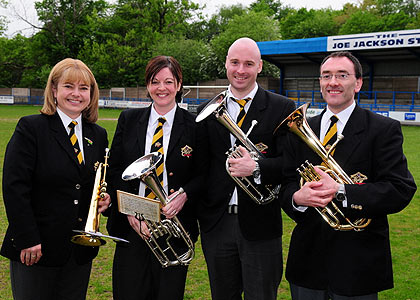 Seventh heaven: Fodens horn team take to the pitch
Picture: Ian Clowes

Over in Tameside, the atmosphere was just as competitive, with Denton, Droylsden, Dukinfield and Heyrod boasting their highest number ever of competing bands. One of the longest running contests, Stalybridge, also reported that the 53 that turned up there to play was a record for the current venue too.
Despite competition from Faireys, Leyland, Pennine Brass and Stockport Brass, it was Fodens Richardson who once again took the title of Tameside Champion for the seventh consecutive year.
Fodens seven

Performing 'The President', the Cheshire outfit competed at nine contests in the Borough (only missing out on the Broadoak in Ashton under Lyne) and they picked up prizes at eight of them – adding £6,150 to their bank balance from the night.

Victories at Droylsden, Dukinfield, Heyrod, Stalybridge, Stalybridge Celtic and Upper Mossley were supported by a second place at Carrbrook and a third at Denton.
Taking Tameside MBC's £1,000 runners-up cheque was Faireys and Philip Chalk, who had a fine night competing at all ten Tameside venues. The ended the night taking two firsts and four seconds, as well as managing to make it to two venues in Saddleworth, rounding off an exhausting evening (or should that be morning) at gone midnight in Delph.

Stockport Brass who showed their good form in the Grand Shield six days earlier, also had an excellent night, and a first at Denton, a second at Heyrod and two thirds and three fourths at Dukinfield, Stalybridge, Carrbrook, Stalybridge Celtic and Upper Mossley, helped them cement third place in the Tameside Championship and a nice £750 into the bargain.

Leyland meanwhile, will consider themselves a touch unfortunate to have missed out on a place in the Tameside top three by a single point, with their top two results being a win at Hurst Cross and a second at Stalybridge Celtic.

Local champion

As with the Saddleworth and Oldham District, Tameside also declares a Local Champion (within a 11 mile radius of Ashton Town Centre) and the £750 first prize went to Ashton-Under-Lyne.

They competed at eleven venues with their most significant results coming at the Broadoak where they finished fourth to go with three fifths at Dukinfield, Droylsden and Heyrod.

Second place in Tameside went to Glossop Old whose result was aided by second place at The Broadoak in Ashton and third at Upper Mossley.

Stalybridge Old didn't quite hit the heights of Ashton and Glossop, but fifth place at Hurst Cross coupled with some other top ten finishes helped them on their way to finishing third in the Local Championship and a cheque for £400.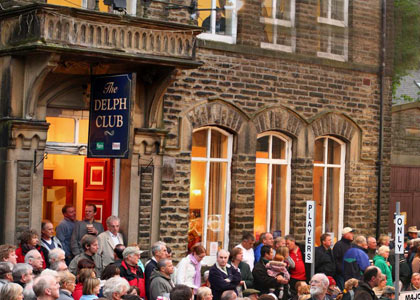 Delph delights - the club always does good business on the night...

Scratch bands

The Whit Friday contest circuit wouldn't be the same without overseas and scratch bands.
Making the trip from Switzerland was Championship outfit Brass Band Lucerne, and from the Third Section, Musik Frohsinn Oberburg. Both bands went down an absolute storm during the night; Brass Band Lucerne performed 'The Contestor' from memory all night, whilst Musik Frohsinn Oberburg opted for Derek Broadbent's 'Lenzburg', complete with singing. Then, totally against the norm of Whit Friday, they performed 'When the Roll is Called up Yonder' to the surprise and delight of their audiences.

Also making the trip this year was Fanfare Union Vetroz and Birmingham Conservatoire, out for the first time in around 20 years under Ian Porthouse. Other debutants were KM Medway, St Austell Town – as well as more regular visitors, Guernesy Concert and Somerset Brass. In terms of the scratch bands, Tartan Brass made it all the way down from North of the Border and there was Ciarron Duddy's Brass from Ireland.

Great success

The night itself was once again a great success.
The bands in general did seem to get round a little easier this year with fewer waiting times at venues, and despite the coolness of the evening, contest organizers declared themselves happy with how their night had gone and also with the attendances.
Next year

One or two bands voiced their concerns over 'queue jumping' once again (primarily in Tameside) and the age old problem remains something of a stain on the reputation of the event and the bands in question. It does need to be stamped out.

As for next year - Whit Friday returns after the All-England International Masters on Friday 5th June.
Malcolm Wood