2008 All England Masters International - Test piece review
22-May-2008
4BR looks at Martin Ellerby's test piece - a warm and affectionate musical homage, but one full of illusion too.
---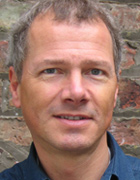 Malcolm Arnold Variations – Martin Ellerby

If ever a player, conductor or even listener wants to find the essence of a Martin Ellerby test piece, then the most important thing you need to do is not to look first at the musical score, but to read his highly individual, and invariably enjoyable, composer's notes that preface his work.

For more than any other brass band test piece composer, he reveals everything and ultimately nothing, about how he feels the work should be played.
Perceptive guidelines

He is of course a very fine composer full stop - but his perceptive guidelines, with their cryptic directions, subliminal meanings and dark, witty linguistic orientations are every bit as challenging as the actual notes written on the score itself.
In the one hand, not only does he openly give the conductors the golden opportunity to express their own musicality through interpretation, but in the other, he hands them enough musical rope to hang themselves by their own petard if they aren't good enough musicians to do so.

The preface to 'Malcolm Arnold Variations' is a case in point.

It is Ellerby's third major work for the Masters contest, and as he himself says, it is a 'sunshine affair'; a bright, breezy, witty, and highly intoxicating heady mix of pastiche and parody. It is also dauntingly hard.
The key

That is the key: Ellerby has made sure that the piece is, as he says; ' first and foremost a musical challenge', whilst still retaining the essential characteristics of an affectionate musical portrait.
And an affectionate portrait it is too – warmly so.
He has deliberately avoided the darker elements of Arnold's character - and by heck some of them were as black as the cover of an old Welsh bible.

Illusions

That perhaps make the piece a musical illusion (Ellerby states it is more allusion, or by indirect reference) – all the clever, entertaining, sardonic, jocular ingredients are displayed with vigour and at times breathtaking colour and execution - yet underneath it all lie the darker recesses of the composer's acute social conscious, his battles with his mental health and alcohol.
Ellerby also understands the output of his subject matter with a fervent zeal of a true disciple. He would also have been an ideal candidate for Bletchley Park in the War – for as we say, he neither tells you everything or anything, but leaves it all up to interpretation.
DNA

Although he is at pains to suggest that throughout the 20 variations and finale the work is not based on any direct Arnold themes, you can immediately detect the DNA – be it the more obvious oblique quotes from his film scores and ballets to the tiniest little snippet of slightly fractured 'Cornish Dance' on the glockenspiel.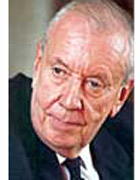 Those MDs who have (as Ellerby suggests) taken the opportunity to acquaint themselves with the composer's output – especially the film music to the David Lean films such as 'The Sound Barrier', 'Bridge over the River Kwai' and 'Whistle down the Wind', his ballets, symphonies and concertos, may well find that they have been led down a particularly delightful garden path by Ellerby himself.

Mastery

Arnold's mastery of each of the genres is obvious (he was also a great fan and highly accomplished jazz composer), but the music itself won't give them the direct solutions to this test piece. Search as they might for the indirect quote, the well placed cipher, or musical cryptograph – the answers lie in the appreciation of the style and not so much the substance.

That is as he says, 'the challenge'. And in this respect he uncoils the hangmans rope with his sanctioning of that risk taking approach – asking for 'freedom of expression and fluidity of line' in the more rubato, lyrically inspired sections, whilst remaining firmly opinioned that the faster tempos (and some are up around the 200 mark) should be accurately adhered too.
The most telling element of all is that he asks for discretion - a 'question of balance, taste and insight'.
For top cornet players, soprano and horns players they will suggest that he also add – 'and iron clad lips like bumpers on a 1966 Ford Zodiac car', for they are tested to the absolute limit of endurance. This is clearly an ensemble piece, but an ensemble piece that asks individuals and sections alike to produce virtuosi performances.
Clear cut

Structurally the test piece is fairly clear cut – many of the 20 variations are not 'self contained' as the composer states, but merely bridging devices from one to another, sometimes in the same tempo, sometimes not – although each has a very specific characteristic.
The opening introduction and variations are generally bright, breezy, detailed and quirky in character, with plenty of technical hurdles to overcome.
Parody

The parody of Ellerby's writing allows the essential Arnold style to emerge in each section, and you feel as if you have heard many of these elements somewhere before – without ever quite being able to put your finger on it.
It is very much like listening to those colourful British films of the 1950's and early 60's, with Rex Harrison in a yellow Rolls Royce or Kenneth Moore driving a car in the London to Brighton rally – familiar, witty and as warmly British as a cup of builders tea and a sausage and egg breakfast.
Lyrical

The more lyrical passages are also warmly transparent, full of lovely melodic lines (although many frustratingly are never developed to their full potential) and so reminiscent of a time when men kissed ladies with one foot on the floor and the nearest you got to caddish behaviour was when Terry Thomas twitched his moustache and sneered through the gap in his front teeth.

The waltz elements (slow and quick) are classic examples of Arnold at his most luxuriant, whilst the appreciation of the absurd (the composer was a keen practical joker in his time) is seen with a real old raspberry moment before Variation 13.
If you close you eyes and really go out on a limb though you can perhaps even detect a hint of 'A little mouse with clogs on', 'Thunderbirds' and 'Harry Enfield' – although that may just be the 4BR Editor…
Homeopathy

At times the writing is like musical homeopathy – the dilution of Arnold is perhaps 1 part in a 100 or more (with a merest hint of Arnold's long term carer Anthony Day dropped in for good measure), but it is still unmistakably Arnold by any other name – a huge compliment to Martin Ellerby's compositional skill.
The fast pace, transparent, melodic writing style and essential freedom of musical thought makes for a highly enjoyable, yet immensely testing work.
Some may suggest that too many fine ideas have been crammed into too short a space of time here, and you are left with a slightly frustrating feeling that some of the more lyrical sections could have been developed more, but that is perhaps one of the pieces strengths – it's a real old box of Arnold inspired delights.

All that is needed to make it perfect is for the Masters to be a proper 'sunshine affair' – last year it poured down, because that would provide the ideal backdrop to a piece that will surely bring a smile to everyone's face.

Iwan Fox