2008 All England Masters International - Trevor Groom
22-May-2008
4BR talks to a true gentleman of the brass band world, Trevor Groom, who is being honoured this weekend.
---
There was a time when conductors of brass bands were referred to as true gentlemen. An age when respect was gained through hard work, real talent, perceptive musical skills and an appreciation of others strengths and weaknesses.

It is a time that is now gone.
It was also a time when certain performers were also cast in the same light – by their contemporaries as well as their peers. Trevor Groom was, and remains, such a man.
Thankfully, his time has not past.
Accolade

The 2008 All England Masters International Dedicated Service Award will be presented to this true gentleman of the brass band world at Cambridge on Sunday. After over 60 years of playing it is a most worthy and deserved accolade – and one that should be celebrated throughout the banding world.
Trevor started playing at the age of 10 – although not on the instrument that was to become his life's musical passion – the euphonium.
"I started on the cornet in 1944," he told 4BR. "I lived about 400 yards from the Munn & Felton Works in Kettering and so I joined their Junior Band."
It was the start of an association with the band that was to last well over half a century or more – with the occasional break.
Early years

"My grandmother was the caretaker of the local Kettering Salvation Army Hall, and so to please her I joined their Junior band. In those days they were very much better than the Munn & Feltons lot, and so my playing improved quickly. I did however have to make the choice about which band to play for because of the Salvationist rules in those days, so I didn't go back to GUS, as they became, until many years later."
Trevor stayed on cornet for about 18 months until one day the solo euphonium player left and the conductor asked him to take his place. "I think it was because I was a big lad and could carry the instrument – nothing really to do with it being a musical decision!"
With that his playing blossomed, and he gained a growing reputation as one of the finest young euphonium players in the Corps. Unfortunately, the 1950's meant that he had to do National Service, and Trevor was drafted into the Grenadier Guards – and not as a bandsman either. The result was two years of square bashing and no euphonium playing at all!
Civilian life

"I returned to civilian life in 1955 and didn't really want to pick up the euphonium again as I knew it would take ages for my playing to return. Mr Sullivan (the great Bert Sullivan – who lived close to the family home and who was Trevor's teacher as a young player) persuaded me though, and so I gradually got back into the swing of things."
Gradually he moved up the line to become the top euphonium once more at Kettering, before the opportunity arose to return to his first band - Munn & Felton in 1964.
Now called GUS (Footwear) the link saw Trevor become bumper up euphonium to his great tutor, Bert Sullivan, and with him having a good job in the factory (he worked for many years with John Berryman as a maintenance engineer) he embarked upon a wonderful playing career under the guidance of that other true gentleman of brass, Stanley Boddington.
True gentleman

"Mr Boddington was a true gentleman – no doubt about it. He was a fabulous band trainer, with great stick technique. He never got stuck, and never made an example of a player who couldn't play his part. He trusted and respected his players and we in return trusted and respected him totally."
The move also gave Trevor the opportunity to team up with perhaps the most successful quartet in brass band history too. With David Read, John Berryman and John Cobley they won the British Senior Quartet Championships three years in a row, playing the music of Gilbert Vinter.
Priviledged

"I feel very privileged to have played not only with those wonderful players, but to have done so on the music of Gilbert Vinter. He used to come to the bandroom and listen, and then return with pieces he had written for us. It was wonderful music – and gave us a huge advantage as it was miles ahead of anything our rivals were playing at the time."
During the 1960's GUS was perhaps the best band in the brass band world – with contest successes at the Nationals in 1960, 1964 and 1966, the World Championships in 1971.
"That was an odd contest. The top six bands played that day on 'Energy', and it meant we didn't play in the Nationals, which I loved. It was great to be seen as the best band in the world though."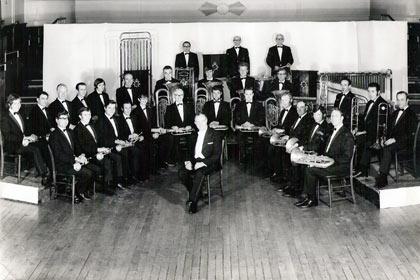 GUS Footwear: Trevor Groom with the great band under Stanley Boddington

The British Open didn't feature on Trevor's CV however during the great Boddington years – even when he was promoted to solo euphonium on Bert Sullivan's retirement.
"Bert had to retire from the band when he was 65 in 1967 and I took over from him then. They were huge shoes to fill but I enjoyed every minute of it. We didn't win the Open though until 1988, when I was playing 2nd euphonium to the player who took over from me, David Belshaw."
Trying

Even though the band didn't win the Open again until well after Stanley Boddington retired, Trevor remembers it wasn't for the want of trying.
"As a works band we used to rehearse every Tuesday and Thursday straight after our shift finished, from 5.15pm – 7.00pm. Two weeks before the Open or Nationals though it was every day from 11.30am until dinner time, and every night. We would be sick of the test piece by the time of the contest, but we couldn't have been any better prepared."
In 1972, received individual recognition of his talents when a letter from Geoffrey Brand came through his letterbox in Kettering.
"It asked me if I would be interested in playing a newly commissioned euphonium concerto from the Arts Council by the composer Joseph Horovitz at the Gala Concert at the Royal Albert Hall."
Interested

Trevor was deeply interested and accepted - and the rest is euphonium playing history: "I thought 'golly – this is going to be tough', but Joseph Horovitz contacted me, came to the bandroom and found out all he needed to know about the euphonium, its sound, lyrical abilities and its range – and what I could do as a player. He came back time and again with extra snippets and I found it a truly wonderful piece."
The world premiere of the ground breaking work occurred at the Royal Albert Hall on the evening of 14th October 1972.
"In those days there were two Gala Concerts – one at 5.30pm and one at 8.00pm, so I had to play it twice on the same night. I had worked very hard in preparing the piece and with GUS backing me under Stanley Boddington it couldn't have gone any better. It was a wonderful experience and one that I thoroughly enjoyed. I never felt under pressure, especially the wonderful middle section which I feel contains some of the finest euphonium writing ever."
Highlights

There were to be many more musical highlights for Trevor in the years to come – although he is too modest to mention them without being prodded by the interviewer, but even after he retired from the then Rigid Containers Band his love for playing never diminished.
"I did try some conducting, but found it very frustrating after all those years under Mr Boddington, but I still kept my lip in good shape and every now and again I was able to help bands out."

One such band was the Harborough Band conducted by his son Chris, and only a year or so ago he played with them at the National Finals in Harrogate. "I thoroughly enjoyed it too," he said.
Support

Over the years, and despite the time he has had to devote to his playing, he has had the continued wonderful support of his wife, Edna and their four children – all of whom not surprisingly have a musical bone or two in their bodies.
"Edna and I have now been married for 53 years and she has been a wonderful support to me, whilst each of the children has music in the veins."

Eldest son Chris, is the highly respected conductor of the Harborough Band, whilst daughter Pauline is now a District Nurse who once had a fledgling career as a percussionist. Middle son David has recently been commissioned as a Captain in the Grenadier Guards and is a tuba payer of some note, whilst youngest son Ashley, 'the wild card', according to Trevor, is a highly accomplished bass guitar player who is part of the team that keeps the rock group Iron Maiden on the road.
Wonderful life

You wonder if all those years ago when Trevor first picked up a cornet in Kettering that over 60 years later that he knew he would have had such a wonderful life associated with brass band music.
Perhaps he did, and we should be grateful that he has remained in love with it ever since. He practices every day, even now. "Proper practice too – not wallowing about just playing solos. I still want to improve."
A true gentleman and musician – and a life dedicated to music. The recognition from the brass band movement is thoroughly well deserved.

Iwan Fox