4BR Interview - Christian Lindberg
18-May-2008
4BR's Chris Thomas talks to the total musician that is Christian Lindberg.
---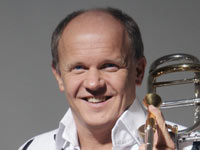 Christian Lindberg is clearly a man that enjoys a challenge. Having spent the last twenty five years or so of his life travelling the world as a trombonist with a remarkable tally of over two hundred premieres to his name by such luminaries as Luciano Berio, Iannis Xenakis, Michael Nyman and Mark Anthony Turnage, he has now successfully established himself in the two further parallel careers of composing and conducting.
There are few, if any, brass musicians that can lay claim to a discography of over thirty CD's with an internationally acclaimed label. In this respect the Swedish company BIS, run by Lindberg's close friend Robert von Bahr, has provided the outlet for Lindberg to promote not only his own talents, but the products of his quest to create a new and challenging repertoire for the trombone by commissioning a whole host of composers of international repute.
Personality
As a composer Christian Lindberg's rapidly increasing catalogue of works mirrors the personality of the man himself, in music that can range from the quirkiness of his witty miniatures for his own instrument to works of powerful emotional impact such as the concerto for chamber orchestra Of Blood So Red, written for his own Swedish Chamber Orchestra in 2003.
Total musician

Conducting too has come to play a major part in Lindberg's life in recent years, with his engagements extending beyond his work with the Nordic Chamber Orchestra and Swedish Wind Ensemble to the Prague Symphony Orchestra, Rotterdam Philharmonic (an orchestra closely associated with Valery Gergiev) and the São Paulo Symphony Orchestra amongst many others

As BIS release Christian Lindberg; The Total Musician, a three and a half hour DVD capturing Lindberg's career in both music and documentary, 4BR's Chris Thomas caught up with him at his home in Sweden to discuss his career and his musical passions.

Chris Thomas: From starting to play the trombone at the relatively late age of seventeen, you progressed to professional playing with remarkable speed, taking up a position with Stockholm Opera two years later. At what point did you decide that gaining recognition for the trombone as a solo instrument was to be your ambition in life?
Christian Lindberg: In the middle of the year at the Stockholm Opera Orchestra I decided that either I was going to become a lawyer and have music as a hobby, or try to go for what people told me was totally impossible; to become a full time soloist on trombone.
I discussed it thoroughly with my wife and decided to go for the impossible.
I quit the opera and continued to study at the academy, applying for all kinds of scholarships and entering competitions. At this point Robert von Bahr, who was at the beginning of making BIS an international record label, was very important for me by giving me the opportunity to record my first proper CD, The Virtuoso Trombone.
Chris Thomas: You have championed avant-garde works such as Berio's Sequenza V for many years now, giving literally hundreds of performances. Have you perceived a change in audience reactions to such works during that time?
Christian Lindberg: There has been a big change in the audience response to modern music thank God. When I started, pieces like the Sequenza were almost forbidden on the classical music scene and I had to fight hard to make organisers programme this repertoire.
Today it is rather the opposite. The concertos I play by Berio, Sandström, Takemitsu, Xenakis and others are bringing in young audiences to concert halls, something that classical music desperately needs.
Chris Thomas: Do you still gain as much satisfaction from performing works that you have played as many times as the Berio and Jan Sandström's Motorbike Concerto?
Christian Lindberg: I just love these pieces more and more each time I perform them and this is the sign of really great music.
One never gets tired of Beethoven 9 or Mahler 5 and there are always new values to find for me, even when I play The Motorbike Concerto for the 665th time.
Chris Thomas: Your close friendship with composer Jan Sandström is clearly documented in the film "To Follow Your Own Star". To what degree and in what way has Jan been an influence on your career?
Christian Lindberg: Our friendship is the greatest thing that has happened to me in my musical career. He is a great human being as a whole and this shines through in all of his pieces.
I am just about to conduct a whole CD of his orchestral music. He was my composition teacher and of course, wrote the first trombone concerto that can compete with the Mendelssohn Violin Concerto or the Dvorak Cello Concerto.
Chris Thomas: Other than Jan Sandström are there any other musicians, be they players, composers or conductors that you would cite as having been a significant influence on your development and outlook as a musician?
Christian Lindberg: I think that the close friendship I developed with composers such as Toru Takemitsu, Luciano Berio, Iannis Xenakis, Mark Anthony Turnage, Anders Hillborg, Pär Lindgren and Rolf Martinsson also meant a lot for my development as a musician.
Also the friendship with pianist Roland Pöntinen has meant a great deal to me.
Chris Thomas: Your bass trombone concerto Chick 'a' bone Checkout, written for Charlie Vernon of the Chicago Symphony Orchestra, clearly involved a good deal of collaboration with the soloist during the composition process and you have also written a Flute Concerto " The World of Montuagretta" for Sharon Bezaly. Is the process of collaboration important to you whilst writing and to what degree do you try to personalise your music to the performers you are writing for?
Christian Lindberg: The collaboration that I had with composers as a performer was extremely important for my career and therefore, when someone asks me to write specifically for them, I want to be fair to them and make it their piece.
That is the way great concertos have become successful in the past (the Mendelssohn Violin Concerto for instance) so I really believe in that.
However, when it comes to the actual musical language I try to be completely free and open and listen to my inner voice.
Chris Thomas: With composing and conducting playing an increasingly important part of your life, do you envisage a time when you "retire" from trombone playing to devote more time to conducting and composition?

Christian Lindberg: At the moment composing is priority number 1, conducting number 2 and playing number 3, but I will for sure continue to play all the concertos I have memorized for at least 10 or 15 years more!
I feel that being a composer and conductor has further developed my playing a lot and I really feel that I have plenty more to give here.
There is only one problem and that is time, but I have learnt a technique over the years to use my time at its best and to live and breathe in the world of music is for me, absolutely wonderful!
Chris Thomas: Having put the trombone on the map as a solo instrument do you have any remaining ambitions as a trombonist?
Christian Lindberg: I would like to try and influence the big orchestras like the Berlin Philharmonic, New York Philharmonic and others to take a much more important role in following the change in history.
They simply cannot go on ignoring pieces like the Motorbike Concerto and continue programming the 9999th performance of Brahms' Double Concerto. We do live in the 21st century and young people will continue to prefer to go to jazz and pop concerts as long as these big orchestras refuse to programme young, fresh concertos by composers of our time in their big subscription series.
So my goal is to bring the Berio SOLO, Sandström Motorbike Concerto, Takemitsu Fantasma II and Turnage Yet Another Set To into the real classical music programmes; not just once but as often as they play Brahms, Tchaikovsky and Beethoven. This will, in the long term, bring young audiences back to the Symphony Halls.
Chris Thomas: Are you conscious that your involvement as a conductor with the Nordic Chamber Orchestra and Swedish Wind Ensemble has resulted in your further development as a musician?
Christian Lindberg: No doubt!! I have gained so much as a soloist, human being and composer from having these positions.
Chris Thomas: Kent Jonsson, your close friend and conductor of the Stockholm Brass Band, has been involved with brass bands for some time now, whilst a number of other high profile musicians, including Elgar Howarth and Bramwell Tovey to name but two, have ventured away from the "classical" world on occasions to work with brass bands. Would you relish the opportunity to work as a conductor with a top brass band?
Christian Lindberg: I would love to work with brass bands. The only problem is that they usually do not plan far enough ahead, so whenever they ask me for a date during a certain season I am usually already overbooked and have to say no…very sad.
But for sure, if they ask me well in time I will accept!
Chris Thomas: Finally, what does the future hold for your composing and conducting careers and can we expect to hear more new music from you in the near future?
Christian Lindberg: I have an amazing composing schedule coming up with extremely exciting commissions, like a piece for 8 trombones and orchestra commissioned by the Rotterdam Philharmonic Orchestra, a Tuba Concerto for Öystein Baadsvik, a 40 minute mini Opera for the organisation Share Music, a piece for the Taipei Chinese Orchestra and many more.
Also, BIS has an extremely ambitious recording plan for me both as conductor and as composer, including a huge line of works by Berwald, Pettersson, Stenhammar, Dvorak, Brahms and my own pieces.
I am also looking forward enormously to the conducting weeks coming up with big orchestras such as the Rotterdam Philharmonic, Deutsche Staatsphilharmonie, Gürzenich Orchestra and many others.
Chris Thomas: Thank you for talking to us.