Dinner Guests - Derek Broadbent's ultimate brass band dinner guest list
18-May-2008
In the sixth of our series, Derek Broadbent tells us who he would like to invite to come to dinner...dead or alive.
---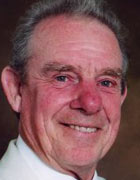 Given the opportunity, the wish list, the ability to mess about with the Space-Time Continuam like Doctor Who, and the skill to cook like Heston Blumenthal, who would you like to invite around to your place to enjoy a meal and chin wag with?
We've been fairly generous with our criteria too: The 10 people can come from any time in history, but must have some link, in however tenuous a form, to the brass band movement.

The budget for the meal and drinks comes out of their own pockets though...
4BR started it all off a few days before Christmas with our 10 dinner guests, so we thought we had better ask a few more brass band personalities who would be on their all time dinner list too...

This time it's Derek Braodbent, conductor, teacher and one of the most respected adjudicators in the brass band movement…
Choosing just 10 dinner guests isn't the easiest thing in the world. There are so many people that have touched my life in many different ways. However, here goes. It's a list with a difference. Variety is the spice of life.
1. Harry Mortimer

I, like David Read , would invite Harry Mortimer. When I first started to play the cornet as a youngster he was my idol, and never ever would I have dreamed that so many years later in my life, he would become a great friend, and mentor, and guide me through my early years with the Brighouse and Rastrick Band.
2. Jack Mackintosh

Secondly, I would invite cornet and trumpet maestro Jack Mackintosh. He was my tutor during my time at Kneller Hall and taught me so much.
How well I remember those early morning lessons when I would be practising' Facilita ' and he would arrive silently on his motor bike, engine switched off, then suddenly he'd be standing behind me playing variations on my variations with great virtuosity. Who knows? Perhaps I could get him and H.M. to play 'Mac and Mort.' once again in my after dinner cabaret.
3. Eric Ball

I couldn't have a dinner party without Eric Ball, so he would be my third choice. His music has influenced and inspired us all.
When B&R and I were appearing in Poole or the near vicinity, he would always leave a message of goodwill in my dressing room if he weren't able to attend the concert. A true gentleman.
4. Stan Kenton

Big band swing music has played a big part in my life, hence the choice of my all time favourite band leader, Stan Kenton. His influence on big band jazz and swing was enormous. An influence I doubt will ever be repeated.
5. Johnny Richards

Along with Stan I'd invite his most prolific arranger, Johnny Richards. I'd relish the opportunity to discuss the scoring of 'Cuban Fire' and the great musical inventions in Kenton's West Side Story.
6. Don Lusher

My sixth guest would be Don Lusher. Having had the opportunity of arranging for him and recording with him he was a true perfectionist and another gentleman. He, like many of his ilk, had a profound knowledge of all types of music and would be in good company with my other guests.
7. Clifford Brown

Still keeping in the world of music I would invite my all time favourite trumpet player. The late, great Clifford Brown. For me, the most lyrical of jazz trumpet players, and with a sound of great purity. Just to have the chance to be in his company would be something special in itself.
8. Sir Stanley Matthews

As a youngster, and hailing from Thornton Cleveleys, it should come as no surprise that I supported Blackpool F.C. Hence my next guest - Sir Stanley Mathews, the ' Wizard of the Dribble'.
I should be interested in his views on today's' game and also to chat about his partner in ' football crime', Stan Mortensen, with whom I had the pleasure some years ago of judging numerous beauty contests during my days as a Holiday Camp Musical Director.
9. Kenneth Horne

Guest No. 9 would have to be Kenneth Horne. His sense of humour and great innuendo would keep my party alive until the wee small hours of the morning I feel sure. I'd have a gift wrapped after dinner speaker, and entertainer second to none, and we could all relive those wonderful days of 'Round The Horne' and 'Hornerama'.
10. Terry Wogan

Lastly, but by no means least, I would invite Terry Wogan. Not because of ' The Floral Dance' (it proved to be a good vehicle for him) but because for the past umpteen years, I have been trying, with no avail, to get an invite to the 'Wogan Golf Classic'. Now I'll be able to ask him face to face.
Bon Appetit.
Previous dinner guest lists:

1. Who would 4BR invite?
2. Chris Wormald

3. Peter Meechan

4. Alan Jenkins

5. David Read