2008 Spring Festival - Grand Shield: Retrospective
14-May-2008
It may be the hardest contest of them all to win, but when you do its well worth the wait - just ask Leyland and BTM...
---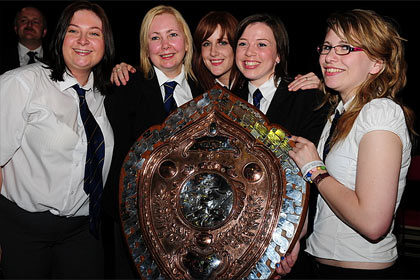 Leyland ladies: The girls of the Grand Shield winners get ready to celebrate their Open return
Picture: Ian Clowes

It has often been said, that the Grand Shield is the hardest contest of all to win. It isn't of course - the Open, National and European surely shade the Blackpool event, but the sheer desperation to do well, means that the pressure felt by bands here is immense.
The prize of a return to the premier band contest in the world is so great, that the feeling of disappointment of being awarded 3rd place, an achievement that is normally toasted at most other contests, is like nowhere else.
It has been a commonly held consensus that unless your band has a place at the 'Open', then they are not truly eligible to be considered one of the finest around. The list of proud names competing in the Grand Shield (and indeed below in the Senior Cup and Trophy) is extensive - all of them looking for a return to the elite level of band contesting.
Reality

In reality of course, for Leyland, this theory isn't completely accurate.
Experienced commentators have known that the current band is a most talented ensemble, full of fine players (and quite a few loyal campaigners), that emerged from darker, more uncertain times a while ago.
With consistently good results at most major contests, and invites to play in leading festivals (including the RNCM Festival of Brass this year), Leyland could never have been accused of going backwards - far from it. However, without a return to the Open, being considered, rather than being universally accepted, as a top class band is something that irked them considerably.
It was five years now since Leyland somewhat unexpectedly fell through the Open relegation trap door. Ever since, the May trips to Blackpool have witnessed tales of hard luck and disappointing performances. You really did begin to wonder if the 2005 National Champions would ever end their Open wilderness. The Grand Shield is the hardest contest to get out of and Leyland was living proof of it.

Contesting Gods

However, on Saturday, the contesting Gods did indeed look down favourably on Leyland and their talented Australian conductor, Jason Katsikaris - and deservedly so.
Here we had a performance of real stature from a dream draw of 14 (most, if not all of what would have been considered as their main challengers had already played).
Although nothing is certain in contesting, (especially this one) after they had played, it would have been a major upset if they had not gained at least one of the golden tickets to Symphony Hall in September. This was a band that deserved its opportunity to perform at the highest level, and their performance of 'Vienna Nights' did exactly that and more.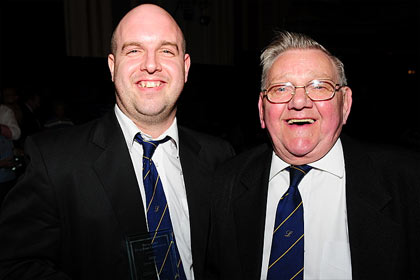 Top tuba: Chris Doran of Leyland picks up the solo award with Walter Ainscough
Picture: Ian Clowes

Fine soloists (including the best baritone recitative of the day from Katrina Marzella and Chris Doran's top notch delivery of the challenging tuba Soliloquy, which deservedly won him the Best Soloist Award in the process), terrific full band sounds, and a detailed musical reading from the MD all added up to produce a show that had a stamp of quality which others couldn't quite match.
It came as no surprise then when they were announced as winners – although the relief and joy of the players on stage afterwards was understandably tangible.
Second spot

It certainly did not seem quite as clean cut for the other qualification spot though, which ultimately went to a rejuvenated BTM (PHS) under the musically elegant baton of Nigel Boddice.
In his summing up speech adjudicator Bob Childs declared that he and fellow judge, Major Peter Parkes (who he interestingly declared as the 'chair' of the panel) had found there to be a clear top four bands.
Well, for us, there actually seemed to be an elite group of seven bands, but within that group we agreed that there also seemed to be four bands that sounded like true 'Open' ensembles.
As it turned out we had all of the top seven in complete agreement with the judges (although not quite in the same order), but with three out of the prize-winning four (not bad for a first attempt for this listener!). BTM were the one where our judgement was a little (and only a little) at odds with that of the judges - and of course theirs was the opinion that counts.
We were perhaps a little harsh on BTM (we had them a very short head behind Wingates in 7th). Perhaps it was the early tiny niggles or the odd moment of scrappiness in the Gallop, but by its conclusion they had delivered perhaps the most consistent performance of the day, and this, in retrospect, was almost certainly the key.
Others may have shown real flashes of brilliance, but these were often combined with 'shoot yourself in the foot' moments. BTM had none of these.
The ensemble playing was almost flawless, and this, combined with strong solo leads and a reading from the MD that had both humour and drama, enabled them to squeeze into the second qualification spot and book a place at the Open for the very first time in their history.
It's been a long wait, but one that will certainly be well worth it when they take the Symphony Hall stage in September. This is a fast improving band that will certainly be worth a listen in Birmingham.
Unfortunate

The unfortunate 3rd place was awarded to Tredegar, conducted with authority by Ian Porthouse. The strength in depth of bands in South Wales is impressive at the moment and whilst Tredegar were understandably disappointed that their efforts were so near but yet so far (we actually had them 2nd), they should take great heart that they too are a band on a very fast upward curve.
They will return here next year confident of nailing down a return to Birmingham, whilst a trip to London in October and Ostend next Spring at the Europeans as Welsh Champions shows just how good they are becoming. Thrilling full band sounds and fine soloists were a hallmark, but there was the odd looseness in ensemble and blemishes in accompaniment lines that just took the shine off and may have been costly.
Resurgent

In 4th place came a fine performance from another seemingly resurgent band, Virtuosi GUS.
This was a most musical account, (no surprise given it was directed by John Berryman). He is a conductor who could never be accused of self- glorification; his readings always seem to the serve the score in front of him and the wishes of the composer.
It was also a performance full of detail and lyrical flow, fully integrating the contrasting Wilby and Mozart elements. There were occasional slips in solo lines (and no band came away totally unscathed) and the thrilling fugue had its 'white knuckle' moments, but this fully meriting its prize-winning finish (we had them 4th too). They will be a band to listen out for in Cambridge if they play to this sort of form.
Father and son

It was a case of son following father with Wingates under Andrew Berryman gaining 5th place (we had them 6th) from an early number 2 draw.
Sad personal circumstances for one of the players had forced them to request an early draw, and this coupled with a number of their principal players being unavailable (euphonium Gary Curtain had prestigious orchestral work back in Ireland and 12 year old solo trombone Peter Moore had the small matter of claiming the BBC Young Musician title!) meant that Wingates were perhaps up against it.
As it turned out, Andrew Berryman still coaxed a colourful and finely structured overall picture (quite orchestral at times, the opposite from the more traditional reading of his father) that featured a most eloquent tuba solo from Mick Morris. In the final reckoning persistent niggling slips may have been costly, but you felt that in the circumstances they will be quite satisfied with their day's work ahead of Cambridge, when they are back to full strength.
Strong performance

In 6th place came a strong performance from Reg Vardy under Allan Ramsey.
We're sure that they will be mightily disappointed not to have immediately returned to the Open, especially after a show which gave further evidence that they have turned a corner from their below par contest performances of the last couple of years.
Here they sounded of the highest quality, with their soloists on fine form, and they were perhaps a little unlucky (we had them in 3rd), that they had a couple of nasty moments, especially a rather rocky start to the Gallop that probably cost them valuable points.
Blistering start

Stockport Brass (it will take a while for many of us not to use the name BT) drew number 3, and ensured that the contest got off to a fairly blistering start.
This was another strong performance, with a fine reading from the demonstrative Mike Fowles, which may have faired better had it come later in the day - although interestingly Leyland (drawn 14) were the last band to make any real impression on the judges.
There were thrilling moments, and the soloists fared well, with Ed Leech an excellent tuba voice. A big old finish rounded things off with verve, but the odd clip and loose moments were costly and 7th place was their reward (we had them 5th).
Fell away

After these the standard seemed to fall away somewhat, although its worth noting that the overall playing was pretty commendable on a piece that was quite a challenge at the Open less than two years ago.
It was quite obvious that all the bands had put in a significant amount of hard graft on Wilby's complex score and consequently there were no real poor performances.
The bands from 8th to 20th simply lacked for consistency, with performances missing essential detail, contrast and containing too many frailties. Often there was very little to choose between many performances, and having sat through twenty bands in the relative comfort of the Opera House balcony rather than a box, it would be easy to imagine that it was a tough job for the adjudicators to place the bands in the middle to lower region.
Place them they had to though, and with the bands in the bottom four facing relegation, this was clearly an important duty.
Midfield placings

Listening to 20 bands play the same piece for nearly 8 hours without a break though is surely a bit much, so you did wonder why Bob Childs and Peter Parkes decided to go for the long haul option when the other two sections had clear breaks. Those who know them as conductors would say they are made of pretty stern stuff though!
Mount Charles was fairly typical of the bands finishing around mid table. They sounded a quality band, and the closing pages were powerful indeed showing the players at their best, but they perhaps suffered from a lack of detail and tonal contrast at times. They were rewarded with 8th position (we had them 8th too).
Earlier, Redbridge and Jeremy Wise had opened proceedings with a creditable show that made a fine marker for the day. They may have lacked the tonal capacities of some of their rivals, particularly in the lower echelons of the band, but it was all neatly packaged and they should be well satisfied with 9th position (and no disagreement from us) from the dreaded number 1 draw.
In 10th place came a commendable show from Kibworth under the clear direction of Gary Wyatt. Like others, here was a performance that just needed a touch more finesse and detail, although you get the feeling that they would have been quite pleased with their efforts, especially given the amount of young players in the band.
If they can build on this performance, Kibworth have a promising future indeed. We did have them slightly lower in 14th, but as we've mentioned there was a fine line between many of the bands in the bottom half.
Gnats whisker

Last year Tongwynlais were a gnat's whisker away from claiming a place at the Open. This year they were brought back down to earth somewhat and ended up in 11th (11th for us too). Despite some great moments, including some fantastic xylophone playing from Gavin Pritchard, inconsistency was the problem. One hairy moment in the Gallop had the wheel's wobbling, but to their credit MD Gareth Pritchard and the band recovered the situation in admirable fashion.
Invariably every contest has one, and this year's Grand Shield was no exception. We're talking of course about the 4BR curate's egg.
Curates egg

This time it was the turn of Sovereign Brass, under the livewire direction of David Maplestone, to deliver a performance that at times was on the edge of sheer brilliance and the next, sheer disaster.
A healthy warning should have been issued beforehand for anyone of a nervous disposition to not watch the very dramatic MD (and yes there's a lot of opera in this piece, so maybe it wasn't out of place).
At times it was just that – full of drama, humour, colour and the odd bit of spilt blood, but even with a fine tuba soliloquy from Phil Green and a huge finish it wasn't enough to reprieve Sovereign from 12th position (10th from us) for a performance that too often took too many unnecessary risks.
Swift return

Aveley and Newham were one of the relegated Open bands this year and at times they sounded like they were worthy of a swift return.
This was another exciting performance, but perhaps suffered from Nigel Taken's over stylised reading and unusual phrasing of the opening Mozart's theme. Either way it was a risk and this combined with an occasional lack of contrast, some poor intonation and a knife edged Turkish finale, may have contributed to their 13th position. We had them 12th.
This year's Grand Shield saw the debut of a new face in front of Pennine Brass with Huw Thomas taking on the mantle from Ian Porthouse. He can be satisfied with how his new band reacted to his precise direction, and although it may have lacked a little colour and contrast at times, it was a solid and sensible showing. 14th from the judges and 13th from us.
Late change

A late change of conductor resulted in Billy Rushworth fronting the challenge of Yorkshire Imperial Urquhart Travel.
Here was another solid performance, although interestingly the soloists remained seated to play their operatic recitatives and duets in the 'Scena' and 'Notturno'.
Not necessarily significant, but this lack of drama was perhaps strangely reflected in the delivery of the quieter moments of the piece which were not quite up to the standard of the more extrovert passages. Some lapses in intonation may also have conspired to leave the band in 15th. We had them a few places lower in 19th, but, as mentioned, it was close down the bottom.
Close shave

16th place and a close shave from relegation was the order of the day for Thoresby Colliery under a hard working Stan Lippeatt.
There were plenty of good moments, but at times it did seem like the main focus was to pass through Vienna without accident and not to enjoy the view. It was pretty much all there, but crucially just didn't quite capture the drama of this most colourful score.
We had Thoresby in 20th position (we had to put somebody there) so they'll be glad we weren't judging and you get the feeling they'll be glad to lick their wounds and come back stronger next year.
Bottom four

The bands placed in the bottom four will no doubt consider themselves very unfortunate to fall through the relegation trapdoor, and indeed, on another day may not have suffered the same fate. In the cold light of day however, they will probably realise that they didn't really do enough to drag themselves totally clear of the danger zone.
In a rather strange quirk, the bands that played 17th, 18th, 19th and 20th in the draw were also given identical positions in the results table. However, before anyone makes anything more of this, it's worth remembering that the probability of this happening is just the same as any other possible result.
What possibly didn't help the bands playing later though was that following Leyland, there was a noticeable lull in proceedings, with no band able to re-ignite the electricity of the first three quarters of the contest.
Newstead under Duncan Beckley gave a performance with plenty of flow, but therein came their problems. Despite the soloists giving fine accounts of themselves, it never quite sounded at ease and just lacked a little time, space and finesse. 17th from the adjudicators and no disagreement from us.
We thought Freckleton and Paul Dalton were a touch unlucky to come 18th. (15th from us). Yes, there were niggling blips, some inconsistencies and a lack of detail at times, but there were also some colourful moments and their soloists can certainly be satisfied with their efforts.
Curates egg 2

Although not quite in the league of Sovereign, Burry Port delivered another curate's egg of a performance. Under the elegant baton of Nigel Seaman, the band's performance got better as it went on and the soloists delivered in expressive fashion. Untidiness in accompaniments, a little scrappiness and some poor intonation seemed to do the most damage however, ultimately condemning them to 19th position (we had them 18th).
Finally in 20th position came Staffordshire, directed by Simon Kerwin.
They were perhaps more than a touch unlucky to finish bottom of the pile (we had them 16th), as this seemed a solid performance and a good reading. There were, however, moments of lost detail and poor intonation, and the latter was seemingly an important issue in the final reckoning of the judges, as anyone who listened to Bob Childs address to the audience will have noted.
Fine contest

So that was that then. Overall, it had been a fine contest, with a great choice of test piece which bands could play, but still had enough in to separate the great from the not so great.
The bands rose to the occasion, producing what was arguably the highest overall standard seen at the Grand Shield for many a year. Ultimately it was left to one famous name to celebrate a return to banding's top table and one to savour its debut appearance in Birmingham. Leyland and BTM will certainly look forward to their crack at the Open in September and they will also certainly value their escape from one of the toughest contests around.
Mark Bousie