2008 Spring Festival - Senior Cup: Retrospective
14-May-2008
Elgar Variations proved to be a stern test for the British bands, but it was a Belgian mastercraftsman who once again showed his class...
---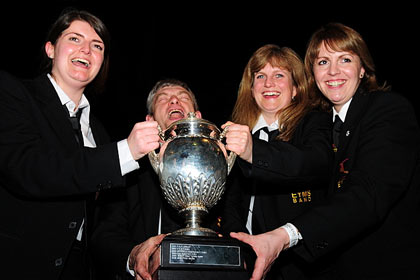 Four happy smiles: A quartet of EYMS players enjoy that winning feeling
Picture: Ian Clowes

Nineteen bands went head to head in the Senior Cup where Martin Ellerby's 'Elgar Variations' proved to be a difficult musical hurdle for the contenders for promotion to the Grand Shield to overcome - and not one got away without at least a few scrapes.
Upping the ante

To gain a place at the British Open the organisers have upped the ante over the past couple of years with challenging works in the Grand Shield contest that reflect the immediate appraisal of the current standard expected of bands to compete at the highest level. And if the choice of 'Elgar Variations' is anything to go by, that philosophy is now being filtered down to the Senior Cup. It is a difficult old piece to master.
Twelve months ago it was used as the set work at the Europeans, where the overall standard was excellent. That, understandably with 19 bands of varying quality, wasn't the case here. It may be a piece that has an 'easy listening' feel to it, but it requires a conductor with a very intuitive musical understanding of the old walrus moustache wearing composer to work it out.
Top four

In the end the top four bands separated themselves from the rest of the field, and in Chris Wormald's summary to the audience, he made the point that if parts of each of those fine performances had been knitted together, then one tremendous performance would have been the result.
On the day too many bands suffered from tuning and balance issues that really took the gloss off their performances. Some of the solo playing was excellent but the inconsistencies in the ensemble at times ruined the persuasive musical picture that was being created.
Consistency

Consistency was in fact the key, as it so often is, and throughout the day a number of bands starting off in good form before dropping off, whilst others took time to get going before really hitting their boot straps and ending with a real flourish of excellent playing.
It was sad to report though that at the bottom end of the results table, some of the performances were not at all of a standard that was in theory just two steps away from the British Open itself. There were a couple of distinctly below average performances that escaped the drop to the Senior Trophy by the skin of their teeth merely by there being three or four bands who were well outside of their comfort zone.
Vibrant colours

Those that did well brought the vibrant colours and textures out of the piece without recourse to cheap effects – they just let the music speak for itself. They also had the ability to perform with a degree of Elgarian restraint and nobility when it was needed too – a hard trick to pull off given the diverse nature of the score.
EYMS had laid down their intentions of wanting to win, never mind qualify for the Grand Shield, prior to the contest, by appointing Frans Violet to lead their challenge.
The Willebroek MD brought all of his experience to bear, and together they conjured up a performance that grew in stature as it went along. The ensemble was compact and balanced, the soloists secure and musical, well graded dynamics were accurately observed, and although there was slips, it never detracted from the overall musical picture. After they had played it was some margin ahead of other bands, and in truth was some way ahead of any rivals thereafter. They were a deserved winner.
Breezy

Meanwhile Paul Andrews and Bactiguard Wire Brass laid out a very musical interpretation that wasn't without its moments of discomfort. Crucially, it was a performance of real character with hints of darker Elgar amid the bright and more breezy ensemble elements. Dynamically, it sounded at times a touch overdone but Paul kept everything simple and the end result was that it kept its focus right through to the end.
Jaguar (Coventry) and Dave Lea really impressed the adjudicators to finish third (we had them 7th) and the West Midlands benefited from some excellent ensemble and solo work around the stand - none more so than from David Johnson, the band's Principal Euphonium who took the Best Instrumentalist prize. With a compact ensemble sound and balanced dynamics this was a performance of note, even if there was a pretty high minor error count to go with it.
Meanwhile, Mark Peacock's Pemberton Old Wigan JJB proved that winning at Buxton on the same piece six days earlier was no flash in the pan, and from the number three draw they really nailed a great show that fully deserved to gain the last qualification place on offer on the day.
Although a performance that again wasn't without the odd hiccup, it was nonetheless nicely styled, full of character, with some excellent ensemble and solo playing.
Continuing to improve

Skelmanthorpe and John Roberts played just before Pemberton and they continued to show that they are a band that is continuing to improve on just about every contesting outing.
This was a performance that sounded well rehearsed, although a little over robust in nature at times, and it wasn't without the odd nervy and untuneful moment, although credit goes to Robert Jagger who produced one of the best soprano performances of the contest.
Brett Baker's interpretation with Ratby Co-operative was one of the few of the contest that had a real 'Elgarian' feel about it from start to finish. The MD just let the music flow in a controlled manner and although it was delightful to listen too, unforeseen clips and the odd bit of poor tuning proved costly.
Gelled

Ray Farr and Fishburn gelled together very nicely indeed. The MD maintained real restraint throughout and it paid dividends with some excellent ensemble playing in particular. Every so often though increased tempos and ensemble dynamics didn't quite glue together as well as they would have hoped and some extended 'rocky' moments must surely have cost them dearly.
We've no idea what happened with Cwmaman Institute Silver, but the band was seated and on stage ready to play long before the MD, David Evans appeared (and led to a blow on the whistle from inside the box to let everybody know the judges were still awake!).
That said, and despite the hiatus, the end result was an interpretation that certainly had its moments with extended periods of quality playing, although it just fell away to end and they had to be content with 8th place.
Midfield placings

For 4BR, there wasn't really a lot to choose between the bands placed 9th-13th with all showing real potential at times, but suffering in varying degrees with tuning, balance, ensemble, solo fragility and a fair amount of stage nerves. None of the bands can have any real complaints that they should have been placed significantly higher than they were.
Bournemouth produced one of those mixed bags where there was some good and then indifferent playing taking place, and as a result they never quite seemed to be at one with the music. For Unison Kinniel too it was the same story, with an opening section that suffered in comparison to the excellent final third of the piece.
Mike Marzella deserves praise for Bo'ness & Carriden's performance, as it did have a number of fine moments. However, it also had the potential for the wheels to come off too and just when things were settling in with a real sense of style and ensemble security, too many annoying moments robbed the musical picture. A bit too hit and miss for certain.
Meanwhile, Dalmellington's performance never quite hit the Elgar mark at all, and it was crying out for a degree of subtlety that just never came. They really went for the jugular with a full bloodied approach that in this case was misplaced, and 12th place was a fair return.
Ambience

Melvin White was one of the few MD's who took the opportunity to come into the hall and get a feel for the ambience before Aldbourne played late on.
Melvin's experience kept things as tight as he could as a result, and he pulled the dynamics down a notch or two, aiming for the much need clarity in the ensemble writing. It very nearly came off, but far too many niggly little clips and errors meant that 13th place was the best they could achieve.
Dave Nesbitt's Stocksbridge was another performance that went for the Elgar jugular so to speak – and ended up missing the wit and lightness of the score. The bold approach sounded at home in the more noble episodes, but overall the heaviness of the ensemble sound seemed strangely ill at ease with the subject matter and acoustic on this occasion.
It's not that long ago that Ashton under Lyne was playing Vienna Nights at Symphony Hall in the British Open, but on this occasion they missed relegation into the Senior Trophy by just the one place after a performance that never really came to life and sounded hard graft from start to finish.
They did produce some excellent moments and at times there was plenty to admire, but it didn't have the character or the style that was being looked for in the box.
Brave attempt

Knottingley also put in up brave attempt that fell short due to nervousness in the solo lines and a less than cohesive ensemble. In the past four years four bands have been relegated, but with one band pulling out Knottingley are safe for another year to rebuild and return here a much more secure outfit.
That just left the bottom three, all of whom fell through the trap door into the Senior Trophy. Lindley, Kingdom Brass and Besses all struggled with the piece.
Bottom three

Lindley never got to grips with the ensemble dynamics and a great deal of detail was lost at times, whilst Kingdom Brass didn't start off to badly but it fell away thereafter. Unfortunately, Besses never sounded at home with the music at all despite brave efforts from all concerned could have no complaint about their final position.
This was most definitely a difficult test. Some bands didn't give of their best that's for sure, whilst for others it really was too much. As for the top four – all of them will relish the chance to put their musical wits against a much higher quality level of banding next year, confident that they can more than hold their own.
EYMS in particular showed that with the right direction, the right commitment and the right understanding of the musical test in front of them, dreams of the British Open could well come true quicker than they could have expected.
Malcolm Wood