2008 Spring Festival - Senior Trophy: Retrospective
14-May-2008
The Senior Trophy had just about all the rigt ingredients this year - from a great old test piece to a slightly controversial result.
---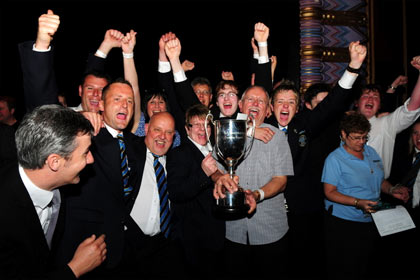 I've done it again! Graham O'Connor celebrates a win at the Spring Festival yet again!
Picture: Ian Clowes

You somehow sensed that the Senior Trophy was going to be a contest to look forward to this year – and not just because the organisers had picked a wonderful old classic of the repertoire in Percy Fletcher's 'An Epic Symphony' for the 18 bands to get to grips with.
Fine contest

And our expectations turned out to be well founded too, as this was a fine contest with a number of excellent performances along side some that were just short of the mark. One or two bands did struggle, but overall this was a long old day to enjoy in the wonderful surroundings of the colourful Spanish Hall.
The adjudicators, Geoff Whitham and Peter Roberts, both legends in there own right, would have had no doubt of what they were looking for, and as Geoff told the band delegates at the draw, this was a great piece, from the great golden age of banding. You knew as soon as he said that, he for one was going to enjoy every minute of it. ,

And at the end of a long and enjoyable contest it was Powerfuel Hatfield Colliery who was declared the winner, followed by South Trains Woodfalls, Marsden Silve Prize (Ossett Brewery) and United Co-op Crewe.
Surprise

A couple of the top four placings surprised a few people it has to be said, but its all about opinions, and there could be no one who had serious issues with the overall results. When the standard was as high as this then little elements play a major part in deciding who gets the nod and who doesn't. Geoff and Peter knew what they wanted to hear and got it from the four bands they chose – others may disagree, but it was their official opinion that held sway.
It was Mossley who drew the dreaded number 1 slot and went on to deliver a decent marker that just fell away in comparison as the day wore on. It got a little harsh at times but there was some fair playing throughout each of the three testing sections and 14th place was about right.
The fancied Newbridge (Celynen) followed and for us gave a performance that we felt would have a chance of being in the frame come the results (we had them 5th).
They certainly gave it a real go, and although in places the balance of the band was wayward with an over strong cornet line getting harsh at times, the quality of the solo playing and the precise style was persuasive. Not so in the box and the Welsh band returned home knowing just what it will now take to make an impression at this level, after ending up in 13th place.

Disappointed

Bands drawn 3 and 4, Yorkshire Co-op and United Co-op Milnrow would have ended up disappointed, but for different reasons.
Yorkshire Co-operative delivered a performance that had its moments, but lacked feeling and shape at times although overall it had more plusses than minuses to come 15th place. Anything more would have been a touch generous from the judges for a performance that never quite made the most of its constituent parts.
Meanwhile, United Norwest Co-op Milnrow would have been disappointed at 10th place after a very well controlled performance that perhaps just needed a touch more heart felt emotion in the middle Elegy section and more brio in the opening Recitative. We enjoyed the restraint shown (it sounded very much a performance of that had time and space) and had them in 4th spot, but perhaps that lack of extra quality saw them fail to make much more of an impression in the box.
Homework

Marsden Silver Prize was next on and Glyn Williams had certainly done his homework on a piece that suited his bands warm ensemble sound and secure soloists.

It was very well shaped throughout and there was plenty of fine playing on display from around the stands. The Elegy was well thought out and the March had the correct style, with just some loose playing from the trombones taking the gloss off what could have been a potential winner. 3rd place (we had them 6th) was a fine return and gained a progressive and ambitious band promotion.

Wrexham Brass had a nice feel for the music but at times it needed a touch more robustness in approach (especially in the opening section). A fine Elegy showed the bands warm sound off to the full and with secure solo leads it was enough to capture 7th place.
Nervous

Friary Guildford meanwhile sounded nervous just about from the word go and delivered a somewhat uncharacteristically insecure account that only found its true form in the third movement – far to late to make any more of an impression than its eventual 16th place. We have heard them on much better form than this during 2008, but hopefully they will return the better for this rather nervy experience.

Langanvale can be wholly satisfied with 6th place after a performance of real merit.
They really unearthed the music out of the piece, and it was going along so very well until a few nasty tuning problems proved costly. It was a performance rich in colour and texture though and perhaps a touch more stamina may well have seen them come higher than they eventually did.
Moments

Newtongrange also had their moments, but overall it was a performance that just needed a touch more conviction about it. They also tried to get the music to shine through but the decision to wallow somewhat in the Elegy must surely have cost them dearly. 17th place may have been a touch harsh as they had shown real quality at times, but that over egged Elegy was a real Achilles heel.

It was also pleasing to report that there was a very healthy audience sat in enjoying all the bands during the day, with a number of well respected adjudicators taking the opportunity to listen intently and no doubt forming their own opinions on the playing.
Real promise

Back to the contest and United Co-op Crewe gave a performance that had the real promise to take the contest by the scruff of the neck, but in the end just failed to do so by the narrowest of margins as it faded in the closing March. There was some top notch solo playing however, and although we felt it could well feature, 4th was a little bit of a surprise.
Northop, under the direction of Thomas Wyss, gave for us one of the most musical performances of the day – one that was very well thought out by the MD. We had them right up there in 3rd place, but the people who matter had them further back in 8th. The lighter ensemble sound perhaps failed to bring out the sense of heroic nobility in the final March, but it was still a very neatly packaged account that had very little wrong with it.
Cut above the rest

We then came to a performance that for many in the hall was a clear cut above the rest.
South West Trains Woodfalls conducted by Nick Childs, delivered a performance of high quality ensemble and solo playing that really seemed to capture the sense of brio in the opening Recitative, the sorrowful feeling of loss in the Elegy and the heroic nobility of the March.
There was very little to suggest that it could be beaten at this stage (and after we had heard all the other contenders) and with some wonderful soprano playing from Mark Pye taking the best Instrumentalist Award, allied to a warm ensemble sound and a real sense of balanced control even in the final few bars it would take some beating. We had it as clear winners, but not so in the box come the end of the contest.

One of those days

Having to follow a performance of that quality was Old Silkstone, with a performance littered with errors. There was no lack of commitment in the playing, but the trombone section was especially untidy throughout. The first movement was well presented and the MD tried his best to pull the band round, but overall it was a performance that had 18th and last place written all over it. Just one of those days.
We then had two performances that were very similar in approach.
Similar

Chester le Street Riverside and Beaumaris both gave fair performances, but both opted for a strong, and at times, over robust approach that lost the lyricism of the music in places. We liked a lot of what we heard but 12th and11th places respectively were probably a fair reflection on the day when a bit more restraint could have proved beneficial.

Winner

We then came to what turned out to be the winning performance by Powerfuel Hatfield Colliery conducted by that wily old fox Graham O'Connor.
We have to say that although we liked the approach from the MD, and there was some really expressive playing especially in the Elegy, we felt the sound at times when the volume was a forte and above was harsh.
Obviously the musical interpretation was just what the judges were looking for (and Graham O' Connor has the happy knack of knowing just what judges want at the Spring Festival over the years). Once more he got it spot on and the way in which the robust approach married well with secure solo lines and precise ensemble gave them the nod over the more lyrical account of SWT Woodfalls.
We were wrong on this one, and you have to applaud Hatfield and especially their MD, for showing us once again that they should not be a band to under estimate.

Decent account

That just left two bands to take to the stage and it was Blackburn & Darwen that gave a decent enough account, just lacking in conviction in some of the solo lines that detracted. It was still a good enough performance to give them 9th place though – and a bit more solid conviction in places could have gained them a place a little higher in the results table.
The final band on the day where perhaps the one band that caused the greatest amount of eyebrow raising controversy come the results.
Camborne Town conducted by Frank Renton delivered a performance that mirrored much of what had been on show with their West of England rivals, SWT Woodfalls.
A fine sense of brio and clarity in the opening gave way to a wonderfully shaped and executed Elegy, before a truly heroic nobility surged through the final March. At the conclusion the smile on the MDs face showed what he thought of it, but the men in the box found it a little too dramatic perhaps and placed it 5th. Unlucky.

This was a fine contest that had all the elements we were hoping to listen to from first note to last. There were a host of well constructed performances – one or two that really did make the hairs on the back of your neck stand on end too, and that little late touch of controversy.
Powerfuel Hatfield won't mind that at all and their name will be engraved on the Senior Trophy for banding eternity – and so will Graham O'Connor's once again.
David Tinker