2008 Spring Festival - Grand Shield: Introduction & Predictions
8-May-2008
19 top class bands line up to try and win a place at Birmingham's Symphony Hall in September. Only two places up for grabs, so who will say 'Goodnight Vienna' and leave the desperation of Blackpool behind...


---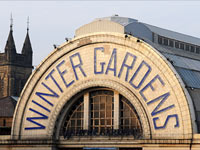 Test Piece: Vienna Nights - Philip Wilby

The Opera House
Draw: 9.00am
Commence: 10.00am
Prizes:
First Prize: £800 and Grand Challenge Shield
Second Prize: £600
Third Prize: £400
Fourth Prize: £300

---
For a seaside town that his built its rather tacky reputation on small time gambling and tasteless serendipity, it is rather fitting that it should host a competition for 20 of the most desperate brass bands in the contesting world.
The actual prize for winning the Grand Shield is only £800, but what success actually brings here is a trip to greater glory and much bigger prize money with the real brass band high rollers at the British Open.
For all 20 competitors here it is the biggest wager they place all year on potential success. Gaining one of the two qualification places on offer gets you away from this place – hopefully for good. Never has ending up runner up seemed so good an option.
And wager they do to, with no less 14 bands coming here with new MDs at the helm from this time last year - and new players galore. Nowhere else does the price of failure show itself more readily than that.
Dollop of luck

What you need to qualify most of all though is a huge dollop of luck to go with the endless hours of preparation and practice on a test piece that for the vast majority of contenders is right at the very limit of their technical and musical abilities.
'Vienna Nights' is hard – rock hard in fact, and the last thing you need is to come to the Winter Gardens having put all the hard graft in only to find your Band Manager pull Kelly's Eye out of the velvet bag.
The number of hard luck stories that have been aired over the years that have carried the punch line of; '..if only we had a decent draw' are more numerous than the sight here of morbidly obese women dressed as St Trinian girls on a hen night bender.
So if luck is to play a part, which two of the 20 contenders will not be cursing the lack of it come Saturday night?
Hardest win

The Grand Shield is the hardest contest of all to win and not without reason. This year there are a whole host of bands that on paper could well find themselves in at the sharp end come the announcement of the results.
What about the regional winners of Mount Charles, Redbridge, Reg Vardy and Tredegar, as well as fellow Albert Hall qualifiers, Aveley & Newham, BTM, Leyland and Virtuosi GUS? Then come the form horses from Butlins, Tongwynlais and Wingates. That's half the field for starters.
If any of those bands really does play to form (and gets a dollop of luck too come the draw) then they have more than enough about them to leave this place behind.
Contenders

Leyland will surely be most people's bet to do just that, whilst Reg Vardy showed a fine return to form recently at the North of England Area. Tredegar caused the biggest shock of the regionals by beating Cory into third place in Swansea whilst Mount Charles and Redbridge will come here full of confidence after their Area victories.
Meanwhile, Wingates seem to be a band on the crest of a wave, whilst Virtuosi GUS are starting at last to live up to their sponsors name tag. BTM are a band that can deliver quite startling performances when they are in the right frame of mind, whilst the likes of Tongwynlais and Aveley & Newham are more than capable enough to knock their rivals into a top hat if they hit top form.
It doesn't stop thee though with the likes of Stockport Brass, Staffordshire and Pennine all with fine recent pedigrees to maintain, as have Yorkshire Imps.
Outside these bands come the likes of Burry Port, Freckleton, Kibworth, Newstead, Sovereign and Thoresby all more than capable of beating the rest of the field with a piece of inspired Mozartian magic.
Any gambler will tell you though that the bookies know the odds – even the 4BR bookie. 18 of these bands will go away disappointed – cursing their luck, judgement or even their conductors. 18 will have to return next year to go through it all again, whilst two will head for Symphony Hall Birmingham and the chance to mix it with those high rollers at the British Open.
Luck will surely play its part this weekend for the 20 bands gambling on making it to the big time, but so too will talent and preparation, nerves of steel and inspired performances.
With that in mind then we think it could be good news for Leyland and Reg Vardy if they can really play as well as we have heard them of late, whilst Wingates will surely be the band to be snapping at their heels if they can smell the slightest hint of weakness. Virtuosi GUS and Tredegar seem to be making progress in the right direction and should be in the mix, whilst Mount Charles and BTM are our other bets to do well.
Fingers crossed then…
4BR Predictions:

1. Leyland
2. Reg Vardy
3. Wingates
4. Virtuosi GUS
5. Tredegar
6. Mount Charles
Dark Horse: BTM