2008 Spring Festival - Senior Cup: Introduction & Predictions
8-May-2008
Which of the 19 bands here will be taking a step closer to the British Open by mastering a very English variation on an Elgar theme.
---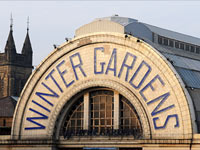 Test Piece: Elgar Variations - Martin Ellerby

Pavilion Theatre
Draw: 10.00am
Commence: 11.00am
Prizes:
First Prize: £600 and Belle Vue 100 Guinea Challenge Cup
Second Prize: £400
Third Prize: £300
Fourth Prize: £200
---
Whilst all eyes may well be on the battle to try and secure the two almost priceless qualification places for the British Open in the Grand Shield, it is easy to forget there are also four gilt edged passports on offer at the Senior Cup.
The prize here of course is that the successful bands are just one step away from Symphony Hall – within touching distance of the real big time. Getting your hands on one of them though is just as hard.
Even field

This year this is a pretty even field of contenders lining up to do battle (although Glossop Old has been forced to withdraw). As has become the norm there is a mix of fast rising Championship and First Section outfits mixed together with bands rebuilding, regrouping or simply experiencing a trough of poor extended form. It does make for a fascinating contest.
The set work, Martin Ellerby's affectionate take on Elgar through a series of breezy variations was a stern enough test for the best bands in Europe just over a year ago, so it should prove to be a piece that will take some playing. It is not as easy as it may at first appear.
No one band really does stand out this time, although there are a handful or more that will travel here with confidence boosting adrenaline already coursing through their veins after decent starts to the 2008 season.
Contenders

Chief amongst those must surely be Skelmanthorpe after their Butlins and Bradford victories, albeit in the First Section, whilst Pemberton Old Wigan comes on the back of success at Buxton playing this very piece. Two to watch out for there then.
The Scots don't always travel well away from home, but the Celts will be confident that they will be in with a shout with a strong posse led by Kingdom Brass, winners at Fife and podium finishers at the Scottish Area, Unison Kinneil, 5th at Glenrothes, Bo'ness, winners of the Scottish First Section and Dalmellington, 7th at the Area. What price a Scottish victory or even a quartet of qualifiers?
Closer to home the likes of the improving Bactiguard Wire Brass and the solid Stocksbridge could be well worth a bet at Blackpool's William Hill branch, whilst the two heavyweights from the North East in Fishburn and EYMS have certainly made sure that they have brought in two equally heavyweight conductors to lead their assaults.
Outsiders

It is hard to see a victory coming from any other bands on the day given recent form, but the likes of Cwmaman, Jaguar (Coventry) and Ashton all have recent British Open experience to call upon. That could be invaluable on the day.
Outsiders they may be on paper, but Aldbourne, Besses, Bournemouth, Knottingley, Lindley and Ratby have more than enough about them to force their way into the reckoning if they really hit top form, so don't be surprised if an 'outsider' causes an upset or two.
Given that we have mentioned all the bands and their chances, who do we think will come away Saturday night with a victory to their name, and which three other lucky bands will join them in the Grand Shield next year?
The three that stand out for us are EYMS, Fishburn and Skelmanthorpe with Kingdom Brass and Bactiguard Wire Brass perhaps battling it out for the remaining promotion slot. Pemberton Old Wigan JJB should have enough about them to make it into the frame too, whilst Stocksbridge could be the dark horse to upset them all.
That's what we think anyway…
4BR Prediction:

1. EYMS
2. Fishburn
3. Skelmanthorpe
4. Kingdom Brass
5. Bactiguard Wire Brass
6. Pemberton Old Wigan JJB
Dark Horse: Stocksbridge