2008 Spring Festival - Senior Trophy: Introduction & Predictions
8-May-2008
Potentially two steps away from Birmingham, but also just one step away from oblivion too. The Senior Trophy has a keen edge of competition to it at both ends of the results table...
---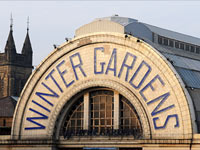 Test Piece: An Epic Symphony – Percy Fletcher
Spanish Hall

Draw: 9.30am
Commence: 10.30am
Prizes:
First Prize: £600 and Senior Trophy
Second Prize: £400
Third Prize: £300
Fourth Prize: £200
---
The Senior Trophy may well be the youngest of the three contesting elements that make up the Spring Festival at the Winter Gardens, but the sense of competitive desperation to get away from the first rung of the British Open ladder is still as keenly felt as either the Senior Cup or Grand Shield.
Potential oblivion

You may only be two steps away from Symphony Hall in theory, but in reality you are also one step away from potential banding oblivion too. Get in the top four and you are just that little bit closer to the big time – get into the bottom six and you could very well find yourself in the banding equivalent of limbo land.
There is one heck of a lot of bands that wish to be part of the Spring Festival; so losing your place here is not a good option for future contesting prosperity in any bands books.
Good contest

That is why this is such a good contest to look forward to this year.
Lots of the bands here may well fancy their chances of gaining one of the tickets out of palookaville, but they also know that if they treat the contest – and especially this test piece, with a lack of caution and disrespect, then it has a very nasty habit of biting you on the bum and sending you packing to outer edges of the contesting universe.
Two bands have already checked in their tickets and won't be competing – Staines and Parc & Dare are unable to overcome player commitments elsewhere and so drop out - but that doesn't make the contest any easier for the remaining 18.
Potential winners and losers

A quick scan down the list of runners and riders shows a host of potential winners, qualifiers, mid table finishers and even those doomed to hope that the relegation trap door doesn't open beneath them. This is a field of bands on the up, bands on the way down, bands in rebuilding mode and even bands holding on for grim death.
It would be harsh therefore to categorise them accordingly, but you soon get the picture.
Of the fancied runners on paper, a few do stand out. Being favourites on paper is one thing though; the harsh realities of an early draw, a few dry mouths due to over imbibing on the local nectar and a couple of players suffering stage fright and that tag can be thrown out of the window quicker than the time it takes a group of hen night girlies to down a triple vodka and Red Bull chaser.
What odds?

What odds then on the likes of SWT Woodfalls and Dr Nicholas Childs, or the other West of England heavyweight, Camborne and Frank Renton, winning? On paper, two very competitive outfits at any contest - but sure fire bets for promotion, let alone victory, here?
So what about the two Welsh First Section middleweights of Newbridge (Celynen) and Beaumaris? Both have been knocking over their rivals in a different weight category for fun over the past year or so, but they are now up against much sterner opposition. Now it doesn't look as easy does it?
Meanwhile, the other Celtic pairing of Northop and Wrexham are more than capable of mixing it with a high class crowd too, so what odds a Welsh victory or even a four way Grand Slam?
Short odds

There may be short odds on United Norwest Co-op Milnrow, fresh from their Butlins exploits. Plenty of fun and games there at Skegness of course, but this is altogether more serious stuff, whilst their name sakes at United Co-op Crewe have also been providing a dividend or two of late on the contesting platform. Worth a bet - or not?
Marsden and Powerfuel Hatfield have put themselves about a bit of late with good returns, whilst Friary Guildford certainly sent a shiver up the spine at Yeovil earlier in the season. All three have the ability to do something – but will that something be enough?
On the other hand, Newtongrange are not going to come down all the way from Scotland just to enjoy the lights on the Golden Mile are they now, whilst the Irish of Laganvale may enjoy the craic, but would rather wait until after they come in prizes to start downing a few celebratory pints.
Finally, Blackburn & Darwen has enjoyed a successful 2008 so far, and could be a dark horse worth a few bob or two, whilst Chester le Street, Mossley, Old Silkstone and Yorkshire Cooperative all will know that if they hit top form then they could well be in with an outside chance of a possible ticket to the Senior Cup.
Complex

Complex old game isn't it?
Still in for a penny….
We don't know which of the bands are favourites to end up at the bottom of the pile, but these are the ones we think may well come out towards the top, with those two heavyweights of SWT Woodfalls and Camborne perhaps best placed to battle it out for the top honours.
Just behind it could be United Norwest Co-op Milnrow, Marsden, United Co-op Crewe and Northop battling it out for the final top six places, with our dark horse being Newbridge.
4BR Prediction:

1. SWT Woodfalls
2. Camborne
3. United Co-op Milnrow
4. Marsden Silver Prize
5. United Co-op Crewe
6. Northop
Dark Horse: Newbridge (Celynen)