2008 European Brass Band Championships - B Section: Retrospective
7-May-2008
The Italians of Pfeffersberg - with a little help from the Welsh, English and Australians held onto their title in fine style - as Malcolm Wood found out...
---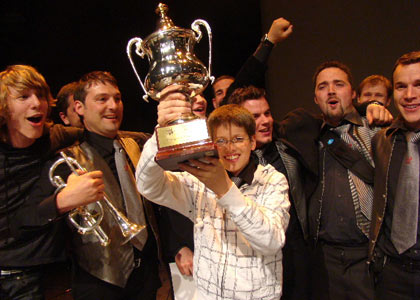 Champion smiles: Brass Band Pfeffersberg retain their title in fine style

Saturday morning's B Section contest saw four bands compete for national pride and honour performing a mix of 30 minutes of repertoire that had to include the set work, Craig Farr's composition, 'Cornucopia'.
Head and shoulders

At the conclusion of the contest there was little separate 3BA Brass, Musikkorpset Gjallarhorn and Murley Silver, but Brass Band Frener-Reifer Pfeffersberg from Italy were head and shoulders above their rivals, comprehensively winning the contest for the second year in a row.
In all honesty, you can have some sympathy for the three other competitors.
Pfeffersberg's four point winning margin was fully justified, but by winning here once again, it gave EBBA something to think about.
In perpetuity

Prior to the B Section in a Press Conference, representatives from EBBA admitted that this section could well be at a crossroads. Pfeffersberg are now in the same situation as Brass Band Oberosterreich two years ago – they are simply too good for this section and if they continue to improve as they have in the past twelve months, it is hard to see them not being declared victors in perpetuity.
The Italian Band Federation is not a full member of EBBA at present and to compete in the Championship Section, they need to be. No doubt some thought will be given by the Italians as to how they move forward, but in a section theoretically designed to encourage bands from developing countries to participate, why should they? It isn't as if there is a whole host of other Italian brass bands to see the country set up its own substantive national championships.
Cornucopia

Craig Farr's set work was fairly typical of what we've come to expect in this Section in recent years: challenging for the players, contemporary in style and short in duration - lasting just 5 minutes. Some found it way out of their comfort zone whilst others survived some rocky moments and held their nerve.
Pfeffersberg benefited from having ex YBS principal cornet Stuart Lingard, Rosie Pearce (ex Leyland) and Paul Hughes (Beaumaris) within their ranks, as well as a very fine soprano player by the name of Bertold Stecher.
The band has also benefited fro expert tuition from Professor David King and the result of their hard work and continued development saw them take the bold step to play Johan De Meij's 'Extreme Makeover' along with the test piece and the lively 'Where Eagles Sing' (apparently they sing in Italy too!).
Paid off

It certainly paid off too. Stuart Lingard was immense right from the off and the performance grew in stature from there on in. The ensemble playing was tight and secure with some excellent dynamics, whilst the infamous gamelan bottle section was very well executed (even if the players seemed bemused by the experience!) leading to a closing section that was played at full tilt.
The Italians also gave a persuasive interpretation of 'Cornucopia' with some confident playing around the stand before rounding everything off with Paul Lovatt-Cooper's 'Where Eagles Sing'. It was a cracking 30 minutes of high class playing.
Second place

In second place came 3BA Brass from Germany, who opened the contest with the premiere of 'Cornucopia' where a few nasty blips just robbed a colourful musical picture.
Eric Ball's meditation 'Serenity' featured some excellent dynamics before they closed with their strongest piece, Philip Sparke's 'Partita', where the band seemed totally at home with the music.
Home nation

The home nation representative, Musikkorpset Gjallarhorn opted for two pieces for their challenge for the title. The test piece wasn't without the odd uncertain moment, but it had some fine ensemble and cornet work in particular and like 3BA Brass they rounded off their challenge in real style with vibrant account of Phiip Sparke's, 'A Malvern Suite'.
Northern Ireland

The Northern Irish champion Murley Silver, certainly entertained with an eclectic programme that showcased their obvious strengths.
The opening 'Summon the Dragon' wasn't totally secure but was breezy and colourful, whilst 'Cornucopia' took a little time to gel and was their weak link.
They certainly got back on track with 'Vitae Lux' and the euphonium solo 'Whirlwind' was very well delivered. 'I'll Walk with God' had some excellent dynamics and they completed their programme with another Peter Graham piece, 'Shine as the Light', which was played with a real sense of brio and adventure.
Just four bands it may have been, but nevertheless it was an enjoyable way to spend a couple of hours. The winners were simply terrific, and whether they now go for a hat trick of wins in Ostend in 2009 remains to be seen. If they do they will be hard band to beat – and EBBA may well have to change the rules to help their rival bands.
Malcolm Wood