2008 European Brass Band Championships - Introduction and predictions
28-Apr-2008
4BR looks forward to the Championship Section contest. Can Brass Band Willebroek make it a hat-trick or will the famous trophy head for a new home come Saturday night?

---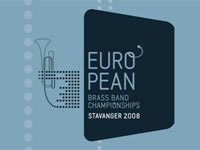 The main competitive attraction of the entire European festival undoubtedly comes with the Championship contest, where 11 bands will battle it out to lay claim to the iconic Christopher Milton Stevens designed trophy.
As we have come to expect from the Norwegians over the years, the musical set test for the contenders on the Friday evening comes in the form of a modern, slightly onomatopoeic work, from the pen of composer Hakon Berge, entitled 'Brass Blot'.
Axe weilding warrior

And before that raises the hackles of banding traditionalists faster than the rising price of a gallon of unleaded petrol, one leading conductor told BB it was rather like a darker version of 'Cloudcatcher Fells' meets 'Odin' - a bit like a musical walk in the beautiful Norwegian fjords with a mythical axe wielding maniacal warrior for company then.
Now that should be interesting…
As should the climax of the championships on the Saturday, when the bands unleash their pyrotechnic displays in the own choice section.
Blockbusters

The continued fashion for musical juggernaut blockbusters seems unstoppable now (it is now a nearly a decade since a band played a piece by Eric Ball, whilst Gilbert Vinter has been played just five times in the last 20 years, despite being used 31 times in the first 12) and as a result we will get to hear this year just seven works from four contemporary composers.
Not surprisingly, six bands have opted for works from Philip Sparke, the most successful and popular composer in the contests history (67 own choice selections and counting), whilst there are two each from Philip Wilby (39) and Derek Bourgeois (19) plus one new work from Swiss composer Bertrand Moren, who rather stunned the audience in Birmingham last year with his immense 'Beyond the Horizon'.
'Music for Battle Creek' gets a trio of performances, whilst 'Music of the Spheres' gets two outings, and 'Year of the Dragon' makes a welcome re-appearance for the first time since 1995. Wilby's 'Vienna Nights' is the choice of two contenders, whilst Derek Bourgeois's popular 'Concerto Grosso' makes its sixth appearance of the Millennium, with his 'Apocalypse' making its first.
Bertrand Moren gives us his second major new work in as many years with his 'Dreams' – although this time it comes under his own name rather than his pseudonym of Paul H. Kelly.
Powerful quartet

Each of the 11 bands will travel to Stavanger hoping to become European Champion, but in reality the battle for the title will surely come down to the four main heavyweight contenders: Reigning champion, Brass Band Willebroek, Norwegian champion Stavanger and the British duo of current National Champion Grimethorpe Colliery and British Open winners, Cory.
Six bands who battled it out last year in Birmingham return (Willebroek, Cory, Stavanger, De Waldsang, Lyngby –Taarbeak and Oberoesterreich), whilst Fribourg return after a year's absence. Kirkintilloch last played at the contest in 2003 and Grimethorpe back in 1997. The two debutants this year are Stockholm and Buizingen.
Something to prove

Each though comes with something to prove too.
Willebroek will be looking to become the first European band to secure a hat trick of victories at the contest. In the past two years their success has been built upon winning at least one of the two legs of the competition, and it is this enviable consistency (only once in the last six years have they been placed outside the top three in either discipline) that makes them such formidable contenders.
They do however come to the contest on the back of domestic defeat at the hands of rivals Brass Band Buizingen at the Flemish Open, so they will now they cannot take anything for granted, although the band and its inspirational MD Frans Violet seem to relish this contest more than any other.
Favourites

Hometown favourites Stavanger also compete here following domestic defeat too; after failing to retain their National title in Bergen in February. Last year's runner up has also lost its inspirational MD, Allan Withington to Grimethorpe, so there will be added pressure on them as they try to become only the second Norwegian band to win the European crown.
On their day Stavanger is a thrilling ensemble (they were well worth their runner up placing last year), but also one that has a fragility that could also see them succumb to the intense pressure of expectation, as in Bergen earlier this year. Much then will depend on what Fodens MD Garry Cutt can bring out of them on the weekend.
Oddly, Cory also finds itself coming here after suffering its first home loss in seven years at the Welsh Regional contest last month. It is now 28 years since the band last won the European title, and it has remained frustratingly just out of their grasp since that historic 1980 victory - including coming runner up on no less than six occasions.
It is the only major title that the band and its MD has not won since they joined forces in 2000, and they will surely be galvanised by the thought that if they don't win this year they may well have to wait until 2010 to try again.
Finally, Grimethorpe, and although they did retain their National title at the Royal Albert Hall last October, they too had to swallow the bitter taste of defeat in their own back yard when they were beaten into second place at the recent Yorkshire Regional championships.
Amazingly this will only be the bands fourth appearance at the contest, since the inaugural event in 1978 (where they were conducted by the great Stanley Boddington) and the title remains an omission on their proud contesting CV. If the mood is with them they will surely be the band to beat - but if not, they too may have to wait another year at least and another appearance at the English National at Preston to overcome.
Surprise

Hard as it may seem on the other seven contenders, but it would a major surprise if the European trophy is not set to find a home in the trophy cabinet of one of these immensely powerful quartet.
Of the rest, three strong contenders may well come in the form of the multi talented Austrians of Brass Band Oberoesterreich, who so thrilled everyone in Birmingham last year when they came fifth, the second Belgian representatives, Brass Band Buizingen, and the Swiss of Brass Band Fribourg.
Hannes Buchegger and his band of sublime performers are no longer a mystery package, but genuine contenders for honours. Much will depend of course on whether their very individualistic approach to the contesting medium strikes a chord with the judges (last year their own choice selection only came 9th), but you can be assured that they will once again leave a lasting musical impression.
Debutants

So too debutants Buizingen, who not only beat Willebroek early this month, but who have under conductor Luc Vertommen developed into a very impressive contesting outfit. With sky high confidence after taking that particular scalp who knows what they may do here.
Meanwhile, Swiss champion Brass Band Fribourg, make their third appearance at the contest, and for the first time since 2006, when they missed out on the title by the narrowest of margins. There is yet to be a Swiss winner of the European title, but perhaps this year Fribourg may represent their best chance for a number of years of doing just that.
Dark horse

Perennial Danish champion Lyngby – Taarbeak returns once more to see if they can improve on last year's encouraging seventh place finish under the direction of the talented Christian Schmiedescamp, whilst there will be considerable interest surrounding the appearance of Stockholm Brass Band from Sweden. With the demise of Gotenburg, the band formed in 2006 has been bolstered by a number of professional players and could well be something of a 'dark horse' on this occasion.
The challenge from the Netherlands comes for the 18th time in the shape of Brass Band De Waldsang. Over the years they have provided a consistent challenge. Although the days when they were pushing for the title itself may well be beyond the current vintage of players, they will be keen to improve on last year's 9th place.
Finally, the same perhaps applies to Kirkintilloch, although after a disastrous 2007 they have returned to form somewhat of late and will relish the chance to become the first Scottish band to take the title under the direction of Howard Taylor, MD of Australian national champions Brisbane Excelsior.
Judges

As always at the European there is the added 'unknown' element of the international judging panel, which this year includes nine times winner Professor David King, as well as Nigel Boddice from the UK, composer Jan van der Roost, trombonist Armin Bachmann and Norwegian conductors Arvid Anthun and Jens T Larsen.
Thrilling the packed audience at the Stavanger concert hall may be one thing, impressing the adjudication panels over the two days, quite another. There is so much to look forward to here…

4BR Prediction:
1. Cory
2. Grimethorpe
3. Brass Band Willebroek
4. Stavanger
5. Brass Band Fribourg
6. Brass Band Oberosterreich
Dark Horse: Brass Band Buizingen