2008 European Brass Band Championships - The composers
28-Apr-2008
4BR has a look at the two men who have written the pieces for this year's championships Hkon Berge and Craig Farr.
---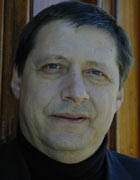 Håkon Berge:
Håkon Berge: started his musical career in a school band, and has several brass-compositions on his list of achievements. Brass Blot is however his first work for a contest.

As he says: "The title is supposed to be a little different, kind of a skewed look at the contest. Those who offer most to the gods, in this case the judges, will win. It really takes brass music back to heathen times.
I'm not talking about contests, but music. Music that will live even after a winner is selected. Music that the performer must make his own is what's important. I also hope the audience feels a familiarity to the music, that they listen with an open mind and experience it in their own way."

He has spent much of his professional life writing for musical theatre and became resident composer at Stavanger's Rogaland Theatre at the age of 19. Many of his works have been premiered in his home town. He spent further study years at the Copenhagen Conservatoire as well as in Oslo under teachers such as Finn Mortensen and Olav Anton Thommessen.

He has also written extensively for television and has served as Chairman of the Norwegian Society of Composers and as a member of the Norwegian Arts Council.




Craig Farr: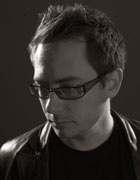 Craig Farr was born in Hertford, England in 1975. At an early age his family moved to Yorkshire where his father Ray started a career as a band conductor and it didn't take long before Craig was joining in on percussion.
In 1990 the Farr family moved to Stavanger, Norway where Craig, joined local bands and the Stavanger Youth Symphony Orchestra. During the four years Craig lived in the Stavanger area he became interested in jazz and free-improvisation, performing with Didrik Ingvaldsen, Kaada and Per Zanussi among others.

At age 19 Craig moved to Tromsø where he worked as a free-lance percussionist with various jazz and rock groups as well as subbing with the Tromsø Symphony Orchestra.
He was encouraged to apply to attend Kates` course at the Grieg Academy of music. After his first year of the bachelor of music Craig took an audition at the army band in Trondheim and was given his first full-time position as percussionist.
In 2004, Craig won a position in the army band in Bergen and was able to continue his percussion studies as well as work in the highly esteemed Norwegian Army Band, Bergen who commission new works from contemporary composers on a regular basis.

He is currently studying composition at the Grieg Academy with Morten Eide Pedersen and is working on a commission by the Manger Musikklag.