2008 European Brass Band Championships - The Adjudicators
28-Apr-2008
4BR has a look at the six men in the box this year for both the Championship and B Section contests.

---
Set Work and B Section: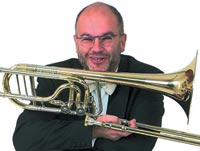 Armin Bachmann:
Armin Bachmann completed his studies in Switzerland, Germany and France. He received a diploma in teaching tenor trombone and followed this with a soloist's diploma on bass trombone as well as on conducting. He worked as a freelance musician with many different orchestras in Europe.

His great passion is chamber music (Swiss Brass Consort, Klangwerkstatt Weimar, Duo Pazzo). Armin Bachmann already became a member of the internationally renowned Slokar Trombone Quartet during his studies.

As chamber musician and soloist Armin Bachmann appeared all over Europe as well as in Japan and America. In addition to all these activities he has participated in many radio and television programs and produced numerous recordings.

Armin Bachmann is especially interested in teaching and has given many masterclasses in Switzerland and elsewhere (Paris, Helsinki, Vienna, Stavanger, Manchester, Tokio etc). He teaches at the Universities of Berne, Switzerland and at the University "Franz Liszt" Weimar, Germany.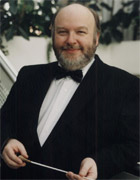 Nigel Boddice:

Nigel Boddice, Hon A.R.A.M, enjoys a busy, impressive and enterprising international conducting career. Among the highlights so far, are concerts, recordings and a live CD project for Naxos with the BBC Scottish Symphony Orchestra and some highly enjoyable children's concerts with the Ulster Orchestra in Northern Ireland.
For the last seven years he has been regularly commuting to Norway, having accepted the role as Chief Conductor to the Royal Norwegian Navy Band [ K.N.M.M.], and led the ensemble to a new and much admired international standing. He studied at the Royal Academy of Music, London and later with both the distinguished Scot Sir Alexander Gibson and the Polish Maestro Jerzy Maksymuick.
Currently he is on the staff at the Royal Scottish Academy of Music and Drama. Nigel has been honoured in the past by the Worshipful Company of Musicians, London, being the inaugural recipient of the Mortimer Medal for his beloved work in musical education principally for West Lothian, and also by the Society of Scottish Composers for his prolific presentation of contemporary works. Over the last five years he has worked with countless orchestras and bands of every combination, which has formed the basis of a strong repertoire in several mediums.
He has recorded much for Radio and TV and has also completed several CD`s for Naxos, Doyen and Polyphonic. Recently, through his Scandinavian connections, he has been especially lucky to have collaborated with Ole Edvard Antonsen, Christian Linberg, Michaela Petri and Solveig Kringlebotn.

Back home in the UK, Nigel has continued with his distinctly versatile approach to work by directing and presenting the Salon Orchestra throughout Scotland and making New Year's Day appearances with the Philharmonica of Scotland.
Throughout the years, choral music has been an additional interest and featured in many a concert with for example, the Edinburgh Royal Choral Union, the National Norwegian Girls Choir from Oslo and Norway's legendary Silverboys. Future travel and concerts are planned and anticipated in Argentina, Germany and Denmark. Future Summer Schools include return visits to the National Youth Wind Ensemble of Scotland, Glasgow Schools Orchestra , Moray and the R.S.A.M.D. Junior Orchestra.
Finally a brand new venture has just newly developed in Molde, where Nigel will direct their three orchestras amid the panoramic mountain landscapes of Middle Norway. He has conducted once at the European Contest, in 1979 when he led CWS Glasgow into 7th place overall. He has adjudicated at the contest on two occasion – in 1997 and 2000 on the Own Choice Section.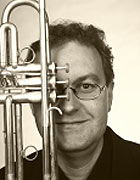 Arvid Anthun:
Arvid Anthun was born and raised in Bergen. He was a member of Eikanger-Bjørsvik Musikklag for 10 years, serving as their principal and soprano cornet.

He studied trumpet in Bergen and at the Royal Northern College of Music in Manchester, where Howard Snell and Murray Greig was his main teachers.

He has worked as a freelance trumpet player in many of Norway's symphony orchestras and military bands. He is now employed as a chamber musician and is also very busy as a conductor.

His band, Jølster Musikklag, has been promoted from the 4th section to the 1st section in 4 years.

During the academic year of 1990-91 he was a member of the solo cornet section of Fodens.

In the nineties he was the resident conductor of Stavanger Brass Band and Sandefjord Brass Symposium and has since worked as a guest conductor with many championship bands in both Norway and Denmark.
---
Own Choice Section: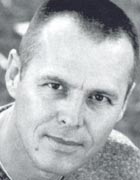 Professor David King:

Australian by birth, David King is regarded as one of the most dynamic figures in the world of brass today. With an enviable record of musical accomplishments and successes both as an instrumentalist and conductor he is at the forefront of music education and is Head of Performance Studies at the University of Salford, the largest music department in the British university sector.

David King studied Trumpet and Cornet at the Sydney Conservatorium of Music and music education at Avondale College, NSW, where he studied choral conducting with Alan Thrift, graduating in 1978. In 1982 as Australian cornet champion he was awarded a scholarship to study band musicianship at Salford College, Manchester, where he graduated with distinction in Performance in 1985.

In Britain David King pursued a distinguished career as a cornet soloist and was 'North of England Solo Champion' on three occasions (1983/84/85). He represented the United Kingdom as 'British Open Solo Champion' and won the prestigious title 'International Brass Musician of the Year' in Auckland, New Zealand in 1992.

In December, 2000 David King graduated from the Institute for Social Research, University of Salford, with a Doctor of Musical Arts degree majoring in Performance and has since been awarded his professorship.

As a conductor Dr David King holds a prominent position in Europe and is revered as one of the most successful conductors on the concert and contest platform in the last decade. He has represented England in the European Brass Band Championships on eight occasions as a conductor and has won the title seven times, twice with Black Dyke Mills Band (1990 & 91) and eight times with the Yorkshire Building Society Band (1996/1997/1999/2000/2001/2002, 2003 and 2004).

At the end of 2006 he announced his decision to end his association with the YBS Band after 13 unprecedented years of success. He continues to work at Salford University and pioneered the first British - Australian based Master of Arts Performance programme commencing January 2008.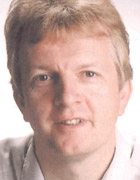 Jan Van der Roost::
Jan Van der Roost was born in the town of Duffel in Belgium in 1956 and was introduced at a very early age to the prominent names and performers of both brass and wind through his family, who were associated with high quality amateur music making. Thus he was encouraged to write and compose form an early age.
He became a student at the Lemmens Institute where he received a varied high-class musical education that led to the award of a triple Music Education Laurete Diploma for trombone, music history and music education.. In 1979 he continued his studies at the Royal Conservatoire of Ghent and Antwerp where he received a further Diploma in composition.
He is currently teaching and lecturing at Lemmens Institute and conducts the colleges Wind Ensemble and Wind Band. In 1999 he became Guest Professor at the Shobi Institute of Music in Tokyo.
He is in demand not only as a composer but also as an adjudicator and conductor and his highly versatile skills as a composer have brought international recognition through performances of his works both on radio, television as well as through live recitals and CD recordings. He has composed extensively for brass, wind, choir, piano, guitar, string orchestra, solo instruments and symphony orchestra.
Many of his current works include the three part trilogy, "Stonehenge", "Arsenal" and "Albion" as well as "Flashlight", "Canterbury Choral", "Tocatta Festiva", "Slavia", "Limelight Fanfare", "Prima Luce" and "Minerva".

He has adjudicated at the National Finals of Great Britain in 2002 and at the European Brass Band Championships in 2003.
Jens T. Larsen:

He received his musical education from Rogaland Music Conservatory where his chosen instruments were piano and percussion.

At Høgskolen i Bergen he took honour degree, majoring in Music Education. Since 1991 he has worked at the School of Arts Education of Stavanger University College. Here his subjects are music education and conducting.

Jens Larsen has also been responsible for the advanced conductor's course in band conducting. Since August 2000 he has served as Dean of Department.
Jens Larsen has many years experience as a musician in the Stavanger Symphony Orchestra, Rogaland Theatre and on tour for the National music scheme of Norway.

For twenty years he has worked with band music as a conductor for both brass bands and wind bands, and as an adjudicator in competitions both locally and nationally.