4BR Interview - Allan Withington
28-Apr-2008
On the eve of the European Championships in Stavanger, 4BR talks to Allan Withington - the man with the contesting Midas touch
---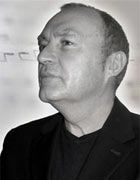 Allan Withington is no stranger to the European Championships having tasted victory with Brighouse in 1998 and achieving an excellent runner up spot with Stavanger in last year's event in Birmingham.
Given his status as a resident of Norway, it could hardly be more fitting that the 2008 contest will see Allan Withington's European debut in front of Grimethorpe in the "homely" surroundings of Stavanger.
4BR's Chris Thomas caught up with him shortly before he left Norway for a week's intensive pre-contest rehearsal with Grimethorpe for talk of the contest, the music, the "X Factor" and the price of Norwegian beer….
Chris Thomas: It seems hard to believe that it is eleven years since Grimethorpe last played at the European Championships. On that occasion the band were third under Peter Parkes. What does it mean to the band to be back in European competition?
Allan Withington: After a lot of hard work, which resulted in some contest wins (obviously correct decisions from adjudicators) we now find ourselves representing our country at a major competition. Just this is an honour and a great privilege.
Chris Thomas: With Norway having been a part of your life for many years, how important is it for you personally that your European debut with Grimethorpe is to be in your "adopted" country? And in a city you know well through your relationship with the Stavanger Band?
Allan Withington: I have always felt "at home" in Stavanger. Maybe it's the town or the people or a mixture of both. It`s just a great place to be. Whenever I stand in front of Grimethorpe, as with Stavanger, it makes me immensely proud to be part of a team of musicians that can produce "The X Factor". For me personally, I think the sum of the above will make it a very special occasion.
Chris Thomas: Of course, your own record in the "European" goes back to 1996 when you conducted Burgermusik Luzern and includes a victory with Brighouse in 1998 and the runner up spot last year in Birmingham with Stavanger. Ten years on from your last European victory it would no doubt feel good to get your hands back on the trophy?
Allan Withington: It's always great to win trophies.....but keeping them clean is not so great!
Chris Thomas: And a victory in Stavanger would set Grimethorpe up nicely for an attempt at the National "hat-trick" later in the year?
Alan Withington: Hat-tricks are difficult. Lots of variables must coincide. However success does breed success so winning is rarely a disadvantage.
Chris Thomas: Is the contest likely to bring a little friendly rivalry and banter with the players you know so well from Stavanger Band?
Allan Withington: Mmmm. I hope it`s not going to be too friendly!
Chris Thomas: The composer of the set test piece, Håkon Berge, is a man closely linked to Stavanger but will be new to many band enthusiasts in the UK. What can we expect of Berge's work "Brass Blot" (Brass Offering)?
Allan Withington: A musical landscape of interesting rhythms, the mainstream, coupled with non traditional, melodic fragments and a piece that is suddenly difficult a few days before the event.
Chris Thomas: Berge's reputation in Norway is closely linked to music drama for the theatre and television. Do you feel that any aspects of this background surface in "Brass Blot"?
Allan Withington: When writing for theatre and television the composer deals with two elements, visual and audio. Each compliments the other. With "Brass Blot" we have only the audio. Maybe that is the challenge.
Chris Thomas: Will Grimethorpe be taking part in any additional fringe events or concerts whilst the band is in Norway?

Allan Withington: Yes, we are sharing the gala concert with Stavanger. Ideally it would have been great to perform together but logistics said no. So we have two wonderful bands, hopefully lots of banter, friendly rivalry and some expensive beer afterwards.
Chris Thomas: And so to the inevitable final question! With a short "warm up" tour to Holland just completed is pre-contest confidence riding high in the Grimethorpe camp?

Allan Withington: Every great team is dependant on motivation and high morale. Regarding confidence, well, that must be always present to operate at this level. The feeling within the band at the moment is extremely positive. So we board our aircraft next Thursday with one aim; others decide the rest. By the way could the `others` also decide to reduce the price of beer!
Chris Thomas: Thanks for talking to us and the best of luck.