2008 National Youth Band Championships - Premier Championship: Retrospective
16-Apr-2008
There was a major disappointment in the Premier Section, but it wasn't the fine effort from West Lothian in taking the title.
---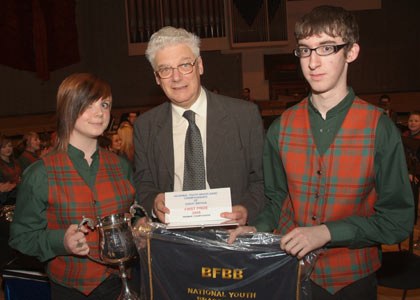 Eyes on the prize: West Lothian take the prizes on offer
Picture: John Stirzaker

The one major disappointment of the weekend was that there was just the one band taking part in the Premier Section.
There were perhaps varied reasons for that this year, but it did confirm the belief that the single entrant was reflective of a greater problem facing the championships as a whole.
Varied school holiday dates around the country, the cyclical nature of player numbers and standards, and the rather ill defined contest criteria all play a part, but this year, and specifically for this section, there was also the misplaced choice of set work too – Edward Gregson's 'Essay'.
Inspired?

Given that the contest criteria stipulates that this section is '…open to any bands who are inspired to the greater challenge of playing one substantial test piece' you would have thought that a work written as far back as 1971 would be well within the capabilities of a number top youth ensembles. Not so.
Last year the Premier Section performed Goff Richard's 'The Aeronauts', a piece within the scope of the five bands that did attend, and one that crucially allowed them the opportunity to showcase their own individual strengths with another well chosen substantive work.
Off the mark

Who then thought that this one, written for top section contesting and used as a testing regional set work in 1982, was one to 'inspire' was way off the mark. Given the nature of those other problems faced by organisers of local authority bands, this was a poorly thought out choice. Just because it's old doesn't make it easy, inspiring or even enjoyable.
The literary connotations of the work require maturity of musical thought and execution; from the conversational style of the opening 'Dialogue' through to the tranquil loneliness of the Vinter inspired 'Soliloquy' and the cultured playfulness of the 'Epigram'. A musical Harry Potter story it ain't.
Fine effort

Given that it is also a work that at times is thinly scored, requires soloists of confident maturity and detailed ensemble balance, having it played by large ensembles all hungry to blow meant that it was a choice that despite West Lothian's fine effort became totally incoherent.
The Scots are a fine large scale local authority band (50 plus on the day - heaven help if all of Lothian turned up to play!), who in themselves experience many of the cyclical ups and downs that come with youth banding.
They have not competed here since 2005 (when they won by gaining a Silver Award) and there seems to be the sense that they are currently on the gradual upswing of musical development under MD Nigel Boddice - who has built more championship winning outfits with this band than Sir Alex Ferguson at Manchester United.
The class of 2008 is currently very much a work in progress to coin the phrase so accurately used by Alan Morrison earlier in the day, and that was evident in their performance of the set work.
The 'Dialogue' had some fine moments amid some struggles and untidiness, whilst the 'Soliloquy' contained any number of brave solo efforts, but revealed that what was being asked of the players was perhaps a touch beyond their current musical, if not technical, capabilities.
The final 'Epigram' was bold and robust rather than full of the required light handed mirth that the composer intended, but it was rounded off with a substantive coda.
Authentic

With the set work out of the way the choice of Peter Graham's 'The Last Amen' saw them deliver a much more authentic, confident and 'inspired' piece of quality playing.
Nigel Boddice allowed time and space for the music to retain its rhythmic flow and pulse and he was rewarded by some wonderful playing from his charges. There were fine contributions from each main soloist (with a very good euphonium Jamie Shade just pipping the young girl on solo horn to the 'Best Instrumentalist award) and the band certainly sounded as if they felt more at home with a work that was within their technical and musical boundaries.
Generous

Adjudicator Peter Parkes was a little over generous when he stated that he felt that the performance of the set work was better than most championship bands he had heard at the 1982 regional contest (better than his own two winning efforts that year with Whitburn and Ever Ready though?) and he was stretching things somewhat by suggesting that the performance he had just heard would have won many of those contests 26 years ago. Time can play funny things with the old memory banks.
Still, West Lothian should be congratulated for their sterling performance and for making the trip down this year (where would the organisers have been without them we wonder?), and although the Gold Award was a slightly generous reward it was hard to disagree (manly because there was nothing to compare it against).
If West Lothian returns next year though we could well see an even better band on display – despite what seems to be another misplaced choice of set work in Gavin Higgin's 'Forest Symphony'.

Iwan Fox