2008 National Youth Band Championships - County Championship: Retrospective
16-Apr-2008
An enjoyable County battle saw Hampshire retain their title in Gold standard style.
---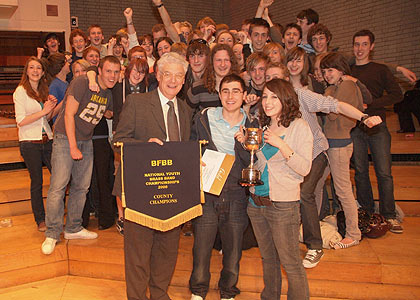 We are the champions: Hampshire take the title home again
Picture: John Stirzaker

An enjoyable County Championship saw 8 bands round off the contest day in the Haden Freeman Concert Hall.
Playing standards did vary throughout each of the eclectic programmes put together by well matched ensembles, whilst Philip Sparke's vibrant 'Music for A Festival' was a testing set work.
Alan Morrison and Mark Wilkinson had plenty to chew over in reaching their decision, although to be fair we don't think they had too many problems sorting the bands out – there was a fairly well defined order that reflected their awards.
High standard

Mark was quite right when he stated: "Although the general standard was very high throughout the section, achieving a proper balance was difficult for those bands who were short on numbers generally, or short on lower brass players, creating a 'top-heavy' effect. Ensemble became difficult too, especially where there were large sections within bands. Despite this, the conductors in the County Section all did terrifically well in getting their young players through sometimes challenging programmes, and every band can be very proud of their efforts."
He was also spot on when he added: "Possibly because of the wide variation in standard, Alan and myself found judging the contest a straightforward but rewarding experience and we were agreed on the outcome throughout the whole field."
Little surprise

It came as little surprise then that Hampshire Youth took the £350 first prize once again and with it one of the four Gold Awards handed out by the judges. It wasn't perhaps a totally 24 carat gold performance from Jock McKenzie and his band on this occasion, but the quality of their ensemble work in the set work and the sense of confidence and control that they displayed in their opening item 'A Psalm of Praise.' It was an excellent and successful defence of their title.
Meanwhile, behind them came two fine efforts from Rochdale Borough Youth (who last year played in the Premier Section) under Eric Landon, and Stockport Schools directed by Colin Duxbury.
Good form

Both bands were on good from with Stockport perhaps delivering the best interpretation of the set work of the day and Rochdale displaying a greater degree of mature control, especially in the opening 'Entry of the Gladiators' and the concluding 'The Lost Chord'. They took to the stage with only around 30 players but the size and warmth of their ensemble sound was something to behold at times, even if it did get a little too fruity at times too.
Final Gold

The final Gold Award went to Bolton Youth conducted by Helen Minshall who started very well with the set work, but perhaps picked the wrong additional piece in 'Riverdance', which although well played with soloists playing from memory and a tremendous little kit player, seemed a bit out of place in this type of contest environment.
Silver Awards

Silver Awards went to Gloucestershire Youth conducted by Steve Legge, Oldham Music Centre Youth directed by Martyn Evans and Worcestershire Youth conducted by Nicky Daw. Each delivered solid and obviously well rehearsed programmes that highlighted their potential strengths and more obvious weaknesses.
Gloucestershire started with the original 'Full Circle' by Martin Yates (who was in the audience to listen to the piece played) and the slightly oblique work was certainly different, if a little lacking in development. It set the tone for an understated performance of the set piece that showed that here was a band that is being developed in a long term fashion by its MD – there is certainly bags of potential set to flourish in the years to come.
So too with Oldham with a bright opening 'Joy of Youth' march which was followed by a slightly flat piece from the pen of Joseph Parry. A breezy rendition of the test piece though was pretty good stuff and showed a great of detail too.
Worcestershire also had their moments of great, good and a touch wayward in their programme set with a robust 'Procession of the Tartars' to start followed by a neat and well presented horn trio (the name of which eluded us!). The set work meanwhile was enthusiastically played with real brio although just at times getting the better of them.
Bronze

That just left Birmingham Schools Band who were a touch unlucky only to go home with a Bronze Award (the same as last year) for a performance that did at times vary in quality admittedly, but showed a great deal of enthusiasm, commitment and innovative thinking.
'Knight Templar' seemed to by at the limit of their technical ability perhaps, whilst the test piece also pushed them a great deal at times too – although there were plenty of moments when they caught the right style and rhythmic pulse. It was the African finisher though 'Kushi-Ki- Awas' (which was anything but cushie) that showcased their best features with tabla and dhol drums leading the way in a highly enjoyable (if perhaps misplaced) item for this type of contest.
No misplaced result for Hampshire though and they made the long journey home with yet another well deserved National title to their name.
Iwan Fox