2008 National Youth Band Championships - Schools Championship: Retrospective
16-Apr-2008
The long contest day started off with a renewel of rivalry between two very good Schools bands.
---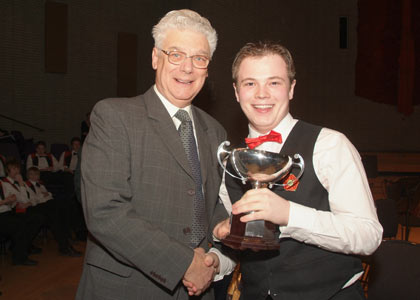 Smithills revenge: Smithills regain the Schools title
Picture: John Stirzaker

The early morning start to the day long of contests saw a renewal of rivalry between Wardle High School and Smithills High School Senior Band in the Schools Championship.
Unfortunately there were only these two entrants for a section in which the class is notionally open to all bands organised through or by a single school. We say notionally, as the rules also state that the class is open to training/learner bands from those in education authorities and organisations that may wish to enter another band in the County or Premier class – a very odd addendum.
Misplaced

Add to that the rather misplaced allowance of enabling competing bands to include former students, no longer connected to the school, but who happen to be below the age of 19 as long as they tell the organisers, gives you some idea why this section currently seems to be in a parsimonious numerical state.
Adjudicator Brett Baker got it half right when he said that perhaps the real reason why there are only two competing bands, was that the two here were so good. He could have also added that perhaps quite a few people have started to realise that the section falls between too many competing stools.
Keeping it as a pure Schools Championship is the ideal, surely – but notionally opening it out to education authority massed bands and to youngsters with no connection to their former alma maters means that it starts to lack relevance.
So good

That is a great pity as the two bands that competed here under what would seem to be the ideal criteria, were so good. And that was self evident as they locked horns in an enjoyable battle in the Haden Freeman Concert Hall.
Smithills took to the stage under Chris Wormald, more determined than ever it seemed to regain the title they lost last year.
Right from the word go there was a confidence about their playing in a neat arrangement of 'The King of Love' hymn tune, which was balanced, warmly coloured and featured nicely shaped individual contributions from solo lines.
The following solo feature saw flugel player Lucy Sanderson deliver a solid account of 'Always on my Mind', which just lacked for projection as she rather played into the solo stand facing towards the MD, rather than towards the audience. Just a turn of a few degrees would have given a fine rendition that extra bit of soloist presence.
A committed performance of the set work, Kenneth Donwie's 'Music from Kantara', really did sound as if the band had spent quite a bit of time polishing it up to a high contesting sheen. It was excellent stuff, with tasteful solo contributions and well drilled ensemble, which despite an odd moment or two in the trombones was very well played indeed.
That just left enough in the tank for a controlled finale from the 'Firebird' which despite a collapsing tam-tam (a situation coolly recovered by the young girl on percussion) had that stamp of quality that comes with hard work and single minded determination. It was a well chosen programme, very well played.
Tub thumping
Wardle must have known that they would have to play to the top of their form if they were to retain their title, and MD Lee Rigg made sure they were on familiar musical ground to start off with a repeat of last year's opening march, 'ORB', which was delivered with a tub thumping presence.
The set work followed and although there was plenty of youthful enthusiasm and endeavour on display there was also a need for it to be reigned in now and again too - some of the dynamic levels were a touch on the generous side. It certainly didn't lack for confidence though and the bold approach continued as they finished off with some rousing rounds.
A slightly odd arrangement of 'Somewhere' from 'West Side Story', gave the bands talented euphonium player William Pearson the chance to shine (which he certainly did to pick up the 'Best Instrumentalist' prize), although the piece itself seemed rather over complex.
Wardle rounded off its challenge with a repeat of last year's 'Can, Can', that was certainly full of spirit and froth, but which perhaps sounded a little too insubstantial for a obviously well rehearsed outfit.
Musical touches

Adjudicator's David Hirst and Brett Baker were obviously pleased at what they had heard, with David stating that he felt there were two 'superb performances' on show. He also made the rather more obliquely accurate remark in comparing Smithills 'musical touches' to Wardle's 'powerful and exciting sounds', and that was perhaps the difference between the two bands – Smithills just had that extra element of quality control.
Both bands were presented with Gold Awards, which was perhaps a touch generous as there was a small but significant gap between the two this year – perhaps Gold and Silver would have been more reflective of the standard of their playing within the section.
Still, Chris Wormald was delighted as he once again could return to his staff room clutching yet another award for his band. "We put a great deal of hard work and commitment into this year's performance - I was very pleased how we played. I thought Wardle were excellent too and it shows that there are two very good schools bands here once again."
Next year beckons all too quickly for a friendly rivalry between two of the very best school bands in the UK.
Iwan Fox