2008 National Youth Band Championships - Junior Championship: Retrospective
16-Apr-2008
The Junior Section was a delight, but one played out on a slightly lopsided playing field.
---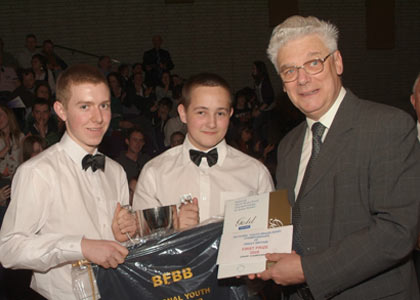 Nice one Fred: Fred Longworth take the Junior honours
Picture: John Stirzaker

The Junior Championship that followed the Schools Section was a delight – no doubt about that.
The rules for the contest stipulate that the class is open to all youth bands whose membership has not reached their 17th birthday, and unlike the other sections there is no set work for the bands to play. That criterion is both its main strength and possible weakness though. The five bands that did take to the stage here were excellent, but it does make for a somewhat lopsided contesting playing field.
Having community based bands such as Shirland Youth competing with just 17 players against the likes of Music Service and education based ensembles of up to 50 plus members, may make for a highly enjoyable competition, but also one that isn't balanced or a true reflection of junior banding in the country.
It may also account for the fact that numbers for this section were also down from last year too.
Worthy bid

In a worthy bid to get as many of the youngest players involved in competition the section has lost its initial purpose – that it should surely be a section for single community based band ensembles, not a secondary section for junior ensembles from large organisations.
As one influential Head of Music Services told 4BR, what is to stop them sending a full strength intermediate band of over 50 players to compete here in this section as long as they were all under 17? This section needs sorting out too.
Works in progress

Alan Morrison was spot on with his analysis of the contest when he said that he found the experience 'fascinating'. "Listening to young players at various levels of achievement overcoming basic problems, finding solutions, finding new problems and then striving to find new solutions is fascinating," he said. "These bands are all works in progress, but all are moving in the right direction and the level of achievement has been terrific."
Alan was also right when he highlighted that all the bands were moving in the right direction and that the standard each achieved was terrific – although he was clearly talking about each band in isolation (which was the undoubted strength of the section) rather than in competitive comparison (which was its most obvious weakness).
Remarkable

Shirland Youth were the first band to showcase the standard of their playing – and with just 17 players it was a quite remarkable performance under the direction of Peter Rhodes.
With just the one bass and two trombones (one of which also doubled as a fine tuned percussion player) it was a quite amazing effort, - made more so by the excellent balance, warmth and precision of their playing. The opening march 'True & Trusty' was an almost perfect example of miniature ensemble playing (and we are not talking about the size of some of the little nippers playing horn and cornet here either), whilst 'Stahl Himmel' and 'The Big Top' were played with clarity, control and no little joyful enthusiasm.
The highlight though was the super flugel horn soloist Emma Walton, aged 16, who produced a lovely dark sounding lead in 'I don't know how to love him' – all without music, which deservedly won her the 'Best Instrumentalist' award.
The band itself gained a deserved Silver Award too, although the additional prize of 'Most Improved Band in the Junior Section' was misplaced.
Improved on what? As the band didn't perform here last year how on earth could they be judged to have improved to win it? It should surely have gone to one of Wire Youth, Gwynedd Mon or Fred Longworth, who did compete last year. Somebody should have sorted this one out too.
Gold

Meanwhile, Fred Longworth High School Junior Band conducted by Helen Robinson was worthy victors and Gold Award recipients.
A strong line-up (with 4 basses, 5 percussionists and 4 troms to add a bit of youthful beef) enabled them to really shine with an up tempo 'The Champions' March (very appropriate given the result), to start.
'Amazing Grace' was a little untuneful at times to follow, but a super bit of bass trombone smooching from Tom Collier (who also doubled up as bumper up euph) on 'Minnie the Moocher' was really well delivered and also featured a great bit of kit playing too.
That just left Goff Richard's 'Trailblaze' – and that was delivered to a tee with plenty of confidence and some great little moments from a cracking soprano and secure solo cornet, as well as razor sharp cymbal player. After coming third last year (also with a Gold Award) there was no doubt that they had raised their game to take the title this time around.
Oohs and aahs

Wire Youth (Warringtom Music Services) were next up, accompanied to their seats by an accompaniment of parental oohs and aahs from the audience who were amazed at the size of many of the players taking part.
The youngest was in fact just 5 years of age (playing a pocket cornet), whilst MD Jo Sherry (who smiled with delight from first note to last and who was a great focal point for here young charges) had to carry on the euphonium for the equally dwtty (the Welsh word for tiny) bumper up euph.
What a sight and what an inspiring performance followed.
'Just a Closer Walk' had just the right New Orleans funeral swagger and sway to start, with great little solo features, whilst 'All through the Night' was neatly delivered with a real effort to show dynamic contrast. 'Star Lake' was bright and breezy whilst the final 'Hungarian Dance' had heaps of musical goulash and a sop player who topped it all off with real gypsy relish.
There may not have been too many feet touching the floor, no percussion and plenty of odd old sounds here and there, but the sense of endeavour, determination and exuberance made even the hardest old critical heart lift on high. It also deserved more than a solitary Bronze Award too (the same as it got last year), because they had certainly improved no end in the past year.
Big band

Gwynedd Mon William Mathias Junior also returned this year, and also improved too to take the other Gold Award in the section given by judges Alan Morrison and Sheona White.
This was a big band (over 50 players on the stage), and although they only had the three basses, MD John Glyn Jones made sure they were never swamped.
The opening 'Star Lake' was bright and well controlled to start and was followed by a very competent piece of euphonium playing from Sion Rees Jones on 'Little Red Bird'.
The ubiquitous piece of Andrew Lloyd-Webber followed with slick style in 'Any Dream Will Do', before they ended their 15 minute programme with some excellent ensemble playing in 'Chorale and Rock', which featured top notch percussion throughout to compliment other solid leading lines and precise full band sounds.
Debutants

That just left the debutants of City of Leeds Junior Band under the direction of Gordon Eddison, and they too did themselves proud in gaining a Silver Award.
A well chosen programme made sure that they highlighted all their potential with the up tempo 'Curtains Up!' which was full of great little motifs from all around the band, followed by a neat arrangement of the famous Pachelbel 'Canon' with some tasteful percussion playing from the two lads at the back (one of whom doubled up as a Bb tuba player in his spare moments!).
The tuba quartet 'Little Ted's Tuba' from the Liam, David, Nathan and Matthew (we never got to find out their surnames!) was sprightly and well rehearsed before another new take on the old Henry VIII pop song 'Pastime with Good Company' which once more featured a cracking bit of percussion playing.
To round off the contest they opted for the dinosaurs of 'Jurassic Park' and it worked well too to gain them that well deserved Silver Award.
It also rounded off a contest of considerable merit, and if the organisers can just tweak the criteria here and there then this section has a very bright future indeed.
Iwan Fox