Classic LPs - The 1980s
10-Apr-2008
Tim Mutum casts his expert eye over two iconic releases from the 1980s - the last decade before the age of the CD release changed things forever...
---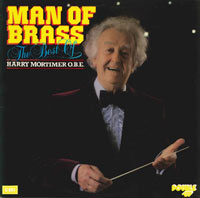 Man of Brass – The Best of Harry Mortimer O.B.E.
EMI Records DUO 130 –double LP, released 1981
Compiled by Harry Mortimer and Bob Barratt, Engineer: Stuart Eltham
I only met Harry Mortimer a couple of times. The first was at Belle Vue, Manchester in May 1980 prior to the Spring Festival/Granada Band of the Year when I recorded an interview for local radio.

He had this lovely, and I believe genuine, knack of making you feel very special. He spent far more time with me than he needed to and insisted on showing some of the bits of Belle Vue the average visitor wouldn't see.He also sat with my wife and me for a drink – he insisted on paying!

Yet in reality he was the one who was special and whilst there may have been a few pretenders to the crown, HM is the biggest name brass banding has ever had and he is the only person who can have been regarded as a "household name".
EMI effectively celebrated this and his long association with that label in 1981 with the release of a double album called Man of Brass – The Best of Harry Mortimer O.B.E. The first LP is largely a selection of cornet solos played by Harry Mortimer.

He was not the greatest technician of the cornet, his style was generally softer, lighter and more delicate and the comment made, "Harry does not play, he sings" is well founded. I believe he shaped solo lines through listening to singers in his early days.
One critic wrote "...then there was Mr Harry Mortimer performing incredible feats of agility in 'Il Bacio', a coloratura soprano song which no coloratura sings with such smoothness, brilliance or firmness of tone and accuracy of intonation."

Il Bacio is included on this set with HM accompanied by his beloved Fodens Motor Works Band conducted by his father, Fred. Other great favourites (and they still are today) are Hailstorm, Alpine Echoes and Zelda, the latter accompanied by an unknown orchestra. Harry Mortimer also performs the Haydn Trumpet Concerto with the Philharmonia Orchestra and there are duets with Jack Mackintosh – Mac and Mort and The Swallows Serenade.
LP 2 celebrates Mortimer and his massed bands whether it be Men 'O Brass or from some spectacular.

Very much Classic FM in approach meant that Radetsky March, William Tell and Jesu, Joy of Man's Desiring were typical of the music found on his LPs. Here he also conducts his other two favourite bands – The Fairey Band in which a young Phillip McCann is the soloist with Jenny Wren (Roland Davis) and Morris Concert (formerly BMC).
This double set was published simultaneously with Mortimer's autobiography 'Harry Mortimer On Brass' (Alpha Books, 1981).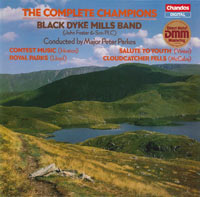 The Complete Champions
Black Dyke Mills Band, conducted by Major Peter Parkes
Chandos – BBRD 1032, released September 1986
Producer: Brian Couzens, Engineers: Ralph and Philip Couzens
This recording was made in celebration of Black Dyke's most successful contesting year in 1985 – winners of the titles BBC Band of the Year, Champions of Yorkshire (Area Contest of the National Championships), European Champions, British Open Champions and Champion Band of Great Britain.
Without doubt it contains four of the best examples of brass band composition superbly executed by a band at its peak, led by arguably the most successful contest conductor in modern times.
Three of the programme notes are written by the composers (the exception being Vinter's Salute to Youth where the contribution is made by Geoffrey Brand). Side 1 opens with Wilfred Heaton's Contest Music.

On the sleeve Heaton says it was written in 1973, but completed would be a better word as research by Paul Hindmarsh has shown that it was from music which had been composed some 20 years earlier. It is arguably Heaton's finest work and very popular with bands.
Royal Parks was a BBC commission as part of its contribution to European Music Year. Lloyd wrote it for the European of 1985 and it is a modest memorial to the seven musicians who lost their lives in a terrorist attack in 1982 at the bandstand in Regents Park, London.
Salute to Youth was Gilbert Vinter's first brass band work in1961. Despite its age it remains an exciting and challenging work for brass band. Each of the three movements represents an aspect of youth - 'Resilience' – 'Romance' – 'Relaxation'. The instruction on the last is to "go as fast as possible" in order to "increase the excitement".
John McCabe's Cloudcatcher Fells was commissioned by Boosey and Hawkes Band Festivals with funds provided by the Arts Council of Great Britain, as the test piece for the Championship Finals of the 1985 National Brass Band Championships of Great Britain.
The work is associated with various places, mostly mountainous, in the Lake District which have particular personal significance for the composer. Peter Parkes describes 'Angle Tarn' "...as beautiful as anything written for brass band."

Chandos consistently produced high quality recordings and this is certainly one of the finest.
The players on this recording are:-
Soprano – Kevin Crockford
Principal Cornet – Phillip McCann
Solo Cornet – David King
Solo Cornet – Douglas Blackledge
Solo Cornet – Malcolm Turton
Repiano Cornet – Norman Christie
Second Cornet – John Taylor
Second Cornet – Fred Ellis
Third Cornet – Peter Moorcroft
Third Cornet – Jonathan Pass
Solo Horn – Sandy Smith
First Horn – David Essex
Second Horn – Philip Rose
First Baritone – Peter Christian
Second Baritone – John Slinger
Solo Trombone – Norman Law
Second Trombone – Andy Gray
Bass Trombone – Martin Newsome
Solo Euphonium – John Clough
Second Euphonium – Stuart Derrick
EEb Bass – Sandy Blair
EEb Bass – Geoff Harrop
BBb Bass – Derek Jackson
BBb Bass – David Nesbitt
Percussion – Richard Clough
Percussion – Howard Ford
Percussion – Ray Payne
Percussion – Philip Gee
This LP was also released on CD and is still available.
Other Contenders for the best of the 1980s:
Alex Owen – 60th Anniversary – Besses 'o 'th Barn Band – Chandos BBR 1009 – 1980
20th Century Soloists – Besses 'o 'th Barn Band – Chandos BBR 1013 – 1982
Blitz – Black Dyke Mills Band – Chandos –BBRD 1014 - 1982