2008 National Championships of Great Britain - Regional Reflections
8-Apr-2008
4BR looks back at regional championships - the good, the bad and the ever so slightly controversial...
---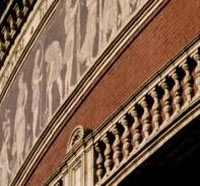 With the dust finally settled on the 2008 Regional Championships its time to reflect on a series of contests that has certainly been one of the most entertaining as well as interesting events for many a year.
506 bands took to the stages of Bradford, Glenrothes, Swansea, Bedworth, Torquay, Blackpool, Stevenage and Darlington, and between them provided a cornucopia of thrilling, spilling, breathtaking, awful, intriguing, baffling, lucky, unlucky, inspired and perspired performances of a selection of well chosen works, to try and find favour with the judges and book their places at London and Harrogate.
4BR managed to have someone listening to every performance at all the venues this year with an exhausted 4BR Editor clocking up no fewer than 199 of them! The reviews and opinions were aired, the responses logged and published, and some were happy, many were not.
There was also the first time experiment of the Children's Adjudication Panel which was a great success in Bradford, where four highly perceptive youngsters pitted their wits and opinions in the Third Section. No long term adjudicating problems there then!
In the end though there were tales of joy, disappointment, good fortune, bad luck, intrigue and even conspiracy as 20 bands made it to Kensington and 72 to the International Conference Centre once more.
And this is how it all panned out…

Yorkshire:
Bradford kicked it all off in splendid fashion. All eyes were of course on the battle for honours in the Championship Section, but before that thrilling climax on the Sunday evening, there was some wonderful competition in the lower sections.
A rejuvenated Lofthouse 2000 took title ahead of Skelmanthorpe B in an enjoyable Fourth Section, whilst a commanding Rockingham showed a clean pair of heels to their rivals in the Third, where Garforth joined them in qualifying.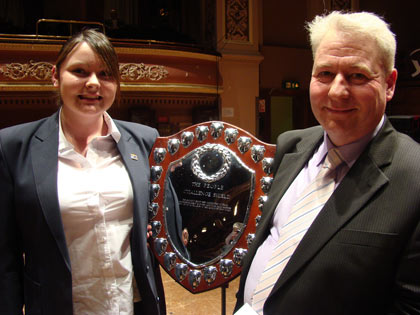 Off to Harrogate: Rockingham took the Third Section title at Bradford

A famous old banding name in Slaithwaite pipped YBS Concert Brass to take the Second Section honours, whilst in what was to prove an immensely difficult First Section test all around the country, Skelmanthorpe lived up to their billing as pre contest favourites to just about master 'James Cook' ahead of Stannington.
It was the Championship Section though that rounded off a memorable weekend with a fantastic climax. In a contest within a contest Black Dyke returned to the winners enclosure for the first time since 2002 with a stunning rendition of 'Festival Music' that saw them beat an almost equally impressive Grimethorpe into second place.
With these two bands already pre-qualified, both unleashed the full spectrum of their talents and gave the packed St George's Hall two performances that will live long in the memory banks. Unfortunately it meant that two immensely impressive performances from Carlton Main and Rothwell Temperance were somewhat forgotten as Yorkshire once again sent down four bands of the very highest class to the capital.
The 2008 Regional Championships had got off to a thrilling start.
Number of competing bands: 57 (down 1 from 2007)
Qualifiers:
Championship Section: Black Dyke; Grimethorpe; Carlton Main; Rothwell Temperance
First Section: Skelmanthorpe; Stannington
Second Section: Slaithwaite; YBS Concert Brass
Third Section: Rockingham; Garforth
Fourth Section: Lofthouse 2000; Skelmanthorpe B

Super Sunday…
With the type of forward thinking and planning that would have made the generals in the trenches in the First World War green with envy, somehow five regional committees had managed to book their contests on the same weekend in March.
It meant that on Saturday 8th March there were 11 contests being held at Swansea, Glenrothes, Bedford and Torquay, whilst on the Sunday a further 14 took place with the addition of the Blackpool hopefuls.
Midlands:
By having the greatest number of bands to accommodate it was the Midlands that had the earliest kick off time of the 'Super' weekend at their new venues in Bedford.
The new surroundings proved to be a huge hit with players and supporters alike and with slick organisation the whole weekend went off without a hitch.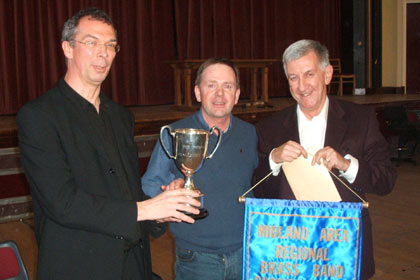 Matlock head for Harropgate in the Third Section

Matlock picked up the first honours on offer in the Third Section ahead of fellow qualifiers Wellington (Telford) and University of Warwick, whilst later the same day Glossop Old delivered a commanding victory in the First Section over Phoenix West Midlands and Hathern.
Sunday saw a huge field of 23 bands in the Fourth Section, where Amington delivered a fine victory over Croft Silver and Thoresby Colliery Youth to take the title. Meanwhile the Second Section saw victory go to City of Coventry Brass by a massive four point margin over rivals Harborough.
That just left one of the most keenly contested top sections in the country, where Desford showed their class in winning the Championship Section title for the first time since 2003 ahead of a rejuvenated Virtusoi GUS.
The other main winners though were the Bedford Civic Hall and Nicholas Chamberlaine Technology College, both of which provided everything the long suffering bands in the Midlands had been missing out on for years.
Number of competing bands: 81 (no change from 2007)
Qualifiers:
Championship Section: Desford; Virtuosi GUS
First Section: Glossop Old; Phoenix West Midlands; Hathern
Second Section: City of Coventry; Harborough
Third Section: Matlock; Wellington (Telford); University of Warwick
Fourth Section: Amington; Croft Silver; Thoresby Colliery Youth

Wales:
There is always some sort of surprise at the Regional Championships each year and on this occasion it came in Wales.
Things looked as if they were running to plan on the Saturday where Blaenavon Town took the Third Section honours ahead of City of Cardiff (Melingriffith), whilst Newbridge (Celynen) reinforced their quality in the First Section with a commanding four point win over Beaumaris.
Meanwhile in the Second Section there was something of a fairy tale story as Point of Ayr returned to the contest for the first time since 2001 to take the title ahead of Tylorstown Arriva Trains to roll back the clock somewhat to their former glory years at the contest.
Sunday dawned bright and breezy and with Crosskeys retaining their Fourth Section title with something to spare over Severn Tunnel it seemed the weekend would end with everything in its rightful place.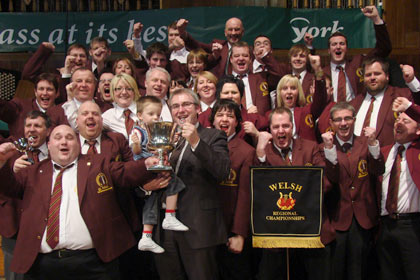 Not too upset! Tredeagr set the banding grapevine buzzing

A few hours later though and the banding grapevine was buzzing as Tredegar deposed of six time champion Cory and runner up BTM by an unprecedented margin in the top section to take their first regional title since 2001 and book their place at the 2009 European Championships in Ostend. It was some sting in the tail.
Number of competing bands: 43 (down 4 from 2007)
Qualifiers:
Championship Section: Tredegar; BTM; Cory
First Section: Newbridge (Celynen); Beaumaris
Second Section: Point of Ayr; Tylorstown Arriva Trains
Third Section: Blaenavon Town; City of Cardiff (Melingriffith)
Fourth Section: Crosskeys; Severn Tunnel

West of England:
If there was the obligatory shock result of the Regionals in Wales, then the inevitable contentious result took place in Torquay, where the conspiracy theorists had a field day in the Championship Section.
Before the shenanigans and at times acrimonious bleatings from some quarter,s the Saturday saw a feast of entertainment in the Fourth, Second and First Section contests.
A competitive field of 20 bands in the Fourth Section battled it out in splendid fashion before Brunel Brass showed a clean pair of musical heels to take the title ahead of Wincanton and Totnes, whilst in the Second Section it was an equally impressive Bristol East & Kingswood that took the honours ahead of Shrewton Silver.
The first day was rounded off with a real old ding dong battle in the First Section where it was Helston Town who finally overcame the seafaring terrors of 'James Cook' to book themselves a place at Harrogate, joined by Otterbourne Brass.
All seemed calm then for the Sunday as Verwood Concert Brass took a well deserved victory in the Third Section ahead of Bath Spa. Everyone then looked forward to one of the most keenly fought over top section contests of the year.
They were not to be disappointed with Mount Charles ensuring that the curse of the reigning champion continued for a 12th year as they took a contentious victory ahead of SWT Woodfalls with the much fancied PolySteel a rather disappointed third.
The rumblings continued in hyperspace for some considerable time, but given the track record of the unpredictable nature of this contest, a somewhat surprise result shouldn't have come as a surprise to anyone – let alone the reigning champions.
Number of competing bands: 72 (down 3 from 2007)
Qualifiers:
Championship Section: Mount Charles; SWT Woodfalls
First Section: Helston Town; Otterbourne Brass
Second Section: Bristol East & Kingswood; Shrewton Silver
Third Section: Verwood Concert Brass; Bath Spa
Fourth Section: Brunel Brass; Wincanton Silver; Totnes

Scotland:
It was a question of a long overdue victory in Scotland as the form bands north of the border finally delivered in just about all the sections of the contesting weekend.
The small Fourth Section contingent provided entertaining fare to kick things off, when Renfrew Burgh took the title ahead of Irvine & Dreghorn Brass, whilst Dalkeith & Monktonhall Colliery showed a clean pair of heels in claiming a two point winning margin over Annan Town in the Third.
With Campbeltown Brass delivering a well deserved favourites victory in the Second Section ahead of Johnstone and Bo'ness and Carriden also living up to their pre contest billing in the First by taking the title ahead of Clackmannan District Brass, the stage was clear for the domestic battle in the top section, all spiced up with the added bonus of a trip to the 2009 Europeans in Ostend.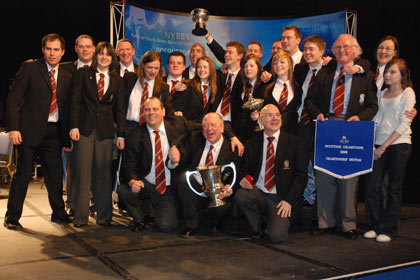 Millennium champions - at last: Whitburn took the top section honours

After a barren Millennium of regional success, Whitburn finally ended their jinx at the contest with a commanding victory over reigning champion Kirkintilloch, which meant that Scottish Co-op had to miss out for a second year in a row. The 8 year gap was well worth the wait for Russell Gray and his band.
Number of competing bands: 50 (up 2 from 2007)
Qualifiers:
Championship Section: Whitburn; Kirkintilloch
First Section: Bo'ness & Carriden; Clackmannan District Brass
Second Section: Campbeltown Brass; Johnstone
Third Section: Dalkeith & Monktonhall Colliery; Annan Town
Fourth Section: Renfrew Burgh; Irvine & Dreghorn Brass

North West:
It was a question of not just booking a place at the National Finals at Blackpool, but also in the brass band history books as Fodens (Richardson) led a fairly predictable set of results in the North West.
The quality of the lower section bands here was clear for all to hear with a number of excellent winning performances in particular, led by a sterling victory by Uppermill in the Fourth Section ahead of Lostock Hall Memorial and Tarleton and District Brass.
At roughly the same time they were booking their place at Harrogate, Oldham (Lees) continued their impressive journey up through the sections with a clear cut victory in the Third Section ahead of Eagley and Pemberton Old Wigan JJB B.
Elsewhere at the Winter Gardens, Wardle and District Anderson Brass completed a well worked win over Haslingden and Helmshore in the Second Section, whilst Roberts Bakery rose to the occasion in the First Section to take the honours ahead of Blackburn and Darwen.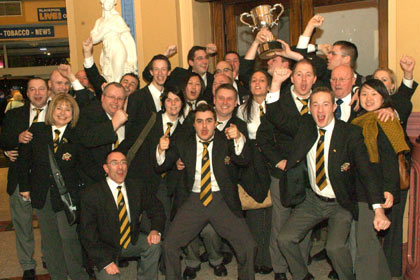 Record breakers: Fodens notch up victory number 15
Picture: John Stirzaker

It was left to the 11 bands in the Championship Section to provide a thrilling climax to the Sunday as Fodens Richardson picked up their 15th victory at the contest and claimed a hat trick of victories to boot too. It also meant that they finally displaced CWS (Manchester) Band as the most successful outfit in Regions history – no mean achievement given that they had to pip traditional rivals Leyland and Fairey to the title once more.
Number of competing bands: 79 (up 5 from 2007)
Qualifiers:
Championship Section: Fodens (Richardson); Leyland; Fairey
First Section: Roberts Bakery; Blackburn and Darwen
Second Section: Wardle and District Anderson Brass; Haslingden and Helmshore
Third Section: Oldham (Lees); Eagley; Pemberton Old Wigan JJB B
Fourth Section: Uppermill; Lostock Hall Memorial; Tarleton and District Brass

London & Southern Counties:
A mammoth field of bands descended on Stevenage the following weekend to try and show that it wasn't going to be something of 'after the Lord Mayor's Show' of a contest.
There was plenty to admire and enjoy too – especially in the lower sections, where a number of very good performances showed that the area wa unearthing bands of real potential for the finals at Harrogate.
In a large 22 band Fourth Section it was a super performance from Hemel Hempstead that took the honours ahead of Tadley Concert Brass and Cold Ash, whilst in a very competitive Third Section it was Littleport Brass that pipped Hangleton and Brighton & Hove City Brass.
Further up the contesting ladder Alder Valley Brass took victory in the Second Section ahead of Epsom & Ewell Silver whilst Jersey Premier Brass made the trip across the Channel to lead the field on the appropriate test piece 'James Cook - Circumnavigator' and book their B&B at Harrogate ahead of the strong challenge of Ipswich and Norwich Co-op.
That left the battle for Kensington and the heavyweight duo of Redbridge and Aveley & Newham locked horns in a private fight for domestic supremacy, as they again showed themselves to be a good length or three ahead of their rivals. In the end it was Redbridge who took the title – their 8th in the last twelve years.

Number of competing bands: 79 (no change from 2007)
Qualifiers:
Championship Section: Redbridge; Aveley & Newham
First Section: Jersey Premier Brass; Ipswich and Norwich Co-op
Second Section: Alder Valley Brass; Epsom & Ewell Silver
Third Section: Littleport Brass; Hangleton; Brighton & Hove City Brass
Fourth Section: Hemel Hempstead; Tadley Concert Brass; Cold Ash

North of England:
The final leg of the 2008 marathon took place in Darlington where it was also a question of records – although reputations were also on the line too.
Encouragingly for the region there was small increase in the number of competing bands, but also even more pleasing was the standard of many of the performances – especially in the lower sections.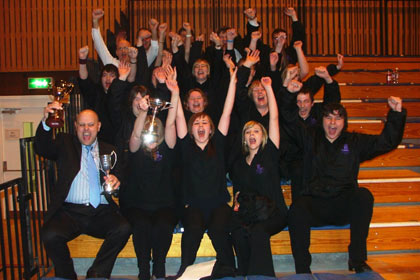 One of the best: South Milford took the Fourth Section honours
Picture: Steve Jack

One of the best, if not the best performance of the entire regional events came in the Fourth Section, where South Milford Brass delivered a highly impressive winning rendition to win by three clear points from Kirkby Lonsdale Brass. Meanwhile there was another top notch winner in the Third Section too where Flookburgh really stamped their authority in beating Billingham Silver to the title.
The Second Section saw Barton Town confirm their billing as pre contest favourites when they took the honours ahead of Murton Colliery, whilst it was Kirbymoorside Town that made the most of the difficult challenge posed by local lad made good, 'James Cook' to take the First Section title ahead of Wansbeck's Ashington Colliery.
That left the final 8 bands of the entire 2008 qualifying process and Reg Vardy, under pressure to deliver the goods once more here. After six successive victories they made sure they were in seventh heaven by delivering a commanding knock out blow to their rivals to book a place at the Royal Albert Hall with fellow qualifiers EYMS in what proved to be a battle between the Childs boys for the brotherly bragging rights.

Number of competing bands: 45 (up 3 from 2007)
Qualifiers:
Championship Section: Reg Vardy; EYMS
First Section: Kirbymoorsdie Town; Wansbeck's Ashington
Second Section: Barton Town; Murton Colliery
Third Section: Flookburgh; Billingham Silver
Fourth Section: South Milford Brass; Kirkby Lonsdale Brass