2008 North American Brass Band Championships - Retrospective: Championship Section
4-Apr-2008
Fountain City are now the band to beat - and maybe on both sides of the Atlantic in future.
---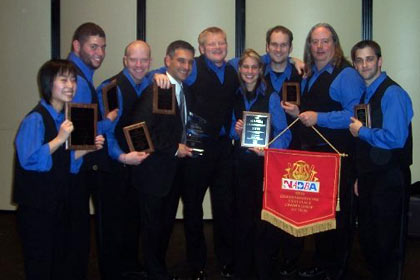 Champions line up: Fountain City celebrate

Fountain City are now the band to beat in the USA – three consecutive wins at the North American Brass Band Championships seem to show that they don't intend to fade away like some past champions have done.
Knowing the competition would be strong, all the bands brought their best to the contest last weekend, and as a result it made for a spectacular event on the Saturday, with a breathtaking climax in the evening.
Different class

By the time Fountain City took the stage there had already been several solid performances, but right from the start they showed they were a different class. In fact, the balance of technique and musicality might well have been good enough to put them in the frame at the 2004 British Open itself (where 'St. Magnus' was one of the three choices) – it was outstanding playing.
Their evening performance was not quite as sharp, but was fantastic nonetheless, and quite enough to see them cruise to an 8 point victory. They are on quite a roll now and if they should they choose to go to Butlins next January (as is rumoured), we could see our first American winner on the other side of the pond.
Surprise

One of the surprises of the day was Chicago, not so much for the result (which was well deserved), but for how much this band has bounced back to top class form.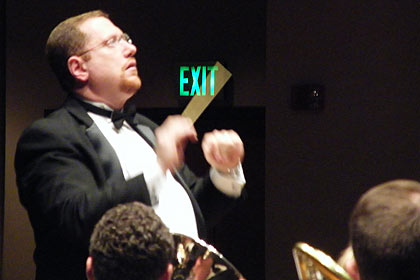 Georgia on his mind? No excit stratgey as Georgia claim the runners up spot

Their rendition of 'St. Magnus' was a fine performance, very musical and technically sound. Perhaps, the quiet sections did not quite take your breath away like some of the other bands, but it was solid and well presented. They were placed a deserved second after the set piece and although they were not able to move up in the evening they did deliver two performances of strong merit.
In the evening, 'On Alderley Edge' was their choice piece. Overall, it was a good performance in spite of quite a few accidents, although it did feature a beautiful repiano solo. They took third place in the evening, and allied to the strong showing in the morning held on quite easily to second place overall.
Drawn first

For the second time in their last two trips to NABBA, Columbus was drawn first. They set a reasonable standard with a solid performance of the set work, backed by a robust and balanced sound and strong cornet section. Unfortunately, blips from the euphonium soloist and occasional precision issues in the canonic sections proved costly, putting them third after the first discipline.
Their own choice, 'Extreme Makeover', was extremely effective and they certainly won over the audience who were on their feet and screaming before they even finished their last note. We have never seen such a reaction in the 16 NABBA Championships we have attended.
Their percussion section (both on 'St. Magnus' and their own choice piece) was fantastic and could make most bands in the world, green with envy.
Disappointed

James Madison will be disappointed with fourth place. They had a very good performance of the set work that, unfortunately for them, left them fifth and with too much ground to make up. They really did display a good bass end sound to the band (baritones down) anchored by a strong euphonium soloist.
One of the keys to 'St. Magnus' is to draw out the hymn tune (and it's fragments) that we believe JMU did quite well. There were a good number of clips in the cornets and the piece may have been a bit frantic at the end, but we thought JMU would be rated a bit higher.
Their evening choice, '…Dove Descending', was quite interesting. The antiphonal sound at the beginning was very effective and once again the euphonium soloist, David Heinsen, was brilliant, whilst the bands overall technique was shown brightly, in what is quite a technically difficult piece. However, the second place for own choice was only enough to earn them fourth place on the day.
Spot on

Atlantic was one of the few bands to have absolutely spot-on tuning in the opening four bars of 'St. Magnus' and they displayed lovely musicality in the slow sections. However, tempos were quite conservative in the technical passages and the gain in clarity may not have been enough to overcome the slower tempos.

It was really a safe performance with nothing standing out as exceptionally positive or exceptionally negative, leaving them fourth at the end of the first section of the contest.
Their own choice was very different to the other pieces on display on the day. It was much more refined and introspective, displaying good sounds from the band. Perhaps it was a bit too sombre (in memoriam rather than go out and get you) for an own choice piece. They played something they wanted to, showing they believed in the piece; however, as a result it didn't quite stack up against the other more extroverted selections and they ultimately hung on to 5th place.
Technical issues

Illinois's performance of 'St. Magnus' featured some good soloists (especially the euphonium and soprano). However, this was one of the few bands where intonation was a real issue, and that just can't happen at this level. Additionally, there were some technical issues that detracted from a solid finish and a competent performance.
Their own choice, 'Jazz' was much better than the morning performance and held it's own with the rest of the evening competition. It was polished, showing some tight ensemble play although some of the solos were not authentic jazz in our opinion. Having found themselves last after the set work, and in spite of improving their standing after the own choice (fifth), they were unable to progress further up the results table.
Overall, Fountain City was able to separate themselves from the pack with some ease and a distinct amount of quality. Most would have placed Chicago, Columbus and James Madison in the next three slots, although perhaps not in that order, with each having a fair argument for the second spot.
Meanwhile, Atlantic and Illinois both showed flashes of quality but it wasn't enough to challenge for the top prizes on this occasion.