Tameside Open Championships - Retrospective
3-Apr-2008
There was a great atmosphere at the Tameside Hippodrome as the bands did battle in the first post Regional contest of the year.
---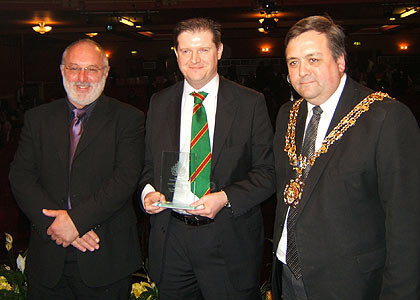 Timps on tops: Timperley take the Championship honours
Picture: John Stirzaker

The well established Tameside open contest got underway in a timely fashion and was to be the final event held in the Tameside Hippodrome before the venue is closed and, it is understood, put into mothballs.
The contest is run under the auspices of the North West Counties Brass Band Association (NWCBBA) and with such experienced members of the team as Bob Kerwick, British Open Master of Ceremonies, to call on it is little wonder that the contest ran like a well oiled wheel.
Fourth Section:
Darwen Brass conducted by Steve Hartley opened proceedings with 'Four Cities Symphony' by Rodney Newton with a reading that was steady and uncomplicated and in which the soloists generally enjoyed a trouble free journey around the European ports of call.
Darwen played as well as we at 4BR have heard them perform and it was certainly going to challenge in this section. It proved its point and went on to take the £600 top prize and the Leader's Glass trophy.
Louise Hough has brought to Formby Band a real vibrancy and they too chose to play a Regional set work. They approached this contest fresh from their recent highly praised outing at the magnificent St. George's Hall where they joined in the world premiere performance of 'Diamonds', a work commissioned for Liverpool 2008 Capital of Culture.
Here too they sounded fresh and sparkling and they brought a nice depth to the ensemble sounds in 'The Dark Side of the Moon' by Paul Lovatt-Cooper.
Good markers

We had now heard two very good markers and these set a challenge for the rest of the section to match that, on the day, was never quite achieved. It was therefore Formby who took the runners-up place and £400 with the Glass Tameside Trophy, and were very close indeed to taking the Tameside Open title.
Carrbrook Brass was next scheduled in the pre-drawn order but their late withdrawal saw the contest proceedings moved forward with Blackley conducted by Adrian Smith.
'Dimensions' by Peter Graham is a very popular own choice test piece at this level and Blackley's MD endeavoured to gave the music space to breath and to help bring out the best from the warm tone of the band. Fifth place in mid-table however was not unexpected in the end.
Peter Ashley took Farnworth and Walkden Band on 'A Cambrian Suite' by Michael Ball. He chose to develop a quite steady reading that certainly grew in stature and confidence as the themes and movements unfolded. Those earlier insecurities probably losing points as it went along and they had to be content with 6th place.
Winners

With Tarelton Brass also withdrawing the contest progressed with a performance of 'Variations on Laudate Dominum' by Besses Boys conducted by James Holt.
They took the Fourth Section prize in 2007 and had their minds set on repeating the win with their strong ensemble sound setting the style for the overall musical picture painted by their MD. Whilst moments of real quality and the odd blemishes it just nudged them into a deserved podium spot taking £300 and the Tameside Services Trophy
Formby's rich bass sounds were credited as they took the Best Basses award, a new trophy presented in memory of Stephen Furse. He was tragically killed following a road accident on his way to compete at Buxton Contest with St. John's Mossley Band and it was they who next took the stage under the baton of David Chapman performing 'Four Cities Symphony'.
Their performance was not untroubled but was lifted with an uncomplicated and relaxed depiction of 'Paris' and a good lower band sound complimenting the Russian atmosphere of the finale of the work. Those qualities resulted in a 4th place.
The final band in the section was Sale Brass conducted by John Dickinson. They too chose the Fourth Section regional piece 'Four Cities Symphony' and gave a steady and workmanlike depiction of the musical pictures. It was perhaps this that couldn't quite lift it from 7th place.
Barry Thompson in addressing the audience spoke, as expected, of the choice of piece and inevitably that the slower and quieter movements that truly sorted out the prizes.

Section Three:
Following this prize giving and a short break in the proceedings Boarshurst Silver set the Third Section underway with a solidly driven performance of 'The Dark Side of the Moon'.
The robust nature of the opening theme and atmospheric development was well described as Alan Hobbins gave clear directions for the musicians to follow. This was setting a high standard and a clear marker was now out on show and there for all to hear. It was little surprise that they took a trophy and 3rd place cheque for £300.
'Variations on Laudate Dominum' was the selected piece by Greenfield conducted by Stuart Black, and here the standard of playing achieved was of a very worthy standard. This was no less a carefully plotted interpretation with the dynamic contrasts described so effectively. There was now another strong performance to consider and they were not unrewarded taking the runners-up trophy and £400.
Forthright

Philip Sparke's 'Music for a Festival'' was given a quite forthright description by Coppull and Standish Band. It was rewarded with 4th place, for notably, the brightly lit final section taken with a real swagger and buoyant air under the direction of Andrew Baker.
The standard being set in the contest was certainly being maintained as Oldham (Lees) took to the stage to give their performance of 'The Dark Side of the Moon'.
Vitality

The control and vitality of playing produced by the band made the music sing with unquestioned expression and assurance. Barry Thompson spoke of three excellent performances and this was the third of them without doubt and it saw them become Tameside Open Champions and take home a cheque for £600.
'A Royal Mile Suite' by Alan Fernie will be given an outing at this year's Pontins Championships but this foretaste was given by Parr Band (Richardson Ltd.) St Helens under Russell Prescott.
A confident opening set a solid basic foundation for a performance that did have a wealth of character. The flavour and descriptive structure of the four movements just occasionally asked a few too many technical questions but this was the best performance by the band in contest we at 4BR had heard in a while to capture 5th place.
The section was drawn to its close with Rhyl Silver under the baton of Phil Copeman and the trip across the border for this North Wales band proved to be less rewarding on this occasion than they had probably hoped for.
They too chose to play the regional set work Paul Lovatt-Cooper's, 'The Dark Side of the Moon' and they approached this work with a steady hand. A solid bass foundation gave the band a decent platform and the whole generally had some sparkle and penetrating timbre but not enough to lift them up from 6th place.

Section Two:
With a solid performance at the Regionals in the can and a trip to Harrogate in September there was little surprise that Wardle & District Anderson Brass chose to reprise 'Three Part Invention' by Kenneth Downie that got them to that winners rostrum.
Well illuminated sounds hallmarked their performance giving a degree of assurance that was always going to set a high standard for the other five bands to follow. The whole was a complete show that set a quality marker that was going to be difficult to beat.
Highs and lows

Stuart Barton and Trinity Girls have had highs and lows contesting in recent times and this performance was on the face of it certainly on the higher side.
They too chose 'Three Part Invention' and it was certainly more secure than their recent Regional performance. The upper band, with soprano in good form, pointed the way and but for their rewards came in this very strong company away with 6th place which was a little disappointing, but certainly not a reflection of their ability.
Haslingden and Helmshore under David Holland were looking to the Peter Meecham piece 'Purcell Variants' to give them a second trophy in 2008 to sit alongside their winning Butlins pot.
This piece demanded both high band technical skills as well as solo abilities and the band approached this piece with a confident air. The playing was infused with good articulation and complimented with good percussion work and deservedly captured the 3rd place.
Expectations

Expectations were high for Dodworth Colliery MW Brass, attempting to take the Tameside Championships in the Second Section having been champions in the Third Section last year.
They set their 'white rose' stall out with 'Oceans' by Goff Richards and the tight playing one has come to expect was there on show again. Full of confidence and solo ability the piece unfolded with unquestionable musicality and deserved its high finish in 4th place.
The 'red rose' stall returned with Tyldesley under the experienced Brian Taylor. With 'James Cook - Circumnavigator' their chosen piece they gave a solid account that had a vibrant quality whilst not losing the darker lustre that pervades the work. It was just behind Dodworth in the results in 5th place.
In this section it was Point of Ayr Colliery who made the journey over the North Wales border to try and capture the Tameside prize, and they looked to 'Purcell Variations' by Kenneth Downie to capture the adjudicator's ear.
The demanding percussion line was well handled and the band parts all across had a true high class quality. They seemed to roll back a number of years in this performance and it truly impressed deservedly taking the top honours.


Championship Section:
This section was to be contested by just the four bands.
Drawn 1 was Timperley under David Evans, and they chose to play Eric Ball's 'Festival Music'. With the dynamics beautifully captured the music unfolded both lyrically and structurally. It was also going to be a hard act to follow and in the end proved too good as they came away as the Tameside Champions for 2008.
Longridge under Steve Tarry were to follow and they, together with the remaining three bands, all played 'James Cook - Circumnavigator' turning it almost into a mini set work section.
The commitment from within the ranks of the band could be heard from the opening note and they worked as a unit to try and bring the piece together as a complete picture. This though was not quite enough on the day and in this small field they had to be content with 4th place.
Duncan Byers with Mossley brought a proverbial 'boat load' of vigour. It didn't hang around with the quicker sections moving at a fair old lick with a most energetic delivery to be rewarded with 3rd place.
The final band to take the stage was the local Ashton-under-Lyne with MD Carl Whiteoak. Again James Cook provided the challenge and again showed itself to be a really stiff test. With Ashton this appeared more in the triplet and exposed solo lines rather than in ensemble where the music had a lovely ebb and flow. This was rewarded, as explained very directly by Kevin Wadsworth in summation, with the runners-up place.
The Tameside Contest once again came over as little gem in the contesting calendar with some playing of exceptional quality in all sections, but especially in the Second Section.
The arrangements for 2009 will no doubt come to light as the year unfolds but it would be a real shame if this contest was lost to the contest schedule for want of a suitable and affordable venue.
John James