Gizmos & Gadgets - April 2008
1-Apr-2008
From the latest high wonder products to the simplest little bits and bobs and a few that are truly weird and wonderful. 4BR has been out shopping and testing out what's on offer this April.

---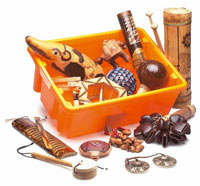 Percussion Plus PP620 Rhythm World Pack
Item SKU: PP620
Price: £97.20 (inc VAT)

Ever been stuck in rehearsal waiting for the percussion section of your band to rummage through black attaché cases, cardboard boxes or the back of the librarian's cubby hole to try and find that little something to hit, smash or wallop to add a touch of colour to your latest test piece?

Well now you can relax as this Percussion Plus Rhythm World Pack has it all, and more, in one big plastic container. Need a Bamboo Slit Drum – no problem; What about a Guinea Pig Guiro or Embossed Tibetan Bells – coming right up matey boy.

It's all here – even an old fashioned rattle that was last used at football matches when Stanley Matthews was a lad. It's a box of percussion delights that you can dip in and pull out something more exotic than can be found on the top shelf of an Ann Summers shop.

You may have to make sure that the players are given a crash course in how to play many of the items, and that some may not see the light of day if your band is going to play Eric Ball music in your next concert, but just think of the fun you can have with Mini Monkey drum and Bead Afuche – whatever that is.

Great fun – and for the Guardian readers out there, no real frogs or guinea pigs were harmed in their making either….

Includes:
Ocarina, Coconut Maraca, Frog, Seed Shaker, Large Seed Shaker, Embossed Tibetan Bells, Bamboo Slit Drum, Bamboo Guiro, Kyamba, Guinea Pig Guiro, Rainstick, Football Rattle, Mini Monkey Drum & Bead Afuche.

More Information:
http://www.normans.co.uk/Items/pp620?&caSKU=pp620&caTitle=Percussion%20Plus%20PP620%20Rhythm%20World%20Pack

---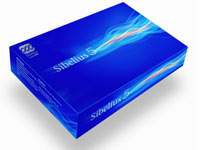 Sibelius SCEE5 5 Education Software
Item SKU: SCEE5
Price: £341.00 (inc VAT)
This price is for Educational buyers only
What would Mozart have thought eh? The state of the art market leader for schools as well as individuals that makes writing music quick and easy (although it may not make your Opus composition actually sound any better).

The latest version of the Sibelius juggernaut has more computing power than the Saturn V rocket that sent man to the moon and has been put together by those clever little boffins with simple and intuitive ease of use.

The Sibelius 5 brings professional quality score writing within easy reach and is available in multi-product bundles and multi-licence options at considerable discounts to individual prices.

It does it all and more from creating audio files to printing off you scores, producing a near endless mix and match of instrumentation and even the ability to compose you music online, store your ideas and sell it on the internet.

In fact it does everything except make a cup of tea or writes the next National Finals test piece for you. Press the right buttons and you won't be too far away from either though…

More Information:
http://www.normans.co.uk/Items/SCEE5?&caSKU=SCEE5&caTitle=Sibelius%20SCEE5%205%20Education%20Software
---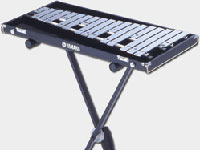 Yamaha - YG250D Glockenspiel
Price: £425.00 (inc VAT)

There was a time when most people in the brass band world thought that a glockenspiel was part of the SS Panzer Division of the Third Reich. Not now they don't, and even though they can still sound a little bit like the chimes of the clock in Camberwick Green in the wrong hands, it has become an essential percussion tool for any band.

Good ones need good players of course, but this little beauty from those clever chaps at Yamaha can make even the least accomplished shed builder sound like Evelyn Glennie.

Forget them being made out of recycled 250cc motor bike parts either, as this one is space age stuff with carbon-steel material treated with a special tempering process for a pure, bright tone on each of the bars.

Add to that, nodal point support strings with single pin bar mounting and suspension cord system to maximize resonance and a pedal dampening system and built-in frame with height adjustment by gas spring support system, then you have the dog's doo daa's.

f2-c5, 2 1/2 octaves in range in A=442Hz pitch it comes with case with removable cover and frame and with a nifty set of mallets too.

Not to be ransacked to be used to repair your motorbike or to accompany any thoughts of an imminent invasion of Poland….
More Information:
http://www.bandsupplies.co.uk/StockItem.asp?StockCode=225


---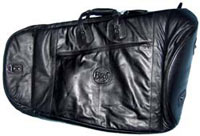 Vincent Bach Leather Tuba Gig Bag – Eeb
Price: £278.99 (inc VAT)

Something for the big lads at the back of the band.

Gone are the days when players could put in a sick note from work on the basis of lugging wood and cast iron tuba cases to and from practice – now they can house their beloved instruments in bespoke leather tuba gig bags and fling them over their shoulders like a latter day Torvill & Dean in 'Bolero'.

It's made of the finest Indian Buffalo leather on the outside and the softest environmentally friendly cotton velvet for the inner lining, so its nice to touch for those rough handed navvies amongst the tuba brigade.

Comes with heavy duty metal fittings, and specially formulated hard foam which is expansive, dense and highly impact resistant to make sure you don't put too much of a dent in six grand's worth of metal if you drop it.

It has no gaps under the seams or zip to help prevent damage and scratches and comes with a removable circular rigid foam pad to protect instrument bell.

No excuses then for the bass end to miss rehearsals in future then to put in bogus disability claims in either…

More Information:

http://www.woodwindandbrass.co.uk/acatalog/tuba_cases.html
---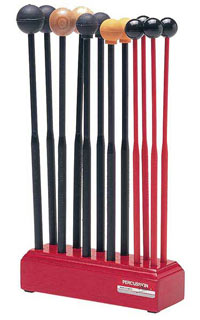 Percussion Plus PP062
Set of Beaters and Block
Price: £15.12

Just what every percussion section in the world needs – somewhere to put the multifarious exotica of beaters, sticks and general ephemera that usually clogs up those strange silver camera cases they usually use to carry all their gumph in.

This Percussion Plus block and beaters should stop any wasted time in practice as the tuned player rummages around looking for those essential 'quieter' beaters to placate an over-demanding MD who's knowledge of tuned percussion is thinking that the only use for xylophone is as a nine letter triple score word in Scrabble.

The six pairs of assorted beaters and block/stand, includes 2 pairs of glockenspiel beaters, and 1 pair each of wood and hard, medium & soft rubber beaters, all suitable for glockenspiels, chime bars, slit drums, xylophones, tambours, etc.

The joy of now being able to ask, 'Can you use the little red ones please?' without getting a look of total disdain from the percussionist in return should make the £15.12 you spend perhaps one of the best investments for musical happiness you have ever made.

More Information:

http://www.normans.co.uk/Items/Item.aspx?SKU=pp062/8&caSKU=pp062/8&caTitle=Percussion%20Plus%20PP062%20Set%20of%20Beaters%20and%20Block