2008 North of England Regional Championships - Postcard from Darlington
1-Apr-2008
Darlington and the North of England contest is a friendly place to visit - even the coppers are nice to you too...
---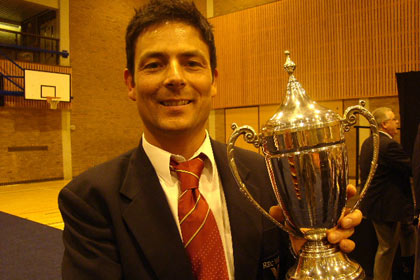 Heyes manual: Reg Vardy's top man picks up his own award

Here's a strange thing. Just as the 4BR Editor was settling down to write this postcard from one the quiet lounges at Newcastle Airport, the spectre of being locked up for the night by a stern looking member of Her Majesty's Northumbria Constabulary seemed to be on the cards.

As a rather large policeman made his way to enquire the nature of my business, and given that my flight was not due to leave until 7.00am the next morning, I thought I better not try to be clever and tell him the truth.

Amazing

Amazingly, instead of the usual quizzical look of disbelief usually received when telling people that you have just been listening to 45 brass bands in a sports hall for a living, his first question was what did I think of the standard of the bands in the Third Section on the Saturday?
As luck would have it PC Tim Stephenson was also a BBb bass player with the Dunston Band, and as a serving policeman based at Newcastle Airport he was contemplating a rather lonely night shift (or the possibility of locking up a rather shifty looking Welshman) and reading the results of Sundays contest when he got home.
So, instead of a cold night in the cells and the possibility of the rubber gloves and touch your toes regime, the 4BR Editor was able to sit down and discuss the pros and cons of Third Section contesting with a bandsman who has played for 10 years with the same band and loves every minute of it. Brass banding can be very strange old world at times.
Friendly bunch

It also seemed to sum up the weekend in Darlington too. They are a friendly bunch in the North East and it rounded off a highly enjoyable experience at the Regional Championships.
Darlington is a decent place, although it does tend to undersell itself with the advertising byline of: 'A place well worth a visit'. Whether or not it's worth a second visit is a matter of debate, although for the North of England Regional Championships it has now been well worth a repeat visit for the last 27 years, and even though the Dolphin Centre does have its acoustic limitations it's still a pretty good place to hold a brass band contest.

Just in time

On Saturday there was a great Farmers Market on the square outside, whilst inside there is the chance to unwind with a quick dip in the pool before you sweated off a few extra pounds on the contest stage. Someone who must have done just that was the percussionist from Bearpark & Esh Band who only just made it onto the stage in time as his band struck up the first notes of the National Anthem. No wonder he got the type of stare from his MD usually reserved for miscreants by PC Tim Stephenson…
It was that type of weekend really.

Regional pride

There is a fierce regional pride about the event that does permeate through from Championship Section to Fourth. Rivalries are fierce but friendly and the local pubs and bars do a roaring trade all day long (and perhaps explains why there were just 70 people in the hall to hear the first band in the Third Section on Sunday morning – either that or not enough people put their clocks forward.)
The hall also contains a quite amazing walkway for the bands to trek up to the stage on – a metal contraption that is of course there to ensure that those with mobility problems are well catered for, but does tend to make the bands look as if they are walking up the back of a cattle truck at Abergavenny market. It makes one heck of a clatter.
That was just a minor complaint though as Alan Hope and his team run a very tight ship here, something appreciated by the bands. The whole weekend ran to time, the overall standard of performances was up and there were encouraging signs that there is a growing foundation base in the Fourth Section in particular. All they know need is for the qualifiers to come back from Harrogate with a few prizes to their names.

As for the 4BR Editor – all he needed to do was to make sure he kept out of trouble when he walked through Customs at Cardiff Airport – it would really be testing providence to find a second brass band loving copper…
Iwan Fox