2008 North of England Regional Championships - First Section: Retrospective
1-Apr-2008
Interesting wasn't the word for it in the First Section - No. 'Absolutley superb' were the two that mattered...
---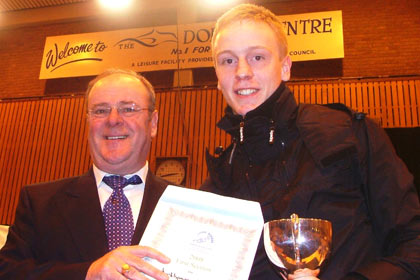 Thanks Phil: Kirbymoorside's rep takes the top prize from Kapitol's Phil Morris
Picture: Steve Jack

Although there was only a small field of just seven bands in the First Section it still made for a highly interesting and possibly contentious contest, with a final result that left quite a few people in the main hall of the Dolphin Centre scratching their heads.
The first matter of interest was Colin Hardy's assertion that the overall standard from the bands that he heard on 'James Cook – Circumnavigator' was …'absolutely superb'.

It would have been hard enough to say that even of the winning band, let alone all seven contenders here, especially as the piece has been testing the First Section bands around the country to the full – and in the vast majority of cases, beyond their technical and musical means. And it certainly did that here too.

Overall standard

The overall standard was pretty good – nothing more, nothing less, and all the bands emerged in credit after a thoroughly taxing examination of their musical as well as technical skills.
The conductors too all stuck fairly religiously to the score and its clear markings, but for something to be 'absolutely superb' it surely needs to have more about it than just plain adherence to instructions and competent execution?

That's really what we got from even the best bands on the day.

To be fair to Colin, he had been quite critical of the efforts of the bands in the Fourth Section on the Saturday (and quite rightly too), so perhaps he was feeling a little generous in his assessment of what he had heard here.
Clear

He was also very clear about what he was looking for from the bands too, but despite his insistence that he had heard fine solo playing he did also mention that there was a need for the bands to observe the dynamic contrasts and tempi markings – something he said, …'nearly all the bands did on the day'.
Not all you notice, so why he felt it necessary to hand out such a misplaced plaudit on the day was perhaps a bit beyond us. Still – he was the only man whose opinion counted, and if he felt that all the bands were 'absolutely superb', then so be it.

Pretty good

We didn't think they were – and we didn't think that even the winning band was either. Yes, overall it was pretty good, but in patches and certainly not throughout the entire range of seven variable performances.

You did have to agree that the standard of principal cornet playing in particular was of a high class from each of the seven players on the day, but even then not one really played the treacherous cadenza with real bravura panache – nearly all were very competent, but no one really took your breath away.
So too the rest of the main solo lines. Nearly all the soprano players nailed the top B in the 7/4 'Giocoso', but roughly the same number came a partial cropper on the lyrical slow solo at the 'Calmo' that followed. Horn players did put in some notable efforts it must be said, but the standard of euphonium playing wasn't really that memorable, whilst it comes to a pretty pass when you start praising baritones to high heaven for being able to play a simple motif without splitting it to kingdom come in the 7/4.
As for the triple tonguing trombones? Some did, some didn't, some bluffed better than snake eyed poker hustlers, whilst others went for glory and fell to earth with a nasty bump. If that equates to 'absolutely superb' then there is hope for us all.

Most superb

The band that Colin felt was the most 'absolutely superb' was Kirkbymoorside Town conducted by John Woodward.

That they deserved to be making the trip to Harrogate was, we think, without question, but as champions? We had then in 2nd place behind the band that Colin eventually had in 4th – Lockwood Brass conducted by John Roberts.
Now we know that adjudication is a very subjective matter, but we were not alone in wondering how on earth Lockwood failed to make anymore of an impression than being the fourth best band on the day.

Our top four

Our top four was Lockwood, Kirbymoorside, Wansbeck's Ashington and GT Group Peterlee –the same four as Colin but in a different order. We were not alone though in believing that Lockwood was a comfortable winner, although you could understand why Colin opted for the other three in his order.

Kirbymoorside certainly delivered a very confident and powerful account of the set work from the number 5 draw. The opening was certainly that and more, with the trombones in particular providing a robust it slightly harsh counterpoint to the busy euphonium undercurrent.

The 'Giocoso' that followed never quite felt absolutely secure despite some sterling individual contributions, whilst the following 'Calmo' featured a solid if rather one paced cornet cadenza and a well camouflaged trombone trio. The return to the 'Marcia', death scene and reprise though was excellent and although the timp wasn't quite 100% accurate in the penultimate bar it rounded off a performance of merit and of qualification standard – but nothing more.

Better all round

Lockwood for us were better all round, with a performance that had much more individual and ensemble security (something that Colin perhaps disagreed with) and a clearer ability to differentiate the tempi and stylistic instructions of the score.

John Roberts and his team were not without substantive error though (perhaps John's ruby red shirt was a fashion faux pas too), but despite the odd lapse in concentration (the soprano had a dose of minim blindness after hitting the top B in the 'Giocoso') they seemed less intrusive in comparison.
A solid cornet cadenza, good tripling troms and great dynamics to start the Marcia more than made up for the slightly messy bass quartet and we found it hard to really come up with much more to fault in what was a very colourful reading.

Colin felt differently, and his was the opinion that counted, but for us, and for others, Lockwood could count themselves more than a little unlucky.

Robust

The band did eventually pick up the second qualification place on offer was Wansbeck's Ashington, who we had in 3rd.

They started off the contest with a robust old showing from the number 1 draw that had plenty of confidence from start to finish. There were a few splits and splats in the opening section and following 'Giocoso', when perhaps the adrenaline was coursing through the veins at a fair rate of knots. A poorly constructed bass quartet seemed to upset things, although a fine piece of cornet cadenza playing and excellent troms put things back on an even keel.

Thereafter it had it's ups and downs with a pacy 'Marcia' perhaps lacking a touch of heroic splendour as old Jimmy matched unbeknown to his death However, a neat coda and grandstand finale left an impression that this was a performance that could well feature highly – and it did of course (although perhaps one place to high for us)

The other band to feature both for Colin and ourselves was GT Group Peterlee, conducted by Steve Malcolm.

They overcame a terrible start to deliver a well thought out performance that grew in stature the longer it went along, but it was opening section up to the 'Giocoso' that must have cost them the chance of a trip to Harrogate. Thereafter it continued to improve with a fine soprano in the 'Calmo' followed by decent contributions from the solo cornet, euph and troms.
The final 'Marcia' was full of pomp and puffed out chests (until deflated by the odd Hawaiian spear) and it was rounded off with a true seafaring flourish – but it was only 4th best for us and certainly not anywhere near the 'absolutely superb' class.
Same to be said

The same could certainly be said for the bands that followed in the results table.
Shepherd Group Brass directed by Tim Oldroyd were another that found the opening section a bit of a hard hurdle to overcome with some noticeably poor pitching in the trombones.
The 'Giocoso' was so much better though with a cracking bit of soprano playing topping off playing of real vibrancy. The following 'Calmo' also contained plenty of good playing too, but just when it seemed to be heading in the right direction the GPS satellite went a touch haywire and the band found problems as they started to tire.

The final quarter from the 'Marcia' onwards just lacked pulse, although the very end was rounded off with a powerful climax. That poor opening did cost them, but it was a performance that had more plusses than minuses.

No complaints

No complaints we feel from the two bands that propped up the table – Broughton's Brass directed by David Hirst and Northumbrian Water Ellington Colliery conducted by Alan Fernie – both of whom ended up in the credit side of the test piece balance sheet without ever quite coming within reach of Colin's 'absolutely superb' epithet.
Broughton's certainly started well enough, but a scrappy 'Giocoso' (with a fine soprano) and error strewn 'Calmo' set them back considerably. It did recover thereafter with a decent trip home, but it never quite overcame the evident structural problems that beset it from the word go.

Strange one

So too Ellington with a vibrant and colourful reading that recovered from a poor start and had real swagger in the 'Giocoso' section in particular. It wasn't of the same quality when the dynamic levels dropped and more exposed lines became prominent, but it recovered in the final third to end on a flourish and in credit.

Overall then a bit of a strange one this. No doubting that overall it was a decent contest with all the bands emerging in credit, but none were in the 'absolutely superb' category in anyway shape or form. We thought Lockwood unlucky, but even they knew they left the door well and truly wide open for then to be beaten by a high quality performance.

As for the winners and runners up? They won't care too much with what we thought we are sure – and why should they? They impressed the one man that counted on the day – and for them, his decision was certainly 'absolutely superb'.

Iwan Fox