2008 North of England Regional Championships - Third Section: Retrospective
1-Apr-2008
When are 8 here better than 8 there? When Peter Robert says so - we think...
---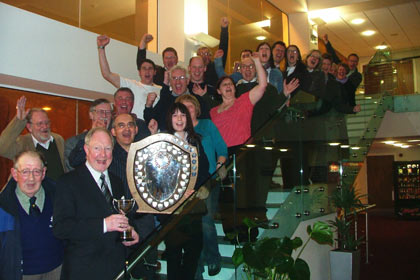 Stairway to Harrogate: Flookburgh celebrate their victory

If there was one man who was suitably impressed by the standard of the bands in the Third Section here on the weekend then it was certainly Peter Roberts – we think.

Given that in his remarks to the audience he stated that he had heard some wonderful performances and that all 8 bands would have taken the top 8 places in the same section at the recent West of England contest, then he must have been party to something very special indeed. Hadn't he?

Well yes and no…
Context

This was certainly an entertaining and enjoyable contest, no doubt about that, and there were a number of very good performances on show – especially the winners. However, given what Peter had said about the standard he had heard in Torquay a few weeks ago, when some straight Barnsley talking raised more than a few eyebrows, it put what he said here into a different context.

There the bands didn't get to grips with Paul Lovatt-Cooper's evocative test piece, whilst here they did. That in turn didn't make them all wonderful performances – just better than a pretty average bunch in Torquay. Good quality Third Section playing then, with the winners very good indeed and the band coming last more than OK.
Clever

It was a clever and very perceptive bit of flattery – intended to make the bands feel good about themselves whilst also making sure they knew exactly where they stood. Old Pete is an ever so crafty adjudicator.
As he did in Torquay the former soprano start laid out his thoughts with clarity and purpose, informing the audience that in his mind test pieces at this level usually did one of two things – paint a musical picture or tell a musical story. This one was the former.
He then went on to explain with acute precision what he was looking for from the bands – colour and effects (you can't see colour on the dark side of the moon he said and you need effects to make an otherwise featureless landscape come to life). It summed up everything (with one little working example) he wanted in about the same time it usually took him to run up to a top C on soprano.
The winners did all that he looked for, whilst the other seven did it better than the first eight at Torquay – got it?

Good value

Those winners were very good value for their victory. Flookburgh won the Fourth Section title last year and went on to come 6th at the National Finals in Harrogate. Since then they have improved further under the astute direction of former professional orchestral trombone player John Iveson.
Here they were very good indeed and displayed more than enough quality to suggest that they will put up a strong challenge come the finals in September.
The MD's direction was exemplary; understated yet razor sharp in clarity and purpose, whilst he was one of the few conductors on the day who was able to make complete sense of the final few bars, so that the trombones were not left floundering trying to fit their moving part in as the piece ground to a final stop.
From the start the piece had atmosphere and tension, whilst the tempis chosen garnered excitement without losing the ability to maintain focus and clarity. The players responded well too with some wonderful solo contributions and a warm full bodied ensemble sound a feature throughout. By the time the final few bars had been negotiated with consummate ease it was clear it was going to be the performance to beat – and so it proved.
Energy and atmosphere

Joining them in Harrogate will be Billingham Silver who set the early marker off the number 1 draw with a performance of energy and atmosphere with solid contributions from all the main soloists.

It did just tire towards the end, but it was still something of a surprise that the MD seemed to shoot off pretty sharply after the final chord without as much as a by or leave to his players or the audience. Perhaps he felt they hadn't played as well as they could. If he did then he was mistaken for it was a performance of real merit that deserved to gain its qualification place.

Missing out

Just missing out on this occasion was Dunston (the band of the tuba playing policeman – if you have read the Postcard). They followed Billingham on and under the baton of Sue Murrill delivered a stylish performance high on pace and excitement just about from the word go.

It just failed to make it to Harrogate as it did have a few tuning problems at the very start and perhaps needed just a bit more time and space in the slow section – although the contributions from the main soloists, especially the flugel horn was first class – and the basses were good too!
With Flookburgh a clear winner the battle for the second qualification spot was a close run thing with Barrow Concert in 4th place pushing both Billingham and Dunston all the way.
Assess and compare

Drawn 3, Barrow gave Peter the ideal opportunity to assess and compare three performances of merit right from the word go – and it was hard to disagree with the final order he placed them.
With Barrow's MD resplendent in star spangled waistcoat and sporting one of the most flexible batons you are ever likely to see on a contest stage, they didn't start too brightly with poor tuning just robbing the atmosphere.
However it soon improved and some classy repiano playing on the faster cornet solo and from the bumper up on the slower contribution set them on their way – as well as some clever use of the obligatory yellow dusters for those all important out of the world effects! It was though a good effort, well thought out by the MD.
Mini contest

The bands that came 5th to 8th were in reality in a little mini contest of their own. There were too many basic problems for them to have pushed any higher up the prize table than they eventually did, but each emerged with a great deal of credit for their efforts.

5th place eventually went to Ripon City with a performance that just needed a touch more energy and a bit of a turbo boost in places to bring it to life.
There were some notable contributions from the jacketless lass on solo cornet and fine flugel, and they did battle through despite some outside walkie-talkie interference. It just needed that extra little spark though to ignite the return journey home in particular – but it was still a pretty good effort nonetheless and 5th place was spot on.
Barnard Castle on the other hand was a real mixed bag – a liquorice allsorts assortment of rather strangely chosen tempi and dynamics from the young MD.

Why Mr Dunphy thought it was such a good idea when there was clearly no need was a bit beyond us, as he had a good band at his disposal that didn't need to blow as hard as they did or try and play as fast as they could either. It was certainly exciting stuff, but it also lacked control – a lesson learnt perhaps?

Great credit

Stape Silver certainly emerged with a great deal of credit for their efforts – made the more worthy given that they were chock full of youngsters and were led with real intelligence by their MD.

He made the most of his resources without ever asking them to try and do something they obviously couldn't, and whilst there were evident basic problems there was also plenty of evidence on display of a great deal of potential too.
The young girl on solo euphonium for instance was a real star – composed and possessing a wonderful sound she didn't put a single foot wrong, whilst the little nipper beside here did her duty too. A good solo cornet contribution and some neat ensemble work were also major plus points and whilst it obviously tired towards the end you were left with the impression that this was a band that was moving very much in the right direction.
Resources

Finally then East Riding of Yorkshire who also made the most of their resources but who eventually ran out of steam. They too benefited from notable contributions from their soloists (including a real Peter Roberts wannabe on soprano) but the basic structural problems just overwhelmed them. The potential was there though – from the great young perc team to the MD who kept a level head from start to finish.
So were all 8 bands here better than the 8t best in the West? Perhaps, perhaps not. Peter Roberts certainly thought so, and even if he was being a touch crafty in his overall analysis it certainly went own well with both players and audience alike.

Iwan Fox