2008 North of England Regional Championships - Fourth Section: Retrospective
1-Apr-2008
One of the best performances of the entire 2008 regional championships was the highlight of a cracking contest
---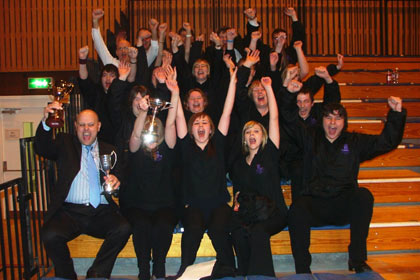 We are the champions: South Milford celebrate
Picture: Steve Jack

With perhaps one of the best performances of Rodney Newton's 'Four Cities Symphony' to be heard at any of the regional contests this year, South Milford Brass conducted by Richard Wilton won the Fourth Section title in considerable style.
Adjudicator Colin Hardy was forthright in his excellent comments before the announcement of the results and left the audience, conductors and players alike, in no doubt that one band had given him a compete performance (and it was). Others though where someway off the pace, lacking in consistency of approach and execution. Colin also made the telling point that a number of MDs were perhaps the main culprits in undermining their bands chances.
Capital T

If you don't observe the tempo markings or the written instructions on the score, then at this level you are asking for trouble – with a capital T. Some were written in ten foot high Sibelius Verdana script that could have been visible from the Tyne Bridge.

Overall though the standard was pretty good –on a par with many of the stronger regions this year, with the one outstanding performance, followed by a handful of good ones and with a batch of solid, but flawed efforts behind. The potential for it to have been an even better contest was there though – although as Colin pointed out, some of the conductors were their own worse enemy.
Delight

The winners were a delight. Taking to the stage off the number 4 draw, South Milford delivered an admirable account full of excellent internal balances, well chosen tempi with super contributions from all the main solo lines that enhanced solid ensemble work.
Solo cornet Nicky Bond and solo euphonium Glen Kilburn picked up the two individual solo awards for their contributions on a day (as well as an excellent flugel horn) when the standard of solo playing was very good – especially from principal cornets.
MD Richard Wilton also deserved high praise for the way in which he allowed his band time and space to express themselves, but still kept a tight rein on the tempos especially in the vodka inspired 'Moscow' finale. It was confident, compact and cohesive right from the first note to the last with a serene feel to the opening 'London', a chic touch of gallic romance in 'Paris' and a real sense of atmosphere in 'Rome'.
It was the best performance the 4BR Editor has heard of the piece on his travels this year and fully deserved the eventual three point winning margin (in truth it could have been more). On this form they will be a band to look out for come Harrogate.
Fully deserved

Joining them there will be Kirkby Lonsdale conducted by A. Greenwood. Although not in the same class as the winners they too fully deserved to make arrangements to book into B&B in North Yorkshire come September.
With a baritone playing the solo trombone part (and sitting in the same seat) the experienced line up (there were quite a few grey hairs on display) delivered a nicely shaped performance with fine contributions from the main solo lines and the solo euphonium in particular.
It was a performance that grew in stature, from a slightly scrappy 'London' through a true 'Paris' waltz, atmospheric 'Rome' and real old Cossack romp through 'Moscow'. It was sensible stuff, sensibly played, and at this level that will always put you in the frame.
Encouraging performances

These two bands were clearly the best on the day, although behind them came a small group that delivered very encouraging performances too.

Third, fourth and fifth could have come anyway around really, but it was Bearpark & Esh that got the nod from Colin in the tent with a good old marker of a performance from the number one draw.
Thankfully for the band their timp player made it to the stage on time (about halfway through the National Anthem) and with a full compliment they opened with a stately 'London' followed by a neat 'Paris'' waltz. 'Rome' was also confidently delivered too with excellent contributions from the soprano, whilst 'Moscow' was an old vodka inspired romp with the timp player now rocking back and forth like an slightly tipsy cossack on a three legged horse.

We had Trimdon in 3rd place, but Colin didn't quite like them as much as we did and had them in 5th – still a fine result for a performance that perhaps needed just a bit more contrast in dynamics and tempi. We liked the approach though with solid contributions all around the stand, two great young 'uns' on percussion and a sense of control right to the end.
Perhaps a touch unlucky but that's contesting for you.
Fourth place on the day eventually went the way of Marske Brass conducted by the vastly experienced A.N. Prest.
Good mix

A good mix of youth and experience worked well together (the cracking lad on timpani counted every bar and was helped as well by his older colleague on tuned percussion too). It was bold, purposeful and solid to start in both 'London' and 'Paris', although the endings to both 'Rome' and 'Moscow', when the retreating troops sounded more than a touch tired just robbed them of valuable points. It was still a show full of merit though.
The final top six place went the way of Stanhope Silver with an encouraging performance notable for the excellent contribution of the young girl on solo cornet, who for us was the pick of the day with her lovely sound and stylish execution (as classy as Mrs Sarkosy in the 'Paris' waltz plus a great bit of soprano sub work too).
It was a very stylish reading of the score from Steve Robson just undermined by a few too many individual and ensemble errors, but the plus points far outweighed the minus ones and they could be well pleased with their efforts.
Variable

Behind the top six the standard was more variable with the age old problem of consistency of execution throughout the four contrasting movements finding out the players, and especially the MDs to varying degrees.
The bands that did eventually come 7th, 8th, 9th and 10th all had their moments when things were going very well, but also had those extended periods when things didn't quite knit as they may have hoped too. They could have come in just about any order come the announcement of the results.
Aycliffe & Brancepeth rounded off the contest with a vibrant account that started off with a trip around 'London' well over the speed limit. It did settle down in tempi thereafter, but an untimely solo slip into the Seine just took the gloss off a well managed 'Paris'. 'Rome' was solid stuff and 'Moscow' a real old tub thumper (complete with kit player whacking the bass drum to make it sound like one of the 1812 cannon), but it had real life and a sense of Russky style. If they just could have held back to start it may have come higher.
Meanwhile, Swinton & District led by their MD N. Sutherland in a great red bow tie were the exact opposite in many ways.
'London' was a controlled and quite refined opener, whilst 'Paris', although not quite as chic as a romantic stroll down the left bank of Seine that it could have been was still well handled and featured excellent solo contributions from the cornet and euphonium in particular. Just when it sounded as if it was going to make a real mark though a slightly subdued 'Rome' and tired 'Moscow' meant that a performance that started with such promise just faded away.
Kingsway Printers Cleethorpes meanwhile took to the stage sporting blue uniforms with badges that reminded you of the old French rugby union crest they used to wear in the 1970's, and in the 'Paris' movement in particular they captured the right sense of Gallic romantic charm required. Elsewhere it had its moments but just too many nasty little errors and a sense of tiredness in the final section took points from them.
Bravery prize

If however there was a prize for bravery on the day it should have gone to the lady flugel horn who risked decapitation from the errant slide of the solo trombone every other bar. That she played so well was a miracle given that the offending slide was only ever less than half an inch away from taken her left ear off!

Lanchester also had their moments when things held rich promise, but a tendency to overplay when a little reserve was required perhaps undid their chances of coming any higher.

That perhaps was in part to a very interesting performance from the MD himself – the obviously talented 20 year old Jonathan Fenwick. He is currently studying with Ray Farr on his conducting course and his elegant influence was very apparent in his young protégés baton work. The odd Farr inspired bit of showmanship was on display too, and although a little unfocused at times it was certainly eye catching.

It was mirrored by his band too; at times colourful, vibrant and elegant, at others all a touch too flowery and lacking in focus. It was always interesting to listen too with some lovely little moments that no other MD picked up on, but by its end it was just too much style over substance. A band and MD to watch out for though.
No complaints

No complaints from the bottom three we feel with one encouraging and two substantially flawed performances.
The most encouraging certainly came from Chester–le-Street Riverside Concert, packed full of youngsters (and a couple of older returness, including a 77 year baritone player who used to play for Durham County Cricket Club and hadn't played in a brass band contest for over 50 years)
They certainly enjoyed the experience, with plenty of enthusiastic playing from all around the stands – all well managed by the MD. It did have basic structural problems of course, but they were secondary to some fine playing from many of the solo lines in particular.
A super bit of solo cornet playing (and bumper up work) as well a solid contributions from soprano, euphonium and bass trom all made for a colourful and lively account, although the final 'Moscow' romp may have been fuelled by fizzy lemonade rather than 60% proof vodka given the average age of the band. The potential of the band was evident though and a further year's experience could see them back and challenging for honours.

Bottom two places

The two bands that filled the bottom two places came unstuck because they simply tried to blow their way through the piece. As Colin Hardy pinpointed, there were some MDs who should have paid much closer attention to the metronome and style markings on the very clear Rodney Newton score.
Backworth certainly had the power, but when it was unleashed it became hard, harsh and in the context of the piece, totally misappropriate. That was a pity as they were obviously a solid band of performers who could play the piece.
The tendency to overblow though cost them time and time again and whilst the basic shape of the piece was very much in place, the style wasn't. 'Paris ' for instance needed to be as smoothly suave as a Gitane cigarette but came across as Capstan extra, whilst 'Moscow' sounded too much like Napoleon's 1812 retreat, complete with cannon fire from the percussion.
It was an opportunity missed for good band and MD trying way too hard.
So too Craghead Colliery who had the elements in place to deliver a performance of merit, but lacked for control and a sense of style in each of the movements.
Again, strangely chosen tempi and dynamics undermined what had promise even if the error count was pretty high from start to finish and some wayward vibrato muddied the musical picture.
No problems whatsoever with the winners though and a performance that will give immense encouragement not only to the band but to the region as a whole. If they can repeat that type of form once again come Harrogate then South Milford will come very close indeed too becoming a National Champion – they really were that good.
Iwan Fox