Dinner Guests - David Reads ultimate brass band dinner guest list
1-Apr-2008
In the fifth of our series David Read tells us who he would like to invite to come to dinner...dead or alive.
---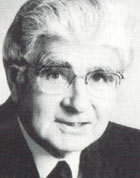 Given the opportunity, the wish list, the ability to mess about with the Space-Time Continuam like Doctor Who, and the skill to cook like Heston Blumenthal, who would you like to invite around to your place to enjoy a meal and chin wag with?
We've been fairly generous with our criteria too: The 10 people can come from any time in history, but must have some link, in however tenuous a form, to the brass band movement.
The budget for the meal and drinks comes out of their own pockets though...
4BR started it all off a few days before Christmas with our 10 dinner guests, so we thought we had better ask a few more brass band personalities who would be on their all time dinner list too...

This time it's David Read, player, conductor, teacher and the most respected adjudicator in the brass band movement…

It has been a most difficult task to invite only 10 people to dinner. I would have much preferred it to be a banquet rather than a dinner as there are so many people that I would wish to invite. However as 4BR would not foot the bill here goes!
1. Harry Mortimer
My first guest would have to be H.M. He was an icon and father figure of brass banding in the 20th century. Firstly he created a new style of cornet playing when he was the principal cornet player of the great Fodens Band of the 30s (conducted by his father Fred), he then played trumpet with the Liverpool Phil and Halle Orchestras, where he was able to persuade famous orchestral conductors to take an interest and conduct brass bands.
He became one of our most successful brass band conductors and later in his position as a Senior BBC Producer for Brass and Military Bands he promoted and furthered the cause of brass bands more than anyone before, or since!
2. William Halliwell
With 17 wins at the British Open Contest in the period from 1910 to 1936 he qualifies as one of the most successful conductors in brass banding during that period.
When I was playing with the GUS (Footwear) Band, conductor Stanley Boddington would often mention his name with great reverence saying Mr Halliwell would have wanted it this way or that way.
3. Major Peter Parkes
Completing my trio of the most successful conductors of the 20th century I would wish to include Peter Parkes.
Not only because he would be such excellent company, but because he absolutely dominated the contest scene for so many years and to personally thank him for so many wonderful contest performances that I have had the pleasure of listening to, and adjudicating, including one of the best I have ever heard "Cloudcatcher Fells" with Black Dyke Mills Band in 1985 at the Royal Albert Hall.
4. Sir Ralph Vaughan Williams
I would like to chat with him over dinner to find out what he really thought about brass bands.
Apparently he wrote to the Arts Council at the time of the of the Festival of Britain in 1951 promoting the cause of brass bands and that they should not be ignored in any planning of the Festival. I also heard him say on the Royal Albert Hall stage during the prize giving Ceremony in 1956, " Brass Bands make a wonderful sound I will write a piece." The following year his ' Variations for Brass Bands" was the test piece. I would like to thank him for that and to say to him what a great addition it has been to our repertoire.
5. Roy Castle
I am very fortunate to have had dinner with this great entertainer already, and he is a must to have again. He was a great supporter of brass bands, coming himself from a brass band family.
Playing the trumpet during his comedy routine was always on the agenda. He was the compere of the British Bandsman Centenary Concert in 1987 and would be great company for all my dinner guests.
6. David Childs
If he would not mind dining with we oldies I would be delighted to invite him. Quite apart from his breathtaking ability on the euphonium he is a shining example of today's young people. He is from a very talented musical family and is a credit both to them and the whole brass band movement.
7. Jean King (nee Sanderson)
I would have to include Jean Sanderson as she was then, to remind me of the happy days of Slow Melody Contesting held in South Yorkshire and the Midlands just after the Second World War.
Jean was a great competitor in the Junior and Senior Sections of those competitions and had a wonderful sound that was so expressive. I deemed it a great honour to be placed 2nd or 3rd to her - not many of us could beat her! I only wish some of today's young cornet players could have heard her play. Jean was among a number of successful female players competing on the slow melody circuit in those day including Joanne Hinde, Thelma Wardle (nee Holland,) Betty Woodcock, and Betty Anderson. The playing of slow melodies is an art that we have almost lost unfortunately.
8. James Hickman
James was the Resident Conductor with Carlton Main Frickley Colliery Band when I first joined in 1949.
Hidden beneath his gruff and forthright manner was a very talented musician and a man of great principle. Looking back I was very lucky indeed in my introduction to top class banding to have been conducted by such a man as Jim. The stories relating to his personality are legendary among northern bandsmen.
9. Kenneth Dennison
Ken is a lifelong friend of mine, from the time we competed against each other when he was a member of the Rothwell Temperance Band and I was a member of Askern Silver Prize Band.
Ken became the principal trombone player of the Fairey Aviation Works Band during their glory years and later their Resident Conductor. Over dinner and drinks Ken and I would be able to discuss and talk about the band scene as it was then, and how it is now.
10. Richard Marshall
Again I have invited one of the younger members of today's banding scene.
Richard is a brilliant cornet player and another example of dedication and hard work to get to the very top and you can't get much higher in brass bands than being the Principal Cornet player of Black Dyke Band .I would place Richard with David at the table in case they got bored with the conversation but I have a sneaky feeling that neither would be!

---
Previous dinner guest lists:

1. Who would 4BR invite?
2. Chris Wormald

3. Peter Meechan

4. Alan Jenkins