Band under the spotlight - Mount Charles
1-Apr-2008
In the fourth of our series, 4BR puts a band under the spotlight to find out more about them and whether or not we think they can be successful in 2008. This time it's Mount Charles - the newly crowned West of England Regional champion.
---
Band: Mount Charles
Website: http://www.mountcharlesband.co.uk/

Region: West of England

Major Honours:
Cornish Champions: 2001, 2002, 2003
South West Champions: 2001, 2002, 2003
West of England (Bugle): 1984, 2006
Yeovil Entertainment Winners: 2002
Pontins Champion: 1999, 2001
West of England Area Champion: 2004, 2006, 2008
---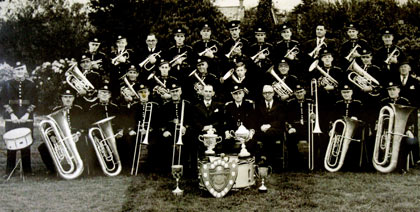 Mount Charles Band: The 1940's way they were

Band History:

The roots of the Mount Charles Band can be traced back to 1779 when it was known as the regiment of Cornish Volunteers. Following several name changes it moved from the village of Charlestown to Mount Charles in 1945 and became known as the Mount Charles Band.

The organisation has evolved greatly since 1984 when there was a major overhaul of the aims and objectives of the overall organisation. A youth band was set up from which no fewer than 14 players have since progressed to the senior band.
In 1998 Bryan Hurdley started work with the band and a few years later moved to Cornwall, taking responsibility for both the youth and senior band.
During his tenure the organisation made significant progress, and the senior band established themselves firmly in the Championship Section, with the first significant title win at Pontins in 1999. Since that time further success has come with a second Pontuins victory, wins at Bugle and the Cornish championships as well as victory at the Yeovil Entertainment contest and three West of England Regional championship titles.
In 2002 the band became 'homeless' sue to spiralling costs at their premises and the mill stone of the 'club' that was intended to support the band and which was not proving financially viable. At present the band are confident that in 2008 they will secure premises, to house the organisation that currently has over 100 members.
The key theme since then has been to develop and enjoy music making throughout the organisation and to perform to the highest possible levels both in concerts and contests, and in 2007 they set up a Junior Band, under the tutorship of Jane Whitehead, which already boasts 27 members.
The band have enjoyed recording sessions for BBC 'Listen to the Band', BBC 'Songs of Praise', concerts across the country and their sell out 'Proms at the Minack' shows.
They state they are determined to continue to nurture the undoubted talent we have in Cornwall to continue to meet our aims and objectives, and will hope to do this by working with fine musicians and music trainers, as well as local teachers and experienced band members.
---
Statistics:
Current 4BR Ranking: 26
2007 Contesting Record:

West of England Regional Championships: 2nd
Grand Shield: 9th
Bugle: 2nd
English Nationals: 15th
National Championships: 20th

2008 Contesting Record:

Butlins Mineworkers Championship: 8th
Yeovil Entertainment Contest: 3rd
West of England Regional Championship: Winners
2007 Prize Money won: £600

2008 Prize Money won: £950
---
4BR Seven Year Ranking Progress: (World of Brass/4BR ranking at the end of each contesting year)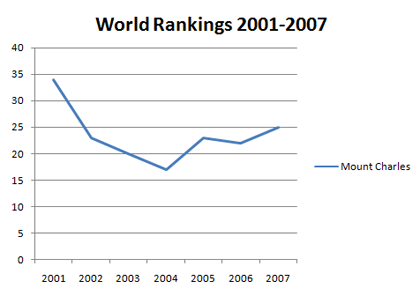 At the end of the 2001 Mount Charles was on the start of their climb up the rankings and finished the year ranked 34th. The following three years saw them climb further, ending 2002 in 23rd, 2003 in 20th and reaching its peak in 2004, ranked 17th.
Since that time they have fallen back a little, ending 2005 in 23rd, climbing up one place to 22nd at the end of 2006 and finishing 2007 in 25th place. At the beginning of April 2008 they are now ranked 26th.

---
Personnel: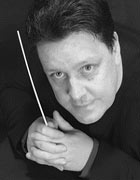 Musical Director:
Andrew Duncan was born in Glasgow in 1962. After learning to play the trombone he joined local brass bands playing the trombone, euphonium and then tuba. He went on to study music at Napier University and at the Guildhall School of Music and Drama.

In 1984 he became Principal Tuba with the Hallé Orchestra, a post he held until 2000. During this time he travelled the world and in 1998 gave the Premiere of John Golland's 'Tuba Concerto'. As well as playing with most of the major British orchestras and with London Brass, Andrew was for a member of Hallé Brass.
Andrew developed his composing and arranging skills and in 1994 the Hallé gave the premiere of his 'Concerto for Trombone'. He then began arranging for the Hallé, mainly for the regular Family Concert series, and in 2000 was commissioned to compose a work about the history of Manchester. The result was 'A Tale of Two Empires'.
In 1995, Andrew started an MA course in composition at Salford University and it was during this time he began to write and arrange for brass bands. His success in this field is impressive, particularly in the Spennymoor Brass in Concert competition where he has won the prize for the 'Best New Arrangement' six times, consecutively from 1996-2000 and once again in 2002.
Andy accepted the post of professional conductor of Mount Charles in April 2007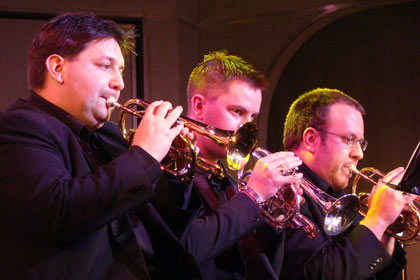 Cornet trio: Mount Charles solo cornet bench at Butlins

Current Players:

Principal Cornet: Ian Thomas
Solo Cornets: Andrew Jay, Sarah Gray, Emma Jackson
Soprano: Jon Small
Repiano: Peter Jackson
2nd Cornets: Sabrina Bampini, Charlie Best
3rd Cornets: Becki Richards, Sarah Matthews
Flugel: Yasmin Stevens
Solo Horn: Sarah Whitehead
1st Horn: Kirstly McAuley
2nd Horn: Joanna Powell
Euphoniums: Neil Pascoe, Mark Bray
Baritones: Terry Sleeman, Aldene Button
Trombones: Martin Sanders, Laura Kelly, Andy Rice
Eb Basses: Shaun Woodland, Miles Johns
Bb Basses: Alistair Whitehead, Ady Davis
Percussion: Derek Thomas, Karl Stevens, Jen Preston, John Mitchell, Rob Foster
---
2008 Aims and objectives: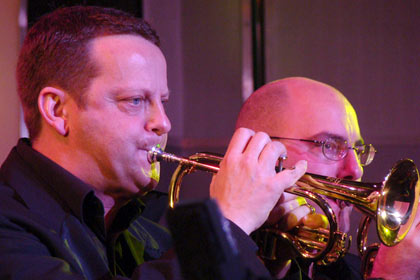 The sop man: Jon Small leads from the top

Contests:
"In 2008 we aim to continue to develop our relationship with Andy Duncan, perform well at every opportunity and gain qualification for the Nationals again - which we have achieved. We will be working hard to challenge for a place at the British Open, and look to improve on previous results at the English Nationals and National Finals."

Non contesting front:
"We have a busy concert season ahead including broadcasts for BBC TV and Radio, along with CD recordings planned and concerts throughout the county. We have a full and committed band, who want to work with Andy Duncan to improve individually and collectively, whilst enjoying what we do, and how we do it!"
---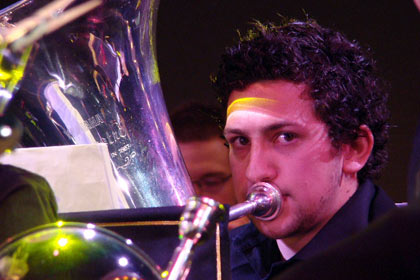 Youthful outlook: One of the mnay young faces in the 2008 band
4BR Predictions:
In the past few years Mount Charles was one of the busiest contesting bands in the country. They were also very successful too, but like many bands, they found it hard to maintain that level year in year out and with player turnover and conductor changes they fell away somewhat in the last two years.
The appointment of Andy Duncan has proven to be beneficial – as has the decision not to compete as regularly as in previous years. The more selective approach has been mixed however, with poor results at the tail end of 2007 and at the beginning of 2008, although they were perhaps a touch unlucky to end so far down the prize list at Butlins.

Torquay has been a massive boost and sets the band up with a real objective target for the latter part of the contesting season. How they do from now until October at the Royal Albert Hall will be interesting though, but they have a full calendar of non contesting events – and that is always a good sign.

The English Nationals and Grand Shield should gave a real indicator of their progress and consistency, and realistically they will be looking for perhaps top 10 finishes at both, with Blackpool offering more opportunities than Preston.
No Masters, but Bugle should be a nice little earner and if they may even be tempted to go back to Prestatyn if they are on top form and confidence is high after a good season.

2008 hasn't been too bad so far and could get a lot better, but a more realistic result at the end of the year could be more solid progress and a move further up the rankings.