Scouting Report - March 2008
22-Mar-2008
4BR has been out and about assessing the brightest and the best young brass players around to find out who are likely to be the superstar players of the future.

We've been to Wales, Yorkshire and the North West - now it's three of the best in the West
---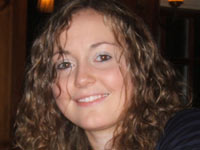 Name: Zoe Hancock
Age: 16
Occupation: Customer Assistant – Lloyds TSB
Instrument: Flugel Horn
Current Band: St Dennis; St Dennis Youth, Cornwall Youth Brass Band, NYBBGB
Zoë Hancock started to play the flugel horn at the age of six when at the St Dennis Learners Band. Luckily for her the flugel was the only instrument left in the storeroom and encouraged by John Brush, she has never looked back.
Just three years later, Zoë made her contesting debut with St Dennis and has been part of the success story that has seen them rise from Fourth to First Section under the guidance of Brian Minear, a man who has had a huge impact on Zoë's young career.
In addition Kevin MacKenzie BA (Hons) LRSM, has developed her technical skills further which has enabled Zoë to obtain her ABRSM Grade 8 with distinction in 2006.
Zoë joined the Cornwall Youth Brass Band in 2001 taking the position of principal flugel horn later the same year, and through the watchful eye of a number of experienced tutors and conductors has gained invaluable experience.
In 2006, Zoë joined the National Youth Brass Band of Great Britain and a year later became principal flugel horn of the band.
4BR has heard this talented player on a number of occasions over the past couple of years and she continues to make an impression in the concert and contesting arena.
In the Community Section at the 2007 National Youth Brass Band Championships, Zoë was awarded the Best Instrumentalist prize and on the concert stage with the NYBBGB last year, the 16 year was one of the outstanding talents on show under the guidance of Bramwell Tovey.

Currently working as a Customer Assistant for Lloyds TSB, Zoë is looking to further her musical education and playing potential at Music College when she becomes eighteen.
Whilst by no means being the finished article, Zoë Hancock appears to have a very bright future ahead of her. She has all the foundation stones of becoming an exceptional flugel horn player all in place and has benefited enormously from excellent guidance and tuition. She is a player of considerable potential.
Sound: 7/10
Technique: 8/10
Stamina: 8/10
Musicality: 8/10
Potential: 9/10
---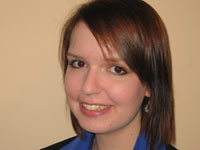 Name: Vicki Reynolds
Age: 18
Occupation: Student
Instrument: Tenor Horn
Current Band: PolySteel, NYBBGB
Previous Bands: Enderby Youth, Hathern, European Youth Brass Band
Vicki Reynolds has just turned 18 and is currently in her final year at College studying A levels in Music, Psychology and Drama and hopes to move onto Music College in the Autumn.
Vicki started playing in August 1999 and her current tutor is the legendary Betty Anderson who has influenced so many players in the Midlands over the years. Vicki has also been tutored by Ian Bartram, Owen Farr and Phillip McCann.
Her first band was Enderby Youth before moving to Hathern, taking up the solo horn seat in 2004 and helping them to become Second Section National Champion at Harrogate. She successfully auditioned for the National Youth Brass Band of Great Britain and for her first year in 2003 was their youngest member. For the last three years she has held the seat of co-principal.

A fearless competitor Vicki has entered many solo contests gaining the title of British Open (Under 17 yrs) Champion 2004, reaching the Radio 2 Young Brass Soloist Finals in 2005, where at 14 she was the youngest finalist of the competition and semi-finalist of the competition in 2006.

Two years ago, Vicki moved to the PolySteel Band as their principal horn and has become an integral part of their on going success. In 2007 she represented England as part of the European Youth Brass Band.

It was back in 2005 at the BBC Radio 2 Young Brass Final that 4BR first heard Vicki as a soloist and it was an occasion where her startling potential first became apparent. Since joining PolySteel, Vicki has continued to enhance her reputation as one of the most promising instrumentalists of her generation.

Possessing a delightful tone, powerful and persuasive sound allied to secure technique she appears to relish the opportunity to play as part of a band or a soloist. Her opening horn in 'On Alderley Edge' at last year's English Championships was perhaps the best of the day, winning her many admirers and her consistency of performance throughout 2007 earned her a place in 4BR's Band of the Year.

There is still time to go before Vicki becomes the finished article, but without question, if she continues to make the impact she has over the past couple of years, the potential is there for the player become the leading tenor horn light in the brass band movement for many years to come.
Sound: 8/10
Technique: 8/10
Stamina: 8/10
Musicality: 8/10
Potential: 9/10
---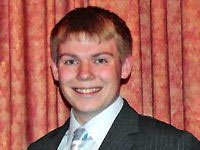 Name: Jeremy Taylor
Age: 18
Instrument: Percussion
Band: Camborne Town Band & Camborne Youth Band
Previous Bands: Camborne 'B' Band
Occupation: Student
Jeremy is the second person in this month's Scouting Report to have just turned 18. He is currently studying Music, Music Technology and English at Helston Community College in Cornwall where he receives percussion tuition from James Robinson, Head of Percussion for Cornwall Music Service.

Jeremy started learning the piano aged 7 and two years later joined Camborne Youth Band, initially on the trombone under the guidance of Alan Pope. His percussion career started at 11, as he became a member of the new Camborne 'B' Band.
He has played on three CD recordings and in four winning performances at the National Youth Championships with Camborne Youth. At the 2005 Championships, he was crowned Best Instrumentalist in the Junior Section, a feat he repeated twelve months later.
The young man has since benefited from xylophone lessons with Simon Philips of Trevada Music, an invaluable addition to his progress as a player.
Since joining Camborne Town Band in 2005, Jeremy has recorded a solo for "Listen to the Band", and has played under many leading conductors including a guest spot with Brighouse and Rastrick.
Now principal percussionist of Camborne Town and Youth Bands, Jeremy is also a member of Cornwall Youth Orchestra and Cornwall Youth Percussion Ensemble. He intends to make music his career, auditioning for Music College this Autumn, whilst he also maintains and updates Camborne's website.
Jeremy's performances with Camborne as a soloist at the National Youth Championships first caught 4BR's attention. He certainly isn't short of confidence and has the right charisma to be able to communicate and interact with the audience during his solo performances. Whilst playing all percussion instruments, Jeremy is most at home with tuned percussion and timpani.
Jeremy Taylor certainly has enormous potential. At a time when tuned percussionists are being churned out with almost mechanical regularity, his extra spark of intuitiveness and charisma allied to his excellent technique could see him go very far.
There is work to do – the projection and subtle colouring of sound, the solidity of his technique, the expressiveness of his playing and even the stamina of doing what he obviously loves to do, day in day out, all need honing further. The end result however could be very spectacular indeed.
Sound: 8/10
Technique: 8/10
Stamina: 8/10
Musicality: 8/10
Potential: 8/10
---
Previous Scouting Reports:
Wales: www.4barsrest.com/articles/2007/art729.asp
Yorkshire: www.4barsrest.com/articles/2008/art779.asp
North West: www.4barsrest.com/articles/2008/art797.asp