4BR Time Team - March 2008
20-Mar-2008
This month we delve into the history books to find out who have been the top dog conductors at the regionals since 1945.
---
With the regional championship now over, the 4BR Time Team has been scouring the record books to find out which conductors have won what and who with since the regionals as we know them were set up in 1945.
An amazing piece of archeological work by Gordon Simpson has unearthed all but three winning conductors and their bands in the Championship Section since that time – and there are plenty of them
Jack Nicklaus

So who is the Jack Nicklaus with the most victories under his belt and who is the Tiger Woods trying desperately to chase down his record? Meanwhile, which of the MDs has cast his net far and wide to pick up regional titles and which are the ones who have a surprisingly mediocre record of success to their names?
Peter Parkes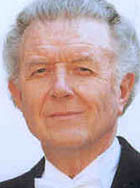 No doubting the man at the very top – Peter Parkes, with an almost unsurpassable 30 wins to his credit – and he is still going strong trying to add more too!
Surprisingly his first win didn't come with Black Dyke (as there were perennial National Champions in the mid to late 1970s and they rarely had to qualify), but with two wins on the same weekend in March 1980. On the Saturday 8th March his conducted Whitburn to the Scottish Championship and 24 hours later won in Bradford with Yorkshire Imperial Metals. From then on it was titles galore up until his last win in 2003.
He has notched up 10 wins with Ever Ready (1981, 82, 85, 86, 87, 89, 90, 91, 93, 94); 8 wins with Whitburn (1980 –83, 86, 87, 92, 93); 4 with Desford (1995, 2000, 02, 03); 2 with Black Dye (1985, 87); 2 with Williams Fairey (1984, 92); 2 with Grimethorpe (1983, 1996); 1 with Yorkshire Imperial (1980) and 1 with Jaguar Cars (City of Coventry) (1986).
Tiger Woods

The man trying to chase his record down is Dr Nicholas Childs who currently (not including the North of England Championship later this month) has an impressive 19 victories to his name, including a quartet of victories with Scottish Co-op and Ever Read (Reg Vardy), hat tricks with Black Dyke, and Fodens, doubles with Tredegar and Mount Charles and a single with Bodmin since his first victory in 1995
Who's Who

The top 10 reads like a Who's Who of the great post war conductors of the brass band movement, with Harry Mortimer still in third place tied with Walter Hargreaves on 16 wins, followed by Howard Snell (15), Alex Mortimer (13), Melvin White (12), Eric Ball (11), Stanley Boddington (11) and Keith Wilkinson and Richard Evans (10 each).
The longest winning streak of six consecutive victories with one band is currently held between Eric Cunningham with Ever Ready (1972 – 1977) and Robert Childs with Cory (2002 – 2007).
Peter Parkes, twice, and Howard Snell hold the record of consecutive years scoring at least 1 regional win – 8 years each. The Major did it between 1980 and 1987 and again between 1989 and 1995, whilst Howard did it between 1982 and 1989.

Longest

The longest period of time between first and last win is 39 years by Walter Hargreaves. His first win came with Cory in 1949 and his last with Kirkintilloch in 1985 - that's genius for you.

Close behind and still counting though are Richard Evans with a current 27 year gap, Rob Wiffen on 25 and Melvin White on 23.
Of the winners so far this year, Nicholas Childs added a victory with Black Dyke to take his tally to 18; Garry Cutt now has 7 including a hat trick with Fodens this year; Russell Gray now has 5 with four bands; Rob Wiffen has 5 – his first this year since 1987; Ian Porthouse, Nigel Seaman and Andy Duncan have recorded their first.
Top 30 Regional Conductors

| | | | |
| --- | --- | --- | --- |
| Victories | Conductor | First Win | Last Win |
| 30 | Peter Parkes | 1980 | 2003 |
| 19 | Nicholas Childs | 1995 | 2008 |
| 16 | Harry Mortimer | 1947 | 1957 |
| 16 | Walter Hargreaves | 1949 | 1985 |
| 15 | Howard Snell | 1982 | 2001 |
| 13 | Alex Mortimer | 1953 | 1969 |
| 12 | Melvin White | 1984 | 2007 |
| 11 | Eric Ball | 1946 | 1954 |
| 11 | Stanley Boddington | 1946 | 1969 |
| 10 | Keith Wilkinson | 1980 | 1994 |
| 10 | Richard Evans | 1978 | 2005 |
| 9 | Eddie Williams | 1959 | 1976 |
| 9 | Eric Cunningham | 1968 | 1977 |
| 8 | Fred Roberts | 1952 | 1964 |
| 8 | J J Stobbs | 1950 | 1965 |
| 8 | John Harrison | 1962 | 1975 |
| 8 | Albert Chapell | 1966 | 1977 |
| 8 | Roy Newsome | 1979 | 1995 |
| 7 | Robert Childs | 1996 | 2007 |
| 7 | Garry Cutt | 1994 | 2008 |
| 7 | Trevor Walmsley | 1960 | 1980 |
| 7 | Frank Renton | 1990 | 2003 |
| 6 | W A Scholes | 1949 | 1965 |
| 6 | George Thompson | 1950 | 1968 |
| 6 | David King | 1987 | 2004 |
| 5 | Rob Wiffen | 1983 | 2008 |
| 5 | Russell Gray | 2002 | 2008 |
| 5 | Albert Coupe | 1947 | 1973 |
| 5 | James Scott | 1965 | 1988 |
| 5 | James Watson | 1984 | 1998 |
| 5 | Jeremy Wise | 1993 | 2000 |
| 5 | Nigel Taken | 1989 | 2006 |
All information provided by kind permission of by Gordon Simpson