2008 London & Southern Counties Regional Championship - Postcard from Stevenage
18-Mar-2008
The posh people may call it Saint Evenage, but it still has a sports centre with knobs on - and a pretty good place to hold a brass band contest it is too.

---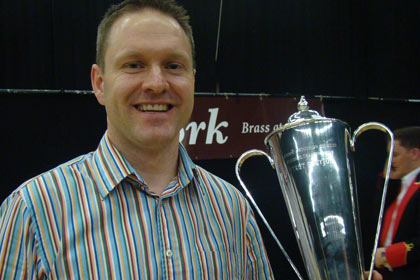 Welsh double in Saint Evenage: Jersey MD Tim Pritchard enjoys a Welsh win to go with the victory in the First Section.

According to the advertising blurb that is written on various signs as you drive towards the Stevenage Arts & Leisure Centre, the venue provides 'a place to enjoy leisure and the arts'. By all accounts, the posh people in the area are starting to call the place Saint Evenage….
By adding the prefix 'Arts' to its title the private owners have been a little disingenuous, as what the place certainly isn't, is a venue to enjoy the finer, more esoteric pleasures of life. The place is a 1970's concrete sports centre, complete with huge main hall with a floor covered in the de-rigueur multi coloured lines and boundary markings for activities ranging from basketball to five aside football.
Not the Uffizi

The game is given away by the use of those long wooden benches to put the trophy table on that you used to sit on waiting for the sports teacher to pick you out for a clip around the lughole when you couldn't complete a forward roll cum star jump to gain your Grade 3 gymnastics badge.
This certainly isn't Stevenage's version of the Uffizi - but then again, you wouldn't get the local residents of Florence using Michelangelo's sculpture of David as a goalpost for a Wednesday night game of five aside football either.
No. The Stevenage Arts & Leisure Centre is what it is and no more: a very practical venue for sports and brass band contests.
Wonderful job

David Hobbs and his team do a wonderful job running the event here, especially when you bear in mind that the private enterprise company (it's not strictly a council venue) makes sure it picks up a very handy wodge of cash for hosting it too.
It is an operation that makes the D- Day landings look like a school outing and the whole of his team of friendly and hard working helpers deserve a medal. Colin and Sybil Morrison for instance celebrated their 50th wedding anniversary by once again working tirelessly behind the scenes when really they should have been at home being spoiled by family and friends – that's commitment for you.
No help

By all accounts it cost the Regional Committee somewhere in the region of £10,000 to put this event on, and unlike many other regions of the country, it gets no financial or associated help from its hosts for bringing in well over 2,000 people to spend money in the cafeteria, buy tickets from the reception area (which the hosts take a neat cut) and splash out in the 'Corinthian Bar' (at prices that would meet a weeks mortgage in parts of Wales). There can't be too many weekends in the venue's calendar that brings in so much ready cash.
The huge number of bands is therefore a blessing as well as something of a logistic nightmare. There are other venues that have been muted, but given that some of these cost up to £18,000 for a day, it is hard to see where the contest can feasibly be held without it perhaps being broken into two and held over two weekends – and no one really wants that to happen.
No. Stevenage's Arts & Leisure Centre may have problems, but overall it provides a pretty good venue for a contest weekend.
Standard of performances

Over the years it has become easy to suggest that the standard of banding here is below that found elsewhere, and whilst it is true that success come the National Finals has been hard to come by, in general terms the overall level of performances in the lower sections in particular is very much the same as any region we have been to this year.
Close your eyes and you could have been in Swansea, Glenrothes, Bedford or Bradford.
Mind you, if you were lucky enough to close your eyes and listen to a young gentleman called Sam Chapman, aged 14, with Wantage B Band in the Fourth Section then you would have been very fortunate indeed.
Best young cornet player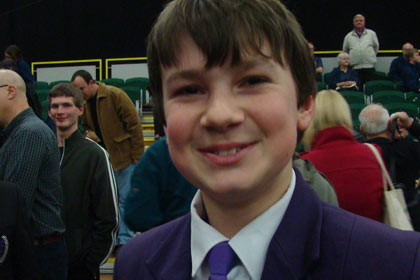 Future Star: Sam Chapman of Wantage Silver B - a star in the making at Stevenage

Here was the best young cornet player the 4BR Editor has heard for a very long time – technically secure, but with such a lovely sound allied to a quite wonderful sense of style and musicality. Watch out for him in years to come – this is star player, make no mistake about it.
The contest does have its some quirks of course – the pink tent in the main hall being the most visual one. Who says Londoners are not in touch with their feminine side?
Arty farty

The main hall meanwhile can get a bit cold, and you do need to pop outside now and again to warm up, but it does offer a pretty good acoustic (there are complaints about it, but with the bands so far forward from the back of the hall and fairly close to the audience it wasn't bad), whilst the organisers make sure the adjudicator doesn't miss a thing by placing the tent in an ideal spot about 20 foot from the competing bands.
This was the first time that the 4BR Editor has made it to the contest weekend – and with its warm welcome, excellent organisation and the keenly contested sections, we will be looking forward to coming back again too - as long as the owners don't try to make it too arty farty….
Iwan Fox