2008 London & Southern Counties Regional Championship - Retrospective: First Section
18-Mar-2008
Not often the Goths get in on the act at a brass band contest, but they did here, although they didn't come from Jersey.
---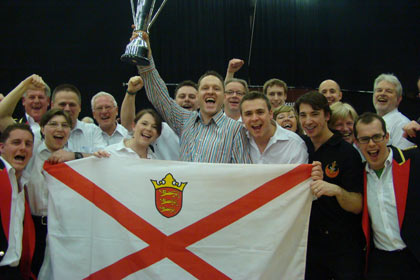 Jersey cream: Tim Pritchard and Jersey Premier celebrate their victory

There was a bloke who came into the hall here with about three bands to go wearing a Goth inspired death metal band tee shirt that just about summed up this contest perfectly: On his back bore the legend: "I carve through these waves of grief".
Given that almost all the bands and especially their MDs struggled to come to terms with Gilbert Vinter's nautically inspired 'James Cook – Circumnavigator', perhaps he knew something that they didn't before a note was even blown.
Hard task

Up until the top two prize winners in Ipswich & Norwich Co-op and Jersey Premier at numbers 12 and 14 respectively in a 15 band field, David Horsfield must have had one heck of a task trying to find one performance, let alone two, that would have deserved to make it to Harrogate.
This was at times a nautical journey that would have had even the seafaring Samaritans asking for help.
A combination of a test piece that proved too difficult for the bands to overcome with confidence technically (although that has been the case all around the country this year) and a host of MDs who didn't understand Vinter's individual style of writing (also not alone – and perfectly summing up the bloke's tee shirt) conspired to make this a contest that very nearly failed to come to life.
Sympathetic

David Horsfield was sympathetic in his remarks before the announcement of the results: "It's a very, very difficult test piece" he said, "It's a wonderful piece, very descriptive and full of music." And that was the key.
David went on to say that as much as there was a need to play the notes and follow the tempo markings, there was also a real need to read the instructions placed on the score by Vinter too.
The 'Brillante' opening was anything but in some drab efforts he said, whilst the 'Calmo' section needed tranquillity as well as low dynamics. The 'Giocoso' was meant to be happy (some were as miserable as sin he dryly commented) whilst the 'March' needed restraint as well as forward movement.
As for the 'death bit'? Perhaps Vinter may have known he was soon to meet his maker when he wrote 'James Cook', but for many MDs and their bands, their chances of making it to Harrogate were already dead in the water by the time they had got that far into the piece.
David's remarks not only applied here, but to every First Section area contest around the country this year.
Maiden voyage

The honour of making the maiden voyage in Stevenage fell to the fancied Friary Guildford, but despite their pristine appearance in white dinner jackets their performance couldn't have been any messier if they had tried to eat soup out of a colander in a force eight gale on board Cook's 'Endeavour'.
It had some decent moments, but this wasn't the same band that has been on such good form of late – it was a very average marker and 9th place was all that it deserved.
Cawston was all at sea too. It did have the occasional extended period when things settled, but overall the lack of technical security undermined their effort. They were to be the first of many – 13th could have been a touch higher or a touch lower.
Soham Comrades could perhaps count themselves a tad unlucky as when it came to looking back over the contest as a whole, their somewhat scrappy effort more than held its own.
That it eventually came 12th was perhaps a combination of draw, high error count, and some questionable ensemble tuning, but Graham Sheldon's reading was one of the better ones on show on the day (it didn't try to do anything that wasn't written). We had it in the top six, but then again, you could also see why it came where it did.
True marker

It was Sandhurst Silver that gave David Horsfield his true marker. Ian McElliogot's reading was another in the neutral mode, and whilst for the most part nothing too serious went wrong, it never rose above the average, with poor ensemble tuning the one real points loser for them.
The final quarter of the piece was perhaps their best, but by then it was only ever going to be a performance that was going to be beaten.
Matthews Norfolk Brass did that straight away under David Stowell, with a performance that had its moments but also had its problems too.
It was OK stuff – nothing too outlandish in interpretation or execution, but just in need of that touch of classy sparkle that would have lifted way above the rest of the field. 4th place said as much about it as a contest performance as it did its rivals efforts.
A third the way through the contest and some obvious realities were starting to hit home – and remained to the end. The cornet players all gave it a good go in their fraught cadenza – although none, except the chap from St. Alban's who picked up the 'Best Solo Cornet' award, played it in the right style.
With 'Panache' it wasn't, with just about everyone one of them unable to accel with purpose up to the climax and then triple tongue with clarity. The least said about the trombones that followed, the better – their triple tonguing at times sounded more like George Chisholm playing an aboriginal didgeridoo.
Back to the contest

Back to the contest and Becontree Brass hampered by just having the one percussionist (although the young lady did a quite fantastic job).
In these circumstances it wasn't a bad performance but there was too much missing and allied to some weak ensemble the good moments such as a neat bit of cornet playing from the 3rd man down and troms who were one of the few to triple tongue couldn't lift them up any higher than 10th place.
Regent Brass eventually finished in 11th place with a performance that contained the good, the bad and the ever so slightly surreal.
The good certainly came with the bold start, the effective percussion and some brave solo lines; the bad came with some intonation that curled the teeth whilst the surreal arrived with the trombone triplet motif just before the first 'Calmo' which was taken at such a slow speed that it sounded like the start of 'Hancock's Half Hour'.
Upped the ante

Meanwhile, Egham upped the ante somewhat with a performance that had more plus points than minus ones under the elegantly dressed Gareth Green (resplendent in a well cut white jacket).
Those pluses came with a great sop, euphonium and neat solo cornet, whilst the minuses that surely cost points came with an over bright opening tempo, some dodgy tuning and a 'Marcia' that plodded along as if poor old Jimmy and the lads had just ended a ten mile cross country run.
A bold reprise put them back on track but it was too variable a performance to have come any higher than 5th.
It was St. Alban's directed by David Shead that finally made a prize winning impression on David Horsfield in the pink tent. With the MD giving it the old Little Britain '….look into the eye's, not round the eye's, but in the eyes' routine, the players didn't quite become hypnotised into becoming Black Dyke, but delivered a very committed performance nonetheless.
The solo cornet player was a deserved award winner for a bravura cadenza, whilst there were other good moments from the trombones and other lead lines. The speed of the 'Giocoso' and 'Marcia' may have been on the quick side, but a robust ending certainly put them well ahead of the field at this point and eventually led them to a very solid 3rd place.
No complaints

We don't think there can be any complaints from either Northfleet or Denmead Hendon Brass on the day, after both found the journey to the musical antipodes fraught with problems.
Northfleet were neatly directed by Andrew Austin, the bass trombone player from the Aveley & Newham Band, but with inherent intonation problems, nasty errors in individual and ensemble and a very tired last third, it wasn't ever going to come any higher than it did in 14th place. We liked the MD opting to try and sneak a secondary round of applause from the audience at the end – it didn't help though.
Many of the same pitfalls befell Denham, although they were understandable given that they only took to the stage with 7 cornets, including the soprano.
Despite the sterling efforts from all concerned, it lacked balance, although it did contain some fine efforts from the sop, bass trombone (neatly playing the solo trombone solo) and artistic solo cornet. You couldn't hide the lack of balance though and as a result it ended up sunk by manpower – or the lack of it.
Full to the gunnels

Ipswich & Norwich on the other hand were full to the gunnels with players (with the added decision to bolster the bass by an extra deckhand).
Robin Norman directed with clarity and purpose, and although it wasn't the most exciting performance of 'James Cook' we have ever heard, it was a solid and unpretentious one, with neat touches from the sop, a super tuba quartet (or should that be quintet) and secure ensemble.
The 'Marcia' section to the end was perhaps the best of the day with a sense of restraint followed by a well executed topping of the Captain and bold reprise to close. It came as no surprise that it more than held its own to the bitter end and gained a deserved place at Harrogate.
City of Cambridge under Peter Bassano certainly started as if they were going to make a real impression, but soon after a bold start it became scrappy and uncertain in both ensemble and solo lines and their effort faded away to come 8th.
It was a pity as the reading was one of true Vinteresque colour and understanding, but the error count was high and a terrible final few bars when the good ship 'Endeavour' seemed to run into the dock walls may have cost them a couple of places.
Winner

With just the two bands remaining David must have now been almost praying for a true winner – and it came with Jersey Premier Brass.
Tim Pritchard and his band come from an island with a great seafaring heritage, and it seems being surrounded by the big blue wobbly stuff as Baldrick in Blackadder called it, rubbed off on them.
A bold and certainly 'Brillante' start may have had tuning problems here and there but it was authentically bright and the sense of the lapping waves on the ships bow could be felt.
A quite outstanding soprano contribution was a real feature throughout, but the team of solo players also delivered the goods too. It did get a little harsh in places, even in the 'Calmo' sections, but the commitment to the cause was 100% and it didn't lack for confidence that's for sure.
By the time another bold reprise led to an exciting end they had more than done enough to book their place at Harrogate – and deservedly so with a performance well directed and full of merit.
Medal

That just left Horsham out of the 15 band field to round off the contest, and a mature looking band delivered a mature performance despite just having the single percussionist.
He deserved a medal though for his amazing efforts, and whilst the rest of the band couldn't quite match his obvious multi functional talents there was enough good playing on display from the euph, sop and basses to pull them through a rather bland interpretation from the MD, which somewhat reflected his understated conducting style.
That just left the results and David Horsfield picked them out as Jersey, Ipswich, St. Albans, Matthews Norfolk, Egham and Horsham. 4BR had it slightly different with Jersey, Norwich, Sandhurst, St Albans, Soham, and Friary, but after the top two it was hard to disagree with the adjudicator.
Double triumph

It was double triumph though for Jersey, as the Welsh born MD Tim Pritchard had both the bands third regional title and a second Welsh Grand Slam to celebrate in four years.
"I couldn't ask for anything more could I?" he told 4BR after the results. "We have to work harder and harder each year to improve and I think we showed today that we are now developing into a good band. It will mean lots more fund raising, but given that we are now going to celebrate by spending a few quid on a double win for the band and Wales, we can worry about that another day."
So they can – but we doubt if a Goth death metal band fan (the lyric of 'Deeper Down' by the group Dying Bride) will ever wear a tee shirt with such unintentional accuracy ever again at a brass band contest.
Iwan Fox