2008 London & Southern Counties Regional Championship - Retrospective: Third Section
18-Mar-2008
Damp and cold outside, but in the main hall it was Littleport on red hot form to take the Third Section title.
---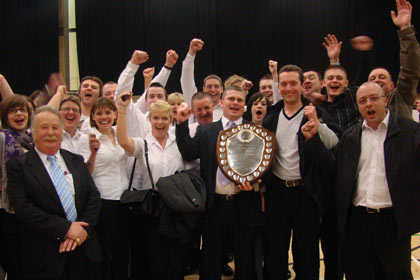 Next port of call Harrogate: Littleport celebrate their victory at Stevenage

Saturday morning in Stevenage may have been damp and cold, but inside the huge main hall of the Arts & Leisure Centre there was a warmly expectant atmosphere as the first of 17 bands took to the stage in the Third Section bang on 10.00am.
Steve Pritchard-Jones had already been ensconced for a good half an hour in the tent as Waterbeach Brass had the honour of getting the 2008 London & Southern Counties Regional Championships underway with a neat rendition of the National Anthem (and before you ask, Brenda wasn't there).
Decent acoustic

The main hall itself provided a decent acoustic for the contest. With the walls draped in thick black curtains and with the adjudicators tent about 20 feet away from the front of the bands, Steve would have had no problem listening to all the detail, tuning, textures and balances in Paul Lovatt-Cooper's popular set work.
To ensure that the bands themselves had a lasting reminder of their performances, Doyen Recordings were also providing their band by band service too, so one hour after they had played the bands could listen back to how they did and then hours later (with the benefit of a few drinks courtesy if the splendidly named Corinthian Bar) compare it with Steve's adjudication notes.
Good fist

Unlike the First Section contest that followed it later in the day, there were a whole host of bands that more than made a very good fist of the test piece.
Sensible direction, solid soloists, attention to dynamic and tempi markings, and an overall sense that the players were enjoying what was put in front of them made for a contest performed at a pretty good standard throughout. There were those who did struggle of course, but in a field of 17 you would expect that – none though failed to deliver a performance that didn't lack for merit.
Good value

The three qualifiers in fact were all good value for the trip winning performances to Harrogate, whilst behind them there were another six or seven that pushed them all the way there.
Littleport Brass conducted by Neil Bramley deservedly took the golden apple prize of the title (sorry MD – couldn't resist) with a performance of colour, atmosphere and style that perhaps deserved to win by slightly more than just the one point margin from adjudicator Steve Pritchard-Jones.
Resplendent in what looked very much like Brighouse & Rastrick purple, they got off to a great start and with some fine soprano and cornet playing (including a neat double take by the solo cornet) and set out their stall with confidence. It may just have had the odd moment of uncertainty and just tired before the end but overall it was a solidly executed performance that set them on their way to the finals.
Early marker

Joining them there will be Hangleton after they set the early marker that nearly held its own to the bitter end. We don't know where they got their striking blue ties from, but their performance was nearly just as vibrantly coloured.
The MD was also one of the few that managed to get the music really flowing into two in bar at times and such made it flow with real purpose. Some of the tuning did grate when they overblew but by the time they touched down they had produced a performance of some note to get them to Harrogate.
Happy

The final qualification place went to Brighton & Hove City Brass, who will now be as happy after playing as they certainly were before they had actually blown a note.
As they sat waiting for the adjudicators green light, the MD Matthew Hackett must have been cracking one liners quicker than Frank Carson, much to the delight of the front row cornet players. With them all suitably relaxed they then delivered a consistently effort that although never quite sparkling did have all the basic requirements of good tuning, balanced ensemble and well chosen tempi in place.
As a result they came 3rd and will head for Harrogate where the MD will have to once again dip into his back catalogue of anecdotes and funny gags once more.
With these three bands gaining the nod from Steve Pritchard-Jones a number of well executed performances had to miss out – and a few could count themselves a touch unlucky.
Touch unlucky

Chief amongst these for us was the band that had the misfortune to draw number 1, Waterbeach Brass, who we thought delivered perhaps the most complete performance of the day, but after another 16 had passed through the ears of the man in the tent had to be content with 7th place.
Confidently executed with solid contributions from the solo cornet, soprano and percussion (which included a fine chap in the best cream tank top we've seen for years) it was neatly directed by MD John Utting. That it eventually fell down the prize list may have been for the odd moments of intonation that did creep in now and again, but it was never enough to tarnish a fine marker and to come 7th was more than a touch unlucky.
Missing out

Just missing out on the prizes came Stantonbury Brass, who sounded a much more compact and tuneful band than the one we heard in Butlins. Saying that, a slightly untuneful start perhaps didn't auger well, but thereafter it built into a nicely constructed performance with a fine soprano and very good team on percussion.
It was much the same to report with St Sebastian Wokingham too. Solidity in the ensemble and good internal balances were on display from the start, but a few nervous solo leads and a sense of waning stamina in the final third just took the gloss off a coherent reading from the MD and band.
The final band in the top six was Uckfield Concert Brass who on their first appearance here since 1999 delivered a very encouraging performance. Neatly led by the MD they produced a warm and balanced sound, especially when they opened up, whilst individual contributions from the team of soloists and the mightily impressive bass trombone did catch the ear.
After such a period away contest match fitness did come into question, and the final quarter of the piece sounded tired, but overall it was a performance of merit.
Atmospheric

Woodbridge Excelsior atmospheric account from the number 2 draw owed much to a languid interpretation from the MD. There were some notable tuning issues at times (and a few wrong notes) but it was a performance that always held the interest right to the end, to finish eventually in 8th place.
The last two bands to very nearly conquer the piece were Hitchin and Chalgrove, who eventually came 9th and 13th respectively.
Hitchin's purposeful account seemed to have all the right ingredients to possibly take it to the top, with an excellent start and quality contributions from the flugel and soprano in particular.
Just when it was moving into a prize winning orbit though the tuning went haywire, the troms took a detour to Mars and the timps clunked into working order like the gearbox on a 20 year Lada car. The hard earned gloss was taken off, and despite a robust end their chance had gone. We had it higher than 9th but it was an opportunity lost.
Chalgrove's problem wasn't the quality of the reading from the MD, or the well chosen tempi, or the good individual efforts from the lead lines or balanced ensemble.
All those things would on any other day been enough to push them right up in prize winning contention. The problem was the band (and we do mean just about all the band) was as sharp as the proverbial witche's wotsits. Why this was may be a mystery, but at times it was as if they were playing in high pitch. It was a pity because everything else was so well put together.
Drop in standard

After these performances, the overall standard did start to drop off with inherent structural problems more readily apparent.
Fulham led in rather dramatic fashion by Simon Jones certainly went for the atmospheric approach, and whilst there were extended periods when it worked, the lack of real detail and musical pulse in the quieter sections must have cost them valuable points.
The same could also be said of Hungerford too, where tuning issues in the quieter moments and a distinct lack of flow in the slower sections surely costing them points. With just the three basses it was a little light in sound too, but the need to get into orbit with a touch more velocity could have been beneficial.
BAE Systems must have thought they were going to be asked to play minus the MD, although it transpired that he was tucked away at the back of the band talking to what looked like a substitute timpanist.
When he did eventually arrive at the right end of the band he led them in a performance that lacked rhythmic precision more than anything else, and that was a structural problem that never went away in a performance that had the makings of real potential.
Bottom three

Finally, the bottom three bands picked themselves, although they were no worse or better than bands we have heard at the wrong end of the prize table around the country this year.
LGB Brass was the first band after the mid contest break, and after an encouraging start it just faded gradually away with some nervous solo lines, tuning issues and a few badly chosen tempi. There were some neat contributions from the percussion and soprano (who sat statuesque after the final note, frozen like a brass band version of Lot's wife) but overall it never quite overcame too many basic problems.
The same too with Great Yarmouth where the lack of rhythmic precision lost them valuable points and negated the good solo work from the cornet, flugel and horn in particular. It did get better in the final quarter of the piece, but just when it seemed to have made a partial recovery the last few bars slumped away. Brave effort though.
Hubris

That just left EPB Brass and a performance not helped by the decision of the MD to conduct without the aid of a score. He may well have felt comfortable doing it, but his band didn't, and you do wonder if it was a technique used in rehearsal, especially as more basic issues such as tuning that was certainly out of this world and badly chosen tempos were much more apparent. This was a performance that was led by hubris and as a result the band suffered and suffered badly.
That was that then for an enjoyable contest that showed that in overall terms the region is very much on a par with just about the rest around the country. Steve Pritchard-Jones had a top six of Littleport, Hangleton, Brighton, Stantonbury, St Sebastian and Uckfield, whilst we opted for Waerbeach, Littleport, Hitchin, St Sebastian. Brighton and Chalgrove – after that it was much of a muchness until the bottom three.
The qualifiers may have to up their game to challenge for the prizes at Harrogate, but the trio are more than capable of doing that if this form is anything to go by, with the winners in particular sounding an impressive outfit in the making.
Iwan Fox