2008 London & Southern Counties Regional Championship - Retrospective: Fourth Section
18-Mar-2008
The largest field of contenders it may have been, but for Hemel Hempstead the big prize of victory was accompnaied by a tiny reward...
---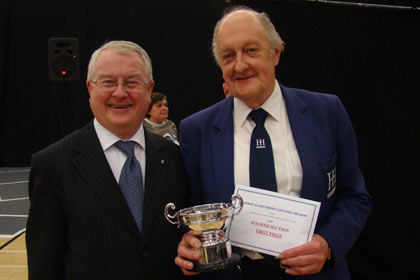 The perfect small prize: Hemel Hempstead's rep accepts the congratulations from composer Rodney Newton

Whilst the rest of Wales was celebrating long into the bible black night following their Grand Slam win, any lonely Welshmen stuck in the local Premier Travel Lodge had to make do with 30 seconds of highlights and a lager shandy, faced as we were with the prospect of listening to 23 bands in the Fourth Section on the Sunday morning.
What could have been one heck of a musical marathon in fact turned out to be six hours of enjoyable contesting fun as the 22 bands (Oxford Templars dropped out) all gave it a good crack on Rodney Newton's enjoyable, and playable, 'Four Cities' Symphony' test piece.
55 and counting

Rod himself was sat in for all the performances (he has notched up 55 in the last couple of weeks alone) and he must have been delighted with the standard that was on show.
It did of course vary wildly – a few couldn't quite find their intended destinations even if they had used a Tom-Tom Sat Nav, but everyone brought something out of the uncomplicated but cleverly constructed score.
Impressive

It was something the impressive adjudicator Paul Norley touched upon in what was an exemplary piece of constructive analysis prior to the results. He covered just about every aspect of the work; from bands falling into the well laid musical and technical traps, to tuning, after beats for basses, percussion, MDs shaping the music, rhythm, rits and ralls, weight of sound, aggression and even something he termed as 'generic sound' – which we think meant sounding nice.
It was an excellent appraisal of what he had heard from the 22 performances, and it was also encouraging to note that he also made himself available for any player or conductor to speak him after the results had been made.
Given that he is an ex-service man, he did look as if he could handle himself if anything untoward happened over a pint in the Corinthian Bar, but it was great that they could go and pick his brains about their performances instead of grumbling if he had chosen to speed off in his waiting car.
Three parts

The contest itself broke down into three main parts: Those who could play it, those who nearly played it, and those who gave it a good go.
Those at the top end were pretty well matched and it was hard to disagree with Paul over his selection as winners, qualifiers and top six.
Those winners were Hemel Hempstead, the first band after the short mid contest break.
This was a little cracker of a performance; full of warm, rounded ensemble sounds, secure soloists and well chosen tempi by the MD. The opening 'London' was stately with a nice metered pulse, whilst 'Paris' had just the right hint of Gallic romance. 'Rome' did have the odd moment when the legionnaires tripped over their sandals, but an authentic vodka inspired romp through 'Moscow' rounded off a well prepared and executed performance. The trip to Harrogate was well deserved.
Delivered the goods

Joining them there were two bands who really did deliver the goods on the day.
Tadley Concert Brass was the last band to play before the break and gave Paul a performance of note to finish off his early deliberations. They also produced a well rounded warm ensemble sound, whilst their lady bumper up delivered a lovely lyrical piece of cornet playing in 'Paris' that Edith Piaff couldn't have bettered. A controlled 'Rome' led to a real knees up in 'Moscow' and it came as little surprise that it more than held its own to claim a finals place.
The final Harrogate spot saw a battle between a whole host of contenders, but it fell in the end to the impressive Cold Ash Brass with a performance that contained another lady cornetist with 'no regrets' in 'Paris'. Added to that they had an ensemble that overcame some tuning moments in 'Rome' to deliver an authentic vodka inspired party spree in 'Moscow' to round things off in style.

Unlucky

Perhaps the one band that could count itself unlucky was Wantage Silver B, who had to be content with fourth place.
This was a performance that was well constructed and delivered, despite the sop player dropping his mute with an almighty clang just a bar or so into the piece!
It also contained perhaps the best piece of cornet playing heard all weekend, and for the 4BR Editor, anywhere around the country in this section. Master Sam Chapman, aged 14, was a delight, with a true cornet tone allied to a sense of style and poise that cannot be taught. Watch out for this personable young man in the future – he will be a star.
The rest of Wantage were pretty good too, and although it did get a little ragged in the finale it was a performance that perhaps deserved to have just sneaked into the podium places.
Top six

Watford and Amersham took the remaining top six places with performances that were perhaps no better or worse than Jubilee Brass (Oxford), Charles Church Camberley, Battle and Bletchington Silver that made up the group of 'could play it' contenders.
Watford seemed to be a mature band (the grey head count was more than most) and they delivered a mature performance too, with a fine lady solo cornet player leading their line well. 'Rome' was the Achilles heel though and must have robbed them of valuable marks against some well controlled outer movements.
Meanwhile, Amersham started as if they were going to really stamp their authority on the contest, but after a stately 'London', 'Paris' became full of romantic nerves, 'Rome' slightly tottered with wrong notes and dropped sticks before 'Moscow' brought them back into contention – a little too late.
Neatly styled

Jubilee Brass (Oxford) delivered a neatly styled performance that just lacked for a bit more oomph, especially in 'Moscow' where the three basses must have felt like Napoleon's retreating troops by the time they had finished blowing. It was pretty good stuff though and may have deserved to come perhaps a little bit higher.
Charles Church Camberely also delivered a colourful account that was perhaps too much of a mixed bag to have come higher than it did. Some great and not so great euphonium sounds perhaps knocked their chances, but excellent lead lines in other places (a fine young girl on sop) more than made up for the odd errors and light sound provided by a hard working trio of basses and the single percussionist.
Battle meanwhile certainly gave it their best shot with a soprano who perhaps over dominated the opening 'London'. A neat 'Paris', a slightly lumpy 'Rome' and a authentic vodka inspired 'Moscow' though rounded off a performance with plusses and the odd minus.
The last of the top ten was Bletchington who did remarkably well given that they took to the stage with a borrowed bass trom, 3 basses and 1 percussionist. A well directed performance that took into account the reduced ingredients, it just needed that extra bit of depth and plumped up sound especially in 'Moscow', but a fine solo cornet and bold euph gave it plenty of character.
Next group

The next group of 10 bands certainly came in the 'nearly played it' category, with consistency of execution the main element that was missing to varying degrees.
Cobham appeared to be another band with plenty of silver headed components, but despite a few strident moments and a trip to 'Rome' that saw a few too many causalities at the Coliseum it was a decent enough show just in need of a bit more youthful vigour.
Kings Lynn started off well with a classy young lady on bumper up playing a lyrical solo in 'Paris', but just when it was building nicely, a troubled trip to 'Rome' saw them lose valuable points, that not even the Cossack capers of a vibrant 'Moscow' could help bring back into contention.
It was the same with Harwich RBL off the number 1 draw. They produced a fair old marker that just fell away as the day progressed. Some neat playing from the young girl on bumper up in 'Paris' was the highlight of a band full of youthful vigour and enthusiasm, and which was well directed by the MD.
Much the same

It was much the same to report with Fakenham, Bradwell and Royston too.
Fakenham took to the stage with the 3 basses and 1 perc combination so favoured by many on the day (although not through choice we suspect) and with some bold and confident playing from the ladies on soprano and 4th 'man' down in 'Paris' it seemed to be a performance that could have come higher than it eventually did, although 'Rome' was a bit of a toga tussle at times.
Meanwhile Bradwell who played before them, sported the unusual combination of 1 baritone, 1 percussionist and 4 troms, and after a bouncy opening 'London' it too just lacked for something in 'Rome' after a neat stroll down the left bank of the Seine. 'Moscow' was great though, so it was consistency that did for them in the end.
Royston too – although their combination of 2 solo cornets, 3 basses and 3 percussionist, saw them deliver a performance full of character, which was just let down by some nasty little ends of phrases to each of the movements.
Good go

That just left the bands in the 'gave it a good go' category – and all of them certainly did that and more.
Hilgay seemed to take a little while to get into their stride with a leisurely opening movement, and whilst both 'Paris' and 'Rome' featured some neat moments, especially from a fine bit of tuneful glock playing, the finale saw some pretty tired troops depart from 'Moscow'.
MK Development meanwhile just suffered a few too many nasty moments in each of the movements to play with an extended sense of security, although a musical solo cornet and nice sounding bass end gave them a well rounded and balanced sound from start to finish.
Letchworth Garden City and Newmarket seemed to find problems just when they were sounding as if they were getting right on top of the piece, and as a result much of their good work was undermined by some sloppy ensemble work.
Rounded off

Letchworth rounded off the six hour long contest with an enthusiastic performance that just needed a touch more restraint in places and the need for closer attention to tuning. Newmarket suffered in much the same way, although they did have a lovely sounding sop player and a real sense of fun in the 'Moscow' finale, which just lacked for the '1812' cannons.
That just left the final two and Snowden Colliery making their return should be thoroughly pleased with their efforts on the day.
They did of course have their problems, but a fine sounding euphonium and a real sense of enthusiasm for the task pulled them through the odd dodgy moment or two (a tick in the box for the MD). It was a mixed bag of course, but the potential and the sense that they enjoyed it all was great to see.
Special mention

Finally, a special mention for Crystal Palace B.
It was a unique performance, but so what? The MD made sure that everyone knew where they were and got through to the end, even if it was a bit like the Eric Morecambe and André Previn sketch at times – 'the right notes but not necessarily in the right order'.
Hats off though for a brilliant effort – full of character, enthusiasm and determination. With these attributes the future can only be bright for the band and it is a pity that many others who take the easier option not to compete were not here to witness them giving it their best. We hope they return next year and win the contest.
That was it then for the marathon that was the Fourth Section – a marathon that was made enjoyable by a great choice of piece, very well played by the vast majority of the bands.
Little trophy

Hard to disagree with Paul Norley's assessments too – we had much the same top ten, but the top two in particular were well worth their result with Cold Ash too gaining credit for a great effort.
The only pity at the end seemed to by the rather inappropriate size of the winners trophy – a titchy little egg cup when the third placed band took home a cracker and the runner up was a warded the Christie Challenge Cup (hopefully not awarded in memory of the bloke from 10 Rillington Place).
A least as the band representative from Henel Hempstead told us as he headed to the bar – '…it won't cost a lot to fill up with celebratory champagne!"
Iwan Fox