2008 North West Regional Championship - Retrospective: Championship Section
14-Mar-2008
One of the great names in North West banding continues to make history for itself as Fodens make it a hat trick of titles on Festival Music.
---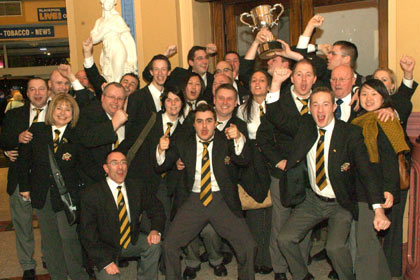 Festival celebrations: Fodens enjoy the winning feeling for a 15th time
Picture: John Stirzaker
The North West Area contest is one filled with rich tradition, having seen many of the movement's greatest players and conductors perform for some of the movement's most successful bands since 1945.
Three of those bands, Fodens, Leyland and Fairey have of course keenly fought for supremacy at the contest in recent times (only Wingates has broken their monopoly the once here in the last 20 years), and so it was of no surprise that these three once again took the top positions, and as a result will represent the North West at the Royal Albert Hall come October.
Strong showings during 2007, combined with their sensational performance at the RNCM Festival of Brass, meant that Fodens Richardson deservedly entered the contest as favourites, and their performance of 'Festival Music' didn't disappoint.
After all the bands had played, it was clear to most in the hall, and crucially, the adjudicator, that they were the deserved victors – a highly professional performance, that seemed to take into account that the work was more Mozart than Wagner - which wasn't always the case throughout the contest.
Style
There was too much of a "hell and damnation" Wagnerian approach to many of the performances, and it led to far too much aggression in the music – it really isn't Gottadamerung.
Far too many of the men in the middle didn't allow their players the Mozart experience either. Strangely, many of the MDs took the middle movement far too slow and the outer movements too fast, leading to a work that, at times, sounded out of proportion – which given that it was written with such clarity of purpose and style by a mastercraftsman, it isn't.
Texting
As for things getting out of proportion, half way through the contest, we (the audience) were asked to make sure that we didn't use our mobile phones. Apparently a complaint was received about the noise of an audience member typing a text message on their telephone. I'm not indifferent to that, but there were many more important issues that need to be dealt with here at the Winter Gardens.
Surely folks who take along their sandwiches don't have to wrap them in foil, and pack them in the noisiest plastic carrier bags? Worse than that, why do these people insist on opening them during a performance?! 'Romance' accompanied by the smell of fish paste sandwiches doesn't make for the greatest of listening experiences.
Even worse than that, was the constant high pitched noises coming from the halls' PA system. Furthermore, for the last hour of the contest, the temperature in the hall was stupidly cold – surely someone could have put a shilling in the meter?
Yes put the mobile phones away, but this venue had bigger problems than that on the day.
Soloists
As for the bands, a feature of the best performances throughout the day was the fantastic standard of solo work. Right from the very first band, where the euphonium and cornet soloists excelled, through to the final performance, nearly all handled their passages with consummate ease.
Glyn Williams and Mark Wilkinson were outstanding for Fodens, both accurate and assured. Brenden Wheeler (euphonium - Leyland), Alex Thomas (cornet - Freckleton), Peter Moore (trombone - Wingates), Helen Varley (horn – Stockport Brass) and Mark Harrison (soprano – Fairey) all showed style and poise, and there were many more who will have gone home more than satisfied that they had played very well.
Qualifiers
From a number four draw, Fodens Richardson put in a performance that was immensely controlled and stylish, demonstrating the quality they have in all areas of the band. The bass end was as good as any, and their solid foundation allowed the rest of the band to build a fantastic band sound, one that was suited perfectly to 'Festival Music'.

This was more apparent in the middle movement 'Romance' than the outer movements, where their MD Garry Cutt allowed them to expand their lungs and enjoy the tutti sections.
Also in the second movement, the trombone section gave a performance of assured stature. They actually sounded like trombones, and they actually sounded like a section – two qualities that seemed to elude many of the others on the day.
They were one also one of the few bands whose bass section managed to control their urge to play pedal notes, remaining faithful to the score, and the composers wishes.
Their third movement was taken care of with slick ease, and after Alan Wycherley's well executed trill and the final delicately placed two chords, it was clear that this was a performance that was a long way better than the previous contenders, and a performance that was clearly better than the rest by a margin at the end of the contest too. They are a mightily impressive outfit.
Unique

In second place came Leyland, conducted by Jason Katsikaris, who gave a unique, if not slightly obscure, reading of the piece. Drawn number nine, Leyland's opening passages suffered from some scrappy playing and a lack of balance – the cornets were drowned out by an enthusiastic bass section at times.
Their terrific euphonium and baritone section were not to suffer the same fate as the cornets though, and they sung through during the rest of the movement, with some fine lyrical playing.
Leyland's stately second movement had a few scrapes, but it was in the final movement where they sealed their ticket to London. Here the audience were treated to some fantastic playing, both technical and musical, with some fine solo leads and ensemble assuredness around the band, especially from euphonium, baritone and soprano cornet.
Pragmatic

The third, and final qualifier for London was Fairey, who gave a performance to back up their recent Brass in Concert effort, and show that the work of their conductor, Phil Chalk, is starting to reap rewards as they continue to rebuild with care and attention.
Their pragmatic approach was not as stylish as some, but this was clearly a disciplined band, which had been putting in the hard yards in their Stockport based band room.
The average age must be very low and this was a performance that will no doubt encourage all at the band. There are some experienced hands too, and the valuable addition of Mark Bousie on solo euphonium will add a touch of class and further invaluable experience to the ranks.
A special mention should go to their soprano cornet player, Mark Harrison, who was solid throughout the tuttis, and very musical in his solo work.
Best of the rest
Another band on the up is Wingates, and they narrowly missed out on a trip to the capital city after being placed fourth by adjudicator Denis Wilby. It was an energetic, youthful performance – the only one of the day that had an original and fresh look at the work, but at the same time remaining stylish.
Fine work from flugel, euphonium and some fantastic playing from Peter Moore on trombone wasn't quite backed up by other soloists, and some of the more scrappy sections probably cost them come the end of the contest. They will be a band to watch (and listen) out for over the next few months though.
Jeff Sparkes, who conducted fifth placed United Co-Op (Crewe), gave one of the more traditional, and faithful, readings of the score in Blackpool. This is a band that works well as a unit, each section working hard together to contribute to the overall musical portrait. Again, their performance featured some great work from the trombones in the middle movement, and the rest of the band followed suit in the final movement, earning them a deserved top six placing.
In sixth place were Stockport Brass, who also had an MD in Mike Fowles who clearly understood the work, it's background and influences. From second place down to sixth position must have been very difficult for the adjudicator to decide upon – each performance having its merits and flaws, and, after an accomplished performance, perhaps Stockport can consider themselves unfortunate to have finished at the wrong end of those five bands.
The rest of the field
Freckleton, who played from a number one draw, will have gone home knowing that they could have probably done a lot better. Occasionally you could hear some of the really good qualities they have in the band. That included some super solo work from the euphonium and cornet, but the performance was too untidy and unbalanced – a bass section that seemed to enjoy overpowering the rest of the band didn't help, nor did the numerous splits and the rather high error count.
Pemberton Old JJB meanwhile was another band that won't want to remember this contest too fondly. Some odd musical decisions by the MD Mark Peacock, and some less than average playing around the stands, contributed to their second from last placing.
Another strange interpretation come from Timperley conductor David Evans, whose overly romantic approach seemed more akin to Tchaikovsky than Ball, or even Mozart. However, there was some good work around the band, including a very good bass section, and they will no doubt be looking to better this result next year.
Faithful

Meanwhile, Bactiguard Wire Brass was another band with a skilful MD in Paul Andrews, who gave a faithful reading of the Eric Ball score. They can count themselves unlucky to have finished in eighth as the MD allowed just enough time and space for a true sense of rubato to come through, even if there was a fairly high errors count as a result.
Finally, United Co-op Milnrow will have been very happy with their 7th place. 'Festival Music' perhaps stretched them, but John Ward kept a sensible lid on both tempi and dynamics and as a result the piece, although slightly bland in execution was one of the safest of the day – a level of security that others would have loved to have achieved.
With several bands rapidly improving and looking to break Fodens grip on first place (this was a hat trick of wins), next years contest could be one of the most keenly fought for years. The champion has now won here a record 15 times – a fantastic achievement that now sees them finally overtake one of the most famous names in banding history, (CWS) Manchester has the most successful band at this contest.
One of the great names of North West banding continues to produce great results – and on this form they could well be doing it for many more years to come too.
Peter Meechan