2008 North West Regional Championship - Retrospective: First Section
14-Mar-2008
It was a question of experience in the First Section as Colin Cranson used 30 years or more to get Roberts Bakery to the finals as champion.
---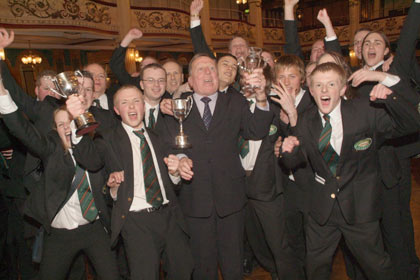 Robert Bakery celebrate their win
To say this was an interesting, enjoyable, but at times, frustrating contest, would be an understatement.
First of all congratulations to the winners, Roberts Bakery and Colin Cranson who has been conducting the band now for well over 30 years, and to the other qualifier Blackburn & Darwen and Nick Sheppard (who hasn't, but who has done a great job), both of whom gave very good accounts of the music.
Commiserations though to VBS Poynton and Alan Lawton (also a long term appointment), who for us was a clear winner, with the two official qualifiers a close podium finish behind. But as they say in Yorkshire, our views count for now't as we were not in the box - but we will give them anyway!

Musical harbour

Overall at this contest, many of the bands never got out of the musical harbour that saw 'James Cook – Circumnavigator' dry docked before a note was blown. For some when they did, their navigation skills were all at sea - a bit like coming out of Fleetwood Harbour and ending in Preston Docks!
Unfortunately, that was because the direction from many of the MDs left a lot to be desired - it certainly left us asking if some really knew who and what Gilbert Vinter's music was all about. There is no doubt that for at least five or six bands the piece was too difficult (although we are sure they have not been alone in that around the country).
The conductor can only direct what he has in front of him of course, but just beating time can never be enough. – and there quite a few here who were beating away with little connection to what was being actually played. However, the top four conductors certainly did know what they were doing (as well as one which was placed last) – but more of that later.

Champers

Longridge had the honour of smashing the proverbial bottle of champers on the hull of the good ship 'Endeavour' and after a fair opening it just lacked for dramatic atmosphere.
Like a lot more of performances that followed, the section that portrayed the death of Captain Cook had no real dramatic feeling whatsoever; indeed for some bands it sounded more like he had been neatly resurrected with a quick medicinal rum tot. For Longridge it was just that and they eventually had to be content with a fairly solid but unexceptional 8th place.

Silk Brass Astrazeneca followed with a performance that got progressively ragged, with the tempos in need of being pulled back. There was some nice cornet and soprano playing evident, but the clarity in the ensemble was missing and 10th place was a fair result.
Ashton Under-Lyne meanwhile delivered a decent account with specific attention to detail and which started off with real intent. However, it became tentative as it progressed and needed some wind in its sails to close, but 4th place was a deserved result.

Good moments

Mossley also had some good moments, but some mis-pitching in just about every department spoiled a well thought out portrait. They did have a fine solo cornet but like so many other performances it lacked the rhythmic drive to make an impression and 7th place was about right.

Blackpool Brass simply never got to terms with the music and it was a struggle throughout. It was never going to force itself any higher up the prize table, but they will be better for the experience and 11th place was an accurate result too.

Off radar

As for Diggle? It was for us, (and we must add, for us, and not in the box where it officially mattered) as musical and well directed (by the vastly experienced Les Beevers) as any on the day.
Yes, they had the odd clip, but with what we had heard before, and after, for Chris Wormald to place this band 13th and last, left us scratching our heads. He was the man to impress though, not us, and he will of course have his reasons, but it seemed a bit odd that it missed his musical radar by such a distance. Banding can be a strange business at the best of times at this was one of them.

Meanwhile, Haydock never got to grips with the piece and the ensemble sounded laboured, whilst the solo playing was tentative. They were another band that struggled both in direction and lacked the stamina to do the piece justice and 12th place was a fair return.

Tyldesley opened in confident mode and there was plenty of detail evident. It seemed to be holding a great deal of promise, but as the piece progressed the playing got tired as stamina waned and nasty little errors became more prominent. 5th place was a very solid return, but it could have been so much better.

Bollington Brass on the other hand was a little slow to get out of the musical harbour, with the opening understated and a little lacking in pace. The solo cornet was on top form, but elsewhere they struggled and the performance fell away to come 9th.

Winners

The eventual winners Roberts Bakery was very well directed by Colin Cranson and delivered a fine performance. There was a real understanding of the score from the MD and the bands players delivered in fine style. By the time they came to an impressive end it was always going to be a performance at the very top end of the results table.

Poulton-le-Fylde also made a very decent attempt of overcoming the problems posed by the score, and with plenty of conviction too. The intonation and a tendency to rush cost them valuable points, but 6th place was a just reward.

Just right

For us, VBS Poynton captured just what the piece was all about; exciting, colourful, lyrical and atmospheric – all when required.
The direction from Alan Lawton was first class and they were a clear winner for us (and for many in the hall) so 3rd place must have been a bit of a disappointment. The solo playing was so well shaped and the band sound the most compact of the day, so they could count themselves a little unlucky not to be at the finals.

Fine performance

The last band to play, Blackburn & Darwen, also gave a fine performance and were rewarded by Chris Wormald with second place and a trip to Harrogate.
A good all round sounding band with some fine solo playing, it just lacked that extra bit of adventure for us, and we had them 3rd. However, they should be confident of doing well come September as the basics of a solid unpretentious band are in evidence and in abundance.

Higher standard

The overall standard was higher than last week in Yorkshire – although the Yorkshire winners were a little distance above the top three here. We have to say that by and large it was hard to disagree with Chris Wormald, apart from those two exceptions, but we congratulate the two qualifiers and wish them well. The overriding memory for us though was that 'James Cook' was once again too difficult for bands at this level.

A final note - the withdrawal of Besses o' th' Barn was disappointing, so let's hope this fine old band can get back on its feet.
David Tinker