2008 North West Regional Championship - Retrospective: Fourth Section
14-Mar-2008
A huge field for Geoffrey Whitham to enjoy and ponder over - and according to him, he seemed to enjoy the lot!
---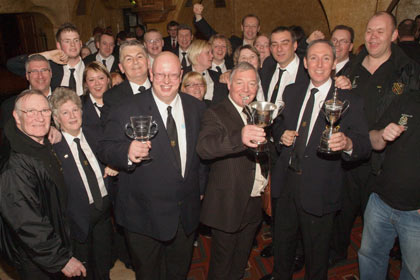 Uppermill show off the silverware
Whilst the Empress Ballroom and Opera House accommodated the higher sections the Spanish Hall played host to the 23 bands in the North West Fourth Section Regional Contest on Sunday.
At the end of the contest a loud and genuinely warm reception was waiting Rodney Newton, composer of the piece 'Four Cities Symphony', as he took the stage to take the applause. The only shame perhaps was that given the surroundings there was no Spanish city in his enjoyable and popular symphony to complete the backdrop and imagery!
As he took to the stage Geoffrey Whitham, who adjudicated the section, shook his hand and congratulated him on his composition, a reflection he went on to reiterate when he spoke to those assembled waiting for the results.
Yorkshire narrative

Without deviating from the point, he enforced a message that the piece had called on bands to take care of the basic of good brass band playing: playing together, playing in tune and achieving a sensible balance.
It was a simple and very accurate analysis with undeniable common sense, and you could even forgive the expletive - but to quote the Mr Whitham; "It were as tuff as any Fourth Section piece there is........it were nor'all just squares and circles - wor I call 'crap'." The good folk in the hall loved it – and knew exactly what he was talking about too. It was simple Yorkshire descriptive narrative at its best! It was obvious that Mr Whitham had enjoyed not only his adjudicating task but had patently enjoyed the music throughout.
The youngest player may have been 10 years old, (in fact playing for the third time) but the spoils and acknowledgement went this year with seniority, and to one competitor, Bill Roscoe, who was notching up his 60th appearance at these Regional Championships. Facts and figures may have tumbled a plenty on this 'Super Sunday', but we doubt one fell to such longevity. Bravo and we hope to enjoy Bill's company for many more years to come.
Three qualifiers

Three bands qualified for Harrogate, although the winners Uppermill and runners-up Lostock Hall Memorial, will find themselves in the Third Section in 2009 come what may at results time in September. On the day they both sounded like bands that could more than most hold their own at a higher level without too much trouble too.
With Regional grading results of 10 and 11 points respectively over three years these two bands have defended a fine pedigree in recent times at Blackpool and rightly justified their position as pre-contest favourites.
Justified

The winning band Uppermill directed by Alan Widdop had a late draw at number 19, and as did the winners in Yorkshire last week, they too put in a performance that fully justified the eventual two point winning margin.
Alan Widdop has consistently paid lots of attention to detail in his performances with the band and this result served to cement the continued progress that saw victory at Pontins last November. That momentum has not been lost and they will be very determined to lay to rest the ghost of a disappointing Finals result in 2007. On this form you wouldn't bet against them doing just that and more.
Joining them there will be Lostock Hall Memorial, another pre-contest favourite that certainly showed its pedigree on the day. Not without the odd scrape or two throughout their performance there was an undeniable sense of quality about them, especially in the Rome section where the legions really did sound as if they were coming down Blackpool high street.
Taking the third Harrogate place was Tarleton and District Brass. On a few occasions now we at 4BR have noted the warmth of expression and clear direction Gillian Bould delivers with her band and once again we are repeating ourselves here - but not without justification. This was a fine performance and they fully deserved their qualification place.
Missing out

The lower sections at Blackpool are traditionally very strong and there were a number of fine performances that were close to a Harrogate trip with St. John's (Mossley) and Coppull and Standish rightly coming in the frame. Both delivered performances of merit, full of good basics and more than a hint of style and lyrical execution. Anywhere else on the weekend and they could well have qualified in comfort.
Meanwhile, MD Peter Ashley almost made it a double celebration having tasted success with Pemberton Old 'B' in the Third Section. Taking Farnworth & Walkden he came very close in 5th and you could hear the confidence surging through the band as they strained every sinew to get to Harrogate. It wasn't to be of course, but they did come mighty close.
Outside top six

Outside the top six it was a difficult task in separating the bands out. The standard did vary, but overall it was pretty good fare all the way down to the bottom reaches of the results table.
Cheshire Constabulary, Hazel Grove and Golborne didn't quite have the level of all round consistency to push really into the top six and the same could also be said of Besses Boys, Farndon, Greenfield and Tottington too. It must have been very difficult for Mr Whitham to compare and contrast these performance because where some went wrong others went right – it really was like comparing musical apples and oranges and each of these bands could have come higher or lower as a result.
More of the same

Below this it was much more of the same, although there were more obvious deficiencies in the structural playing of many of the bands. Tuning was more liberal shall we say, precision was sometimes blunted by poor entries in individual lines and some of the solo work sounded more nervous, although no one really had a day to forget with any of the competitors.
Darwen, Friezland, Eccles (a bit of a surprise that given their recent form, but they didn't play to it) and Sale all had their moments but so did their rivals and none could have cause to complain too much about where Mr Whitham eventually placed them.
So too the bottom ring of contenders and Parr, Denton, Barnton, Blackley, Brindle and Nelson all of whom had plenty of plus points of merit in their performances but a growing number of minus ones too.
Only six bands from a total of 29 in the region declined to enter this strong area, but those who did take part, it was noted, gave a pretty a good account of themselves.
Caps off though to Uppermill, Lostock Hall Memorial and Tarleton and District Brass. They had a quality about them and with fine musical direction in the middle they will be tough acts to beat in Harrogate.
John James