2008 Midlands Regional Championship - Retrospective: Fourth Section
13-Mar-2008
23 bands provided the adjudicators with a marathon test of stamina on the weekend, but it turned out to be a highly enjoyable one with some great performances on show.
---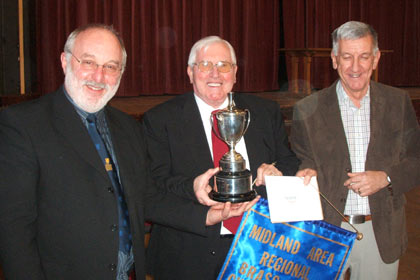 Amington pick up their prize
A huge field of competitors lay ahead for the adjudicators to consider on Sunday.
Even the vastly experienced Malcolm Brownbill and Kevin Wadsworth must have entered the box with a feeling that sifting through 23 performances could be a very difficult undertaking. However, 'Four Cities Symphony' proved to be an enjoyable test piece that that tested the bands in many different ways, and so their task was made considerably easier.
Excellent

In his summing up afterwards (which was excellent, good fun, and informative) Kevin Wadsworth eluded to this fact and gave crystal clear examples of some of the traps that quite a few bands managed to fall into throughout the course of the day.
He highlighted tuning, ensemble and the fiendishly difficult links between each of the movements and also expressed sympathy and empathy for the soloists, many of whom found the piece quite nerve racking.
Good overall standard

Overall the standard was good with some excellent performances that stood out from the rest. They not only played the technical elements but also demonstrated a musical understanding of the composer's ideas and managed to capture the distinctive style of each movement - a very difficult thing to achieve.
Strode on

The band that strode on to the platform and wrestled the first prize away from the competition was Amington, one of the bookies pre-contest favourites, and they produced a performance of consistent quality that was to prove irresistible for the judges.
Not flawless, but the excellent contributions from the trombone section, flugel and a superb cornet solo more than made up for that. Coupled with great balanced sound and a spot on musical reading from MD Wes Kendrick, qualification for Harrogate as champions was in the bag, and well deserved.
Following closely behind were three or four bands, and getting them in the right order must have been very tough.
Runner up

The band that got the nod for the runners up spot were Croft Silver, who relied on a very musical and accurate reading from the MD Ian Needham to see them home.
There were problems here and there but the style and atmosphere, the way they dealt with the fiendish links, plus a very controlled final movement proved to be enough to book them a place at the finals.
Thoresby Colliery Youth took the stand at the very beginning of the day and drawn number one in such a large field it would take a performance of real stature to stay in contention to the very end - and that is precisely what they did.
This was a fabulous sounding young band, well drilled and directed by MD Christine Gent and her beat was so clear even the audience were breathing together by the end of the performance! Good solos, dynamic contrast and enough concentration to bend a drawer full of spoons made sure that this performance was remembered, and it was justly rewarded with the final qualification spot.
So those three bands go forward to represent the Midlands at Harrogate later in the year, and you would be foolish not to back anyone of them to do really well.
Top six

There were a number of other bands that challenged for the qualification places and played well enough to feel they could have sneaked in on the day, especially Ratby Co-operative, who claimed 4th place with a solid performance featuring a star quality contribution from their principal cornet.
Burbage (Buxton) in 5th also demonstrated a good musical interpretation and understanding of the piece whilst the cornet and percussion sections gave excellent supporting accounts to their effort.
Meanwhile, Bestwood Welfare Black Diamonds took 6th place with a performance of merit in which their euphonium, percussion and soprano all excelled. This was a performance that could have challenged for the title had it not had the odd lapse here and there.
Odd trip

There then came a group of performances that did trip over Rodney Newton's fiendish traps a little more frequently, but also gave solid accounts nonetheless.
These included Melton who displayed good musicality and a great performance of merit from their trombone section and tenor horn player although loose ensemble and intonation proved to be costly. Trentham Brass meanwhile got off to a scrappy start and didn't regain their composure after that. On the plus side the principal cornet was outstanding and the horn soloist had a top quality sound.
Shipston Town also had the basis of a good performance but just as it settled there was a wobble in tempo or ensemble or intonation before normal service would be resumed. They had fine contributions from soprano, euphonium and trombones and if they could have just cut out the wobbles they would have been in with a real shout. MD Howard Gibbs must be a disappointed man because there was so much potential on show.
Whitwell produced a good balanced sound and a musical approach, but the gremlins started to appear in the first movement and wouldn't be shaken off whilst Rolls Royce (Derby) started well with good sounds and dynamic effects shown. However, the waltz started the problems and the tentative stuff began with intonation problems coupled with rhythmic uncertainty and before they knew it, they found themselves down the prize list. A pity as it had so much promise.
Sorted themselves out

After this the bands more or less sorted themselves out but most gave themselves valued experience to take forward in the future.
Ireland Colliery Chesterfield started well, but some harsh sounds and intonation problems throughout would have given the judges reasons to mark them down. Rushden Town meanwhile was another band that started well then fell away when the concentration started to slip, and so too Malvern Hills & District with a positive start but which lost composure and ensemble. They did have a cracking bass trombone though.
Ilkeston Brass were bedevilled by intonation issues, some wrong notes and over blowing which will not have pleased the very musical MD Dave Jones. The baritones were exempt though!
Meanwhile, Chapel en le Frith making a welcome return produced an encouraging performance. There were some tuning and ensemble problems of course, but it was well directed and featured good individual performances from the solo trombone and baritone.
Bottom end

At the bottom end of the field were bands (apart from one) that found Rodney Newton's piece much more challenging and will possibly curse the day when this music flopped onto their doormat.
Fairfield (Buxton) produced a musical rendition, featuring an excellent soprano, but variations in the tempo, intonation and overblowing gave the band little chance to avoid the judge's empirical thumbs down.
Market Rasen RPC too had a great musical reading from MD Alan Needham, but his troops let him go over the top of the trench alone - all except the percussionist who managed in the main to play all three busy parts on his own - an absolutely mind blowing feat of kit organisation and skill that I will long remember.
Meanwhile, Corby Silver could have been so much better, as they had a good bass sound and feel and featured a lyrical cornet solo, but the approach and tempo varied within sections and with tuning problems a plenty the men in the box were on their case.
Pleasley Colliery Welfare may have taken to the stage with a depleted band but not with a depleted sense of purpose. Gaining experience was the name of the game here, and in MD Dave Cutting they have a man who could guide them to a bright future.
They started well and the music was thoughtful and flowing whilst the solos were generally good and the solo cornet outstanding. However, the man of the match was the sole bass player who manfully provided a foundation for the performance throughout. Congratulations that man!
Surprise

Newhall was the surprise of the contest. They seemed to have a good start, flowing style, balance and confident soloists and also showed decent links between movements. Surely this would be at least in the top half of the results table?
Granted, there were moments of looseness and perhaps it got a little scrappy right at the end, but MD Kevin Holgate and his team must be wondering what they had done to displease the judges so much - and by the way don't ask me because I don't know either!
Dunchurch got off to the worst possible start and never recovered as a group. Individuals did shine though with the cornet, euphonium and percussion section more than holding their own, but it was overall a bit of a struggle.
Finally, Creswell Colliery managed to find Rodney Newton's traps irresistible and dropped in them at every other corner. However a good band sound and a lively (if not a little loud percussion section) featured in this performance that showed the potential for much better things in the future.
All in all then a very good contest, worthy winners and qualifiers and a long but satisfying day for the adjudicators who showed their expertise and long experience by delivering a result that few could argue with.
Mike Kilroy