2008 Scottish Regional Championship - Retrospective: Championship Section
12-Mar-2008
Nine years is a very long time to get a monkey off your back - but Whitburn finally did it on the weekend with the help of a little bit of Russell Gray magic.
---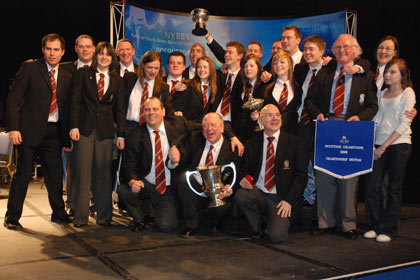 Whitburn celebrate becoming Scottish champions
Whitburn has waited a very long time to record it 15th Scottish Championship win – since the last century in fact, but after they had played off the number 3 draw at the splendid Glenrothes Hall there seemed to be a general consensus in the auditorium that they were going to be a hard band to beat.
Impressive

So it proved and their impressively lyrical performance under the baton of Russell Gray really was a deserved victor. In something of a reprise of his Carlton Main rendition in Bradford a week previous, Whitburn did all that was required of them – especially in the 'Romance' which set them apart for adjudicators David Read and Steve Sykes.

There were moments of unease and a few minor blemishes that perhaps didn't make it unbeatable, but the quality of the ensemble sound and that sense of style that the MD brought to the middle movement gave them the edge.
Joining them at the Royal Albert Hall will be Kirkintilloch, who put behind them their recent poor form in impressive fashion under the talented Norwegian, Selmer Simonson. His intelligent and composed reading was enhanced by excellent solo work, and whilst it did have occasional moments of unease it was a very sturdy and compact rendition and one that many thought well worth their qualification place once again.
Energetic

Whitburn's opening to 'Festival Music' was energetic, if a bit edgy soundwise, but despite the small blemishes it was very classy playing. Russell Gray, minus score, shaped the music beautifully whilst his soloists responded with real quality. The control and final flourish in the finale (despite the 3rd man down playing the soprano trill at the end) rounded off a memorable performance led by a conductor on absolutely red-hot form.

On this occasion Whitburn almost matched him in the musical Fahrenheit stakes and with adjudicators David Read and Steve Sykes alluding to the question of quality in their summing up there was little doubt that they deserved to finally knock their personal regional monkey off their back and claimed the domestic bragging rights as well as the European qualification place at Ostend next year. On this form they will be a band to fear.
Kirkintilloch under Selmer Simonsen came the closest to denying Whitburn their long overdue success with a performance that certainly regained the type of form that in the past few months has been patently missing.
A 'Romance' that featured high quality soloists, especially soprano, horn and flugel, followed a compact opening with the vibrant 'Overture'. There were occasional tiny clips in the 'Impromptu' but the excellent dynamic control from the lower band drove them to a strong finish. It was a fine performance from a band right back on top form.
Missing out

Many people did think that Scottish Co-op would be in the mix come the announcement of the results, but on this occasion their performance didn't find favour with the two men in the box. Kingdom Brass under the direction of Craig Anderson did though.
Their opening was neat and tidy if a tad hard sounding at the top end, but some very individual approaches from euphonium and cornet in the quasi cadenzas in the 'Romance' highlighted a band at ease with their MDs intentions and playing with confidence. The 'Impromptu' did have the odd moment of scrappiness but overall it was full of vibrancy and rounded off a consistent all round show.
It was enough to beat off the challenge of Scottish Co-op under the direction Allan Ramsay. Their account started in superb fashion with a razor sharp opening, but just as it sounded as if it was stamping its authority on their rivals scrappy errors spoilt the overall picture.
A rather bold 'Romance' featured plenty of good solo work whilst a well controlled ending rounded off an 'Impromptu' that perhaps needed just a touch more menace and darker hues of texture. Fourth place though did seem a little unlucky.
Reflection of performances

The award of the points seem to back up what David Read and Steve Sykes were looking for: Whitburn just a short head in front of Kirkintilloch, who in turn were a good three lengths ahead of Kingdom and then Scottish Co-op. It was a fairly accurate reflection of the performances on the day.
Four points further back came Unison Kinneil directed by Colin McKenzie.
A light but untuneful start developed well, whilst there was a nice opening to the 'Romance' with the guest euphonium giving a helpful hand. The 'Romance' did see them fall into the well laid traps in the score but a solid 'Impromptu' which featured excellent solo contributions put them back on track to claim that 5th spot. It was a good show, but those major slips in the 2nd movement were costly.
Benefit

Bon-Accord Silver meanwhile benefited greatly from a sympathetic reading from conductor Morten E Hansen and their performance started with a solid opening which was well paced and neatly executed.
A rather robust 'Romance' was safe and secure (a rarity on the day) with a classy euphonium solo and cornet quasi cadenza and tasteful trombone, whilst the 'Impromptu' was just about clean and secure and it ended with a true Mozartian flourish. Overall it was a solid show, perhaps just lacking that extra sheen of class, but a fine effort nonetheless.
Dalmellington under the direction of Archie Hutchison never quite recovered from a scrappy opening 'Overture', and whilst the 'Romance' opened well with a classy euphonium and soprano it never quite gelled. The 'Impromptu' however did go well and rounded off a committed performance with a lot of merit but quite a few accidents.
It was great to see Newtongrange under Ray Farr deliver a robust account of themselves. A sprightly opening did get a bit disjointed and a pacy 'Romance' had a few hesitancies along the way, but it was so well shaped overall by the MD. It was the same story with the 'Impromptu' but it held together well and rounded off with a neat bit of soprano work and bold final chord.
Bottom two

That just left the two bands at the bottom of the prize list but the young band at Dunaskin Doon under John Boax produced a solid effort despite obvious insecurities.
The 'Overture' was bedevilled with little clips, but a very nicely shaped 'Romance' which featured an outstanding soprano was one of the best of the day. Understandably the final 'Impromptu' despite opening well started to tire quickly and by the end it became scrappy, but overall it was still a good effort.
That just left Newmilns and Galston directed by Alex McCutcheon with a performance that perhaps could have come much higher than it eventually did but for the very high error count. None were major slips but after a fairly safe opening it just lost focus and each of the subsequent movements were bedevilled by imperfections that spoilt what had held the promise of an enjoyable performance.
Even though Whitburn didn't deliver a perfect performance on the day, the result was certainly 100% perfect for the band. After nine years of near misses, bad luck and self inflicted wounds they can now celebrate with a win – and a fine win too. 2008 could become a very special year for the band.
K. Crookston